Generic Launches
Abbreviated New Drug Applications and 505(b)(2) Applications
Third Quarter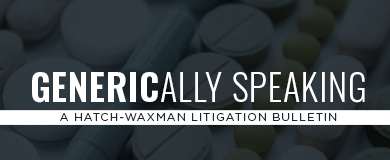 This Generic Launches chart tracks the date, drug, reference-listed company, applicant, and indications of publicly available drug launches resulting from Abbreviated New Drug Applications and 505(b)(2) Applications.
Reference Listed Drug

ANDA Holder

Generic Drug Name

ANDA
Applicant(s)

Indication

Launch Date

Xyrem
Jazz
sodium oxybate
Amneal
Used to treat cataplexy or excessive daytime sleepiness (EDS) in patients seven years of age and older with narcolepsy
7/3/2023
Ganirelix
Organon
ganirelix acetate
Fresenius Kabi
Used to inhibit premature surges in luteinizing hormone, or LH, a chemical in the body that triggers reproductive processes such as ovulation; used to treat women who are undergoing controlled ovarian hyperstimulation
7/10/2023
Aczone
AbbVie
dapsone
Cosette
Used for the topical treatment of acne vulgaris
7/13/2023
Cubicin
Cubist
daptomycin
Camber
Used to treat complicated skin and skin structure infections (cSSSI) in adult patients and pediatric patients (1 to 17 years of age)
7/27/2023
Symbicort
AstraZeneca
budesonide / formoterol fumarate dihydrate
Viatris
Used in certain patients to treat asthma or chronic obstructive pulmonary disease (COPD)
7/31/2023
Duexis
Horizon
ibuprophen / famotidine
Camber
Used to (1) relieve signs and symptoms of rheumatoid arthritis and osteoarthritis and (2) decrease the risk of developing upper gastrointestinal ulcers, in patients who are taking ibuprofen for those indications
8/1/2023
Sabril
Lundbeck
vigabatrin
Upsher-Smith
Used for infantile spasms in patients 1 month to 2 years of age and Refractory Complex Partial Seizures (CPS) in adults and children 2 years and older with refractory complex partial seizures (CPS)
8/1/2023
Gadavist
Bayer
gadobutrol
Fresenius Kabi
Used as a gadolinium-based contrast agent indicated for use with magnetic resonance imaging (MRI)
8/8/2023
Luxiq
Mylan
betamethasone
Xiromed
Used to relieve inflammatory and pruritic manifestations of corticosteroid-responsive dermatoses of the scalp
8/2/2023
Cardura
Viatris
doxazosin mesylate
Apotex
Used to treat high blood pressure (hypertension) and symptoms of an enlarged prostate (benign prostatic enlargement)
Toradol
Roche
ketorolac tromethamine
Camber
Used for the short-term (up to 5 days in adults) management of moderately severe acute pain that requires analgesia at the opioid level, usually in a postoperative setting
8/7/2023
Mozobil
Genzyme
plerixafor
Fresenius Kabi
Used in combination with granulocyte-colony stimulating factor in patients with non-Hodgkin's lymphoma or multiple myeloma
8/9/2023
Jadenu Sprinkle
Novartis
deferasirox
Camber
Used to treat chronic iron overload (1) due to blood transfusions (transfusional hemosiderosis) in patients 2 years of age and older, and (2) in patients 10 years of age and older with non-transfusion-dependent thalassemia (NTDT) syndromes exhibiting elevated liver and serum iron concentrations
8/8/2023
Spiriva HandiHaler
Boehringer Ingelheim
tiotropium bromide
Lupin
Used to treat chronic obstructive pulmonary disease (COPD)
8/16/2023
Pepcid
Johnson & Johnson
famotidine
Upsher-Smith
Used to treat active duodenal ulcer, active gastric ulcer, symptomatic non-erosive gastroesophageal reflux disease (GERD), and erosive esophagitis due to GERD, diagnosed by biopsy
8/15/2023
Balcoltra
Avion
levonorgestrel / ethinyl estradiol
Xiromed
Used as an oral contraceptive
8/17/2023
Apriso
Valeant
mesalamine
Upsher-Smith
Used to treat and prevent flare-ups of mild to moderately active ulcerative colitis (an inflammatory bowel disease)
8/21/2023
Zetia
Organon
ezetimibe
Hetero
Used to reduce elevated total-C, LDL-C, Apo B, and non-HDL-C in patients with primary hyperlipidemia, alone or in combination with an HMG-CoA reductase inhibitor (statin);
reduce elevated total-C, LDL-C, Apo B, and non-HDL-C in patients with mixed hyperlipidemia in combination with fenofibrate;
reduce elevated total-C and LDL-C in patients with homozygous familial hypercholesterolemia (HoFH), in combination with atorvastatin or simvastatin; reduce elevated sitosterol and campesterol in patients with homozygous sitosterolemia (phytosterolemia)
8/24/2023
Alphagan
AbbVie
brimonidine tartrate
Apotex
Used to reduce elevated intraocular pressure (IOP) in patients with open-angle glaucoma or ocular hypertension
9/2/2023
Aubagio
Sanofi
teriflunomide
Apotex
Used to treat the relapsing forms of multiple sclerosis (MS), including clinically isolated syndrome, relapsing-remitting disease, and active secondary progressive disease
9/6/2023
Zyprexa
Eli Lilly
olanzapine
Camber
Used to treat acute agitation associated with schizophrenia and bipolar I mania
9/25/2023
Rozerem
Takeda
ramelteon
Ziromed
Used to treat insomnia characterized by difficulty with sleep onset
9/29/2023
GENERICally Speaking Hatch Waxman Bulletin
Any information that you send us in an e-mail message should not be confidential or otherwise privileged information. Sending us an e-mail message will not make you a client of Robins Kaplan LLP. We do not accept representation until we have had an opportunity to evaluate your matter, including but not limited to an ethical evaluation of whether we are in a conflict position to represent you. Accordingly, the information you provide to us in an e-mail should not be information for which you would have an expectation of confidentiality.

If you are interested in having us represent you, you should call us so we can determine whether the matter is one for which we are willing or able to accept professional responsibility. We will not make this determination by e-mail communication. The telephone numbers and addresses for our offices are listed on this page. We reserve the right to decline any representation. We may be required to decline representation if it would create a conflict of interest with our other clients.

By accepting these terms, you are confirming that you have read and understood this important notice.