Appeals in Insurance Litigation – Appreciating Standards of Review
Whether you won or lost in the trial court, the applicable standard of review will affect your exposure and likelihood of success on appeal.
April 22, 2019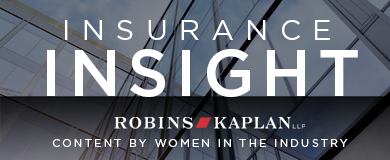 It is said that the first rule of a successful appeal is to win in the trial court. But, regardless of winning or losing in the trial court, one of the most important considerations in evaluating exposure and the likelihood of success on appeal is the applicable standard of review. The standard of review determines how much deference the appellate court will give to the determination by the trial court or jury. In insurance cases, the standard of review can change significantly depending on whether the appeal results from a judge's interpretation of policy language at summary judgment or a jury verdict in a bad faith claim.
Summary Judgment and Questions of Law
When the trial court grants summary judgment and decides a case by interpreting insurance policy language, an appellate court will apply what is known as de novo review. This standard is reserved for appeals involving questions of law, as opposed to questions of fact, and provides the least amount of deference to the trial court. The appellate court evaluates the case from scratch and reaches its own conclusions. De novo is the most favorable standard of review for parties appealing from a loss at the trial court.
Appeals in coverage cases are often subject to de novo review, particularly if the court grants a motion for declaratory relief or issues a summary judgment ruling. In Houston Casualty Company v. Strata Corporation, 915 F.3d 549 (8th Cir. 2019), the Eighth Circuit was asked to review the trial court's finding of no coverage and grant of summary judgment to the excess carrier. The Eighth Circuit reviewed the case de novo, noting it "may affirm on any ground supported by the record," and upheld the grant of summary judgment for the carrier.
Bench Trials and Questions of Fact
A somewhat different standard applies when a trial court has decided a case after a bench trial, which is fairly common in coverage disputes. In such cases, the trial court's legal conclusions are still reviewed de novo, but factual findings are reviewed for clear error. This means that—even if the appellate court would have weighed the evidence differently—it will not reverse the trial court's factual findings unless it is convinced that those findings are incorrect in light of the entire record.
For example, in Grilletta v. Lexington Insurance Co., 558 F.3d 359 (5th Cir. 2009), the Fifth Circuit was asked to review the trial court's conclusion that a water-damage exclusion did not apply where high winds and storm surge combined to damage a house during Hurricane Katrina. The trial court's conclusion was based on its assessment of competing theories presented by the parties' experts—a question of fact and not law. The Fifth Circuit decided that, because both theories were equally plausible, it was not clear error for the trial court to choose between them in finding coverage.
Jury Trials and Questions of Fact
If a case goes to trial and the jury renders a verdict, appellate courts apply a stringent "substantial evidence" standard of review. Under this standard, an appellate court will not reverse a jury verdict so long as there is sufficient supporting evidence in the record. Hangarter v. Provident Life & Accident Ins. Co., 373 F.3d 998, 1008 (9th Cir. 2004). This is a favorable standard of review for parties who won at the trial court, and likewise, a challenging standard for those appealing from a loss.
In the insurance context, the substantial evidence standard often applies where an insured has asserted a claim for bad faith or violation of consumer protection statutes. Such claims are tried before a jury, and appellate courts afford great deference to the jury's assessments of witness credibility and determination of liability.
The Robins Kaplan Insurance Insight: Spring 2019
Any information that you send us in an e-mail message should not be confidential or otherwise privileged information. Sending us an e-mail message will not make you a client of Robins Kaplan LLP. We do not accept representation until we have had an opportunity to evaluate your matter, including but not limited to an ethical evaluation of whether we are in a conflict position to represent you. Accordingly, the information you provide to us in an e-mail should not be information for which you would have an expectation of confidentiality.

If you are interested in having us represent you, you should call us so we can determine whether the matter is one for which we are willing or able to accept professional responsibility. We will not make this determination by e-mail communication. The telephone numbers and addresses for our offices are listed on this page. We reserve the right to decline any representation. We may be required to decline representation if it would create a conflict of interest with our other clients.

By accepting these terms, you are confirming that you have read and understood this important notice.