Minnesota Bans Non-Competes Formed on or After July 1, 2023: Assessing Remaining Strategies to Protect Confidential Information and Trade Secrets
By Chris Larus, David Prange, and Rajin Olson
August 2023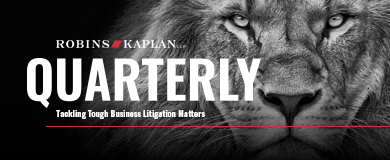 On May 24, 2023, Minnesota Governor Walz signed into law a bill banning non-competition agreements formed on or after July 1, 2023. The new law applies to non-compete agreements formed with employees or independent contractors primarily residing and working in Minnesota. It provides limited exceptions, only permitting non-competes formed during the sale or dissolution of a business. The law also prohibits the use of choice of law or venue provisions to circumvent the non-compete ban.
Before this legislation, non-compete agreements had been one of several tools that Minnesota businesses commonly used to prevent the unauthorized dissemination of confidential and trade secret information to competitors. Agreements preventing insiders with knowledge of company confidential information from working for competitors often provided a clear, objective means to limit the risk of trade secret misappropriation and misuse of confidential information. Breaches of non-compete agreements are in many cases easier to assess and prove than other more targeted agreements protecting trade secret and confidential information.
Despite these benefits, the Minnesota legislature was moved by concerns about the misuse of non-compete agreements, especially the widespread use of such agreements to employees with only limited access to truly confidential information. The resulting new law provides businesses an opportunity to assess their protection strategies employed for company trade secret and confidential information in Minnesota.
Legal strategies employing trade secret law (via the federal Defend Trade Secrets Act or the Minnesota Uniform Trade Secrets Act) to protect proprietary information are presumably unaffected by the new law. To claim information as a trade secret, companies must, among other things, take "reasonable measures under the circumstances[.]" Thus, with the loss of non-compete agreements as a tool to facilitate protection, companies should assess whether remaining measures adequately cover the information that the company desires to protect. Companies should consider, for each type of information, whether there are overlapping protection measures that protect the information in different ways. If not, a company should consider augmenting its protection plan. Such alternative protection measures may be necessary to demonstrate that a trade secret holder took reasonable measures to protect information. Such a finding could result in a misappropriating employee—and their new employer—escaping with no liability at all.
The new Minnesota law leaves untouched several other contractual protections that businesses may leverage to protect their information. The new Minnesota law expressly carves out, and thus permits, non-disclosure agreements and non-solicitation agreements. The new law also provides that an unenforceable non-compete covenant does not render void or unenforceable other provisions in the agreement. Companies should beware, however, that certain provisions designated as non-disclosure or non-solicitation agreements may still be considered unenforceable noncompete agreements under Minnesota law. Non-disclosure or non-solicitation agreements that are unusually broad in scope may function as de facto non-compete agreements, falling within the scope of the new law and making it unenforceable.
More specifically, companies should consider evaluating and revising (as needed) the language of existing and proposed non-disclosure, non-solicitation, or no-business agreements so these agreements more clearly instruct employees on what is expected of them. For example, companies should avoid overly broad definitions of confidential information and trade secrets, as well as overly broad restrictions on potential post-employment conduct. A narrowly drafted restrictive covenant that addresses a legitimate business interest may be more defensible than one aimed at restricting the conduct or rights of a former employee. In addition, when crafting a restrictive covenant, companies should consider developing a credible and straightforward explanation for it, such as identifying the specific business interest it protects.
Minnesota's ban on non-compete agreements may affect some companies' efforts to protect confidential or trade secret information. To mitigate any risk of loss, companies should reevaluate their employment agreements to ensure they focus on protection that addresses the information itself and not the individuals that use the information.
Any information that you send us in an e-mail message should not be confidential or otherwise privileged information. Sending us an e-mail message will not make you a client of Robins Kaplan LLP. We do not accept representation until we have had an opportunity to evaluate your matter, including but not limited to an ethical evaluation of whether we are in a conflict position to represent you. Accordingly, the information you provide to us in an e-mail should not be information for which you would have an expectation of confidentiality.

If you are interested in having us represent you, you should call us so we can determine whether the matter is one for which we are willing or able to accept professional responsibility. We will not make this determination by e-mail communication. The telephone numbers and addresses for our offices are listed on this page. We reserve the right to decline any representation. We may be required to decline representation if it would create a conflict of interest with our other clients.

By accepting these terms, you are confirming that you have read and understood this important notice.