In No Uncertain Terms
Strategies for Assessing and Mitigating Risk in Technology and Software License Disputes
October 2022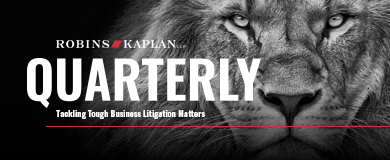 By Bryan Mechell
Software providers, asset managers, and licensees can consider various strategies to help assess risk and effectively negotiate software license compliance disputes.
Software is the heartbeat of every industry. Rapid changes in technology, business objectives, and market preferences experienced by software licensees and licensors alike have historically resulted in significant disputes over software license agreements. On top of this, the pandemic has accelerated the evolution of ways in which software is used, distributed, and leveraged in today's increasingly demanding and hybrid work-from-home models.
Technology and software license disputes often arise over linguistic imprecision in defining the software product being licensed, restrictions on use, and how license fees are calculated. Users beyond the intended scope of the license may access the software, a licensee may make unauthorized copies outside of geographic restrictions, or the terminology in the license may incompletely capture more recent changes in technology or business models.
As trial lawyers, we advise clients on all sides of technology and software license disputes and see firsthand how previously agreed-upon terms and other issues relating to license agreements play out in negotiation and — when an amicable resolution cannot be reached — the courtroom.
Leveraging this unique perspective, we offer strategies that parties seeking to enforce or defend their intellectual property and contractual rights to software-based assets can consider helping navigate the process and avoid expensive litigation.
IDENTIFY KEY LICENSE TERMS AND SCOPE
Many license disputes result from differing interpretations of key terms. The parties may have differing views on how licensed software can be used (e.g., types of copies allowed), how license fees are calculated (e.g., per copy, per core, user/seat based), who can access software (e.g., employees, contractors, other third parties), and field of use (e.g., technology types, geographic restrictions). Understanding the type of software license and restrictions on copying are critically important.
For instance, ambiguity over license terms regarding what constitutes "use" of the software may give rise to disputes. In Quest Software, Inc. v. Nike, Inc., Case No. 3:18-cv-00721 (D. Or. 2018), the dispute involved the definition of "unauthorized users" in Nike's Software License and Service Agreement ("SLSA") with Quest. A large part of the damages in dispute related to users who simply had access to Quest software (e.g., "potential" users), whether they used the software or not. A key question for resolution in the lawsuit was therefore what constitutes an "authorized" user under the terms of the SLSA. According to Quest, if a user could access or was permitted to access its software, the SLSA required a licensing fee, even if the user had no need or history of using the software. Nike, on the other hand, argued the SLSA merely required payment for "all unauthorized users," that the ordinary meaning of "user" meant individuals that actually executed Quest's software, and therefore only direct users required a fee. The case ultimately settled on confidential terms.
One takeaway for companies assessing risk in their own potential disputes in light of software license disputes like Quest v. Nike is that parties should assess not only the merits of each side's competing views on the license term(s) in dispute but also any other terms that might affect or be affected by each interpretation of the disputed terms. Terms relating to restrictions on use, types of copies that can be made, geographic provisions, privacy and security, data ownership, warranties, and software uptime/downtime requirements all merit a close look.
Keep in mind that different interpretations of terms may affect existing license agreements on similar technology. Therefore, taking a global approach to assessing key license terms not only addresses the merits of a specific dispute but could also help identify broader solutions going forward.
PAY SPECIAL ATTENTION TO AFFIRMATIVE OBLIGATIONS
Like any dispute, litigation arising from breach of a software license agreement can strain collaborative business relationships that are key to both parties' business continuity.
Exemplifying this point was a recent dispute between Hewlett-Packard Co. and Oracle Corp. involving Oracle's violation of an affirmative contract term requiring Oracle to support software on HP's Itanium server. Despite having previously agreed to support HP's Itanium server, Oracle discontinued all software development on the Itanium processor, arguing that it was simply a long-standing "voluntary" business relationship, not a mandatory provision. The California Appellate Court disagreed, holding that the agreement's "mandatory language which appears in a contractual setting where previously no contract had existed, necessarily creates new legal duties." In other words, Oracle had affirmatively bound itself by contract to "continue" certain conduct—the scope of which was defined by past voluntary practices. The California appellate court affirmed HP's $3 billion win against Oracle. Hewlett-Packard Co. v. Oracle Corp., 65 Cal.App.5th 506 (2021).
An important takeaway from the HP v. Oracle case is for software providers and licensees to regularly review contractual relationships for affirmative obligations that might be similarly construed, especially when discontinuing support for software products that might be tied to third-party hardware. For example, agreements made 10 years ago may be tied to outdated or defunct hardware. Conversely, software providers involved in mergers or acquisitions, such as acquiring new software technologies from an existing provider, should look closely at any affirmative obligations and duties to existing licensees absorbed as part of the acquisition.
QUANTIFY THE DISPUTE AND ASSOCIATED BUSINESS RISK
When faced with a potential breach of license agreement, software licensors and licensees should conduct a holistic assessment of potential financial liability, factoring in the cost of litigation and likelihood of success, potential monetary damages, the effect that termination of the license agreement would have upon their business, as well as any potential sources of relief through indemnification or insurance coverage.
For software licensors, quantification of the dispute and associated business risk should be considered as a matter of course in connection with license audit practices and periodic reviews of license compliance. Developing a fulsome understanding of the potential damages and impact escalation might have on revenue streams provides valuable data points for decision makers on business and legal teams.
For software licensees, a holistic assessment of the above issues has the added benefit of helping licensees develop a more complete picture of their use of the licensed software in different situations — particularly those involving on-premises software. And, sometimes, business-level discussions where a party voluntarily provides more detailed information on software use can enable a good-faith dialogue for resolving a dispute. Disclosing such information comes with risks and should only be done after consulting legal counsel.
RESOLVE AMBIGUITIES AND FUTURE-PROOF AGREEMENTS
If the framework of the license dispute allows, parties should consider taking the time to resolve ambiguities and future-proof agreements now to prevent additional disputes down the road. This might include an agreement to review and, if necessary, redraft other existing licenses to clarify and resolve ambiguities. This effort can focus on known and anticipated changes in technology, infrastructure, and software use. Parties should consider how future changes in computer hardware could impact license terms. For example, the definition and calculation of license payments based on ambiguous definitions of terms for "physical" and "virtual" computer cores has been a common source of disputes in recent software audits. And now that more employees work from home, the increased use of licensed software in different distributed environments and geographic locations presents another source of potential ambiguity when applied to pre-pandemic software licenses. Incorporating new and revised terms into existing agreements could help reduce disputes in the future and has the added benefit of creating a solid shared understanding for the going-forward business relationship.
Any information that you send us in an e-mail message should not be confidential or otherwise privileged information. Sending us an e-mail message will not make you a client of Robins Kaplan LLP. We do not accept representation until we have had an opportunity to evaluate your matter, including but not limited to an ethical evaluation of whether we are in a conflict position to represent you. Accordingly, the information you provide to us in an e-mail should not be information for which you would have an expectation of confidentiality.

If you are interested in having us represent you, you should call us so we can determine whether the matter is one for which we are willing or able to accept professional responsibility. We will not make this determination by e-mail communication. The telephone numbers and addresses for our offices are listed on this page. We reserve the right to decline any representation. We may be required to decline representation if it would create a conflict of interest with our other clients.

By accepting these terms, you are confirming that you have read and understood this important notice.