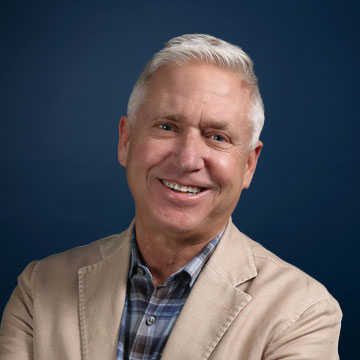 Philip Sieff
Partner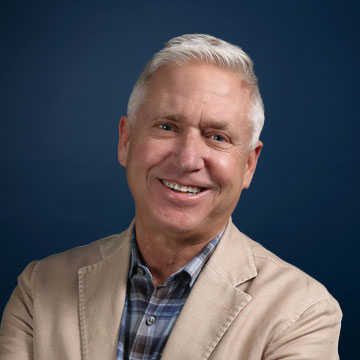 Experience
Trial lawyer Phil Sieff battles for justice when wrongdoers cause serious injury or death. Intense and relentless, he helps clients find the courage they need to face those who have hurt them. He has significant experience representing families coping with the wrongful death of a loved one, particularly a child, having handled hundreds of wrongful death cases. He has particular experience in complex and high profile cases, including: the I-35W Bridge Collapse (lead co-counsel of I-35W Consortium, a group of 17 law firms that provided legal services to over 100 collapse victims); the Red Lake High School Shooting; and the Holidazzle Parade Disaster.
Mr. Sieff has spent more than twenty seven years in front of judges and juries obtaining justice from wrongdoers and their insurance companies. He has tried—and won— injury and wrongful death cases and has obtained numerous million dollar verdicts and settlements for his clients. He has handled cases involving serious car accidents, passenger injuries, defective products, medical malpractice, violence in schools, drunk drivers, boating accidents, train derailments, construction site accidents, truck accidents, and airplane crashes. Mr. Sieff also has significant experience helping crime victims and people dealing with post-traumatic stress disorder.
Phil Sieff represents victims in wide variety of serious, complex, and high profile injury and wrongful death matters. Examples of some of those cases include:
I-35W Bridge Collapse. Mr. Sieff served as lead co-counsel of the I-35W Consortium, a group of 17 law firms that provided legal services to the over 100 victims of the August 1, 2007 I-35W Bridge Collapse in Minneapolis. Robins Kaplan LLP provided free legal services to our clients. Mr. Sieff contributed over 3,500 hours of free legal services to the victims. He was instrumental in helping secure a legislatively created $37 million compensation fund for the Bridge Collapse victims, was in charge of managing the needs of the Consortium's 100+ Bridge Collapse clients, coordinating the work of the Consortium law firms, and was the point person for the engineering experts hired to determine the cause of the collapse. In 2009, PCI Corporation paid its insurance policy limits to the victims in a settlement and three years after the collapse, URS Corporation paid more than $40 million to settle the Consortium clients' claims. An additional $1.5 million was recovered from URS which was donated for the construction of the memorial built in Minneapolis to honor the victims of the collapse. In total, more than $77 million was recovered for the Consortium clients and Robins Kaplan LLP attorneys and staff devoted more than 20,000 hours of free legal services to the case. Due to the contributions from Mr. Sieff and other dedicated individuals, the firm received The National Law Journal's 2011 Pro Bono Award for its work in representing victims of Minnesota's 2007 I-35W bridge collapse. To learn more about the award and the I-35W Bridge collapse case, click here.
Fire and Explosion Accident. Continuing their work in fire and explosion cases, Mr. Sieff and Business Litigation Chair Jason Pfeiffer recently reached a partial settlement of $3.4 million for a man who was burned in a dust explosion at a Midwest manufacturing facility. The case continues against other non-settling parties.
Spinal Cord Injury Accident. Mr. Sieff, working with outside co-counsel, reached a $14.5 million settlement at early mediation on behalf of a 43-year-old man who sustained a severe spinal cord injury in a fall. The settlement was reached less than one year from when Phil was retained.
Industrial Accident. Mr. Sieff completed a settlement for a 32-year-old male who suffered an industrial accident that left him with third-degree burns over 70 percent of his body. The injured man settled with defendants for $15.4 million.
Trial of Cirrus Plane Crash. Mr. Sieff obtained a $7.4 million jury verdict against Cirrus and others for the family of a 51-year-old man killed as a result of a Cirrus airplane crash. Unfortunately for the fatherless family, the verdict was later overturned by the Minnesota Supreme Court.
Red Lake High School Shooting. On March 21, 2005, a 16-year-old went on a shooting rampage at the high school on the Red Lake Indian Reservation in northern Minnesota. Ten people, mostly high school students, died in the rampage, making this one of the most devastating school shootings on record. Mr. Sieff was honored to represent the families of five children who died in the shooting and four of the children wounded. Mr. Sieff worked for several years to secure justice for the victims of this tragedy. This compensation came in the form of confidential monetary settlements with the Red Lake School District and a private company that provided the school with security consulting services. Those settlements provided funds used in part for health care expenses and post-secondary education.
Methadone-Related Car Accident: Mr. Sieff represented the families of two young men killed in a traffic collision caused by a methadone-impaired driver. After a motion to dismiss, the families' claims against the methadone clinic for negligent practices went forward following a "first-of-its-kind" ruling in Minnesota, in which the district court found that the clinic had a duty to protect the public from its improper treatment practices. After over two years of litigation and shortly before trial, the clinic agreed to confess judgment, be adjudicated negligent, and to assign all claims against its insurance companies two weeks prior to a scheduled jury trial. The judgments amounted to $8.5 million; insurance coverage continues to be actively litigated.
Trial of the Holidazzle Parade Disaster. In December 1998, an out-of-control vehicle killed and seriously wounded numerous spectators in the crowd gathered on Minneapolis' Nicollet Mall to watch the Holidazzle Parade. Mr. Sieff represented several of the injured survivors of this tragedy, including a young girl who lost her arm. Mr. Sieff tried the Holidazzle Parade case before a Minneapolis jury for more than six weeks. Ultimately, the jury returned a verdict in favor of Mr. Sieff's clients, including $3.8 million for the little girl whose arm was amputated, with most of the money set aside so she could receive artificial limbs and medical care for her lifetime.
Trial of Work Place Injury. In November 2009, an operator of an excavator hit a young laborer with a 2,000 pound excavator bucket causing the laborer a pelvic injury that improved without long-term problems. Mr. Sieff, who represented the injured laborer, tried the personal injury case before a Duluth, Minnesota jury which returned a verdict in favor of Mr. Sieff's client, including $250,000 in punitive damages.
Automobile Collision. In 2007, a 63-year-old farm wife was severely injured when an approaching car crossed the center line on a rural two-lane road and struck her car. The collision left the woman injured with fractures to her right shoulder and arm, pelvis, right hip, right leg, and right foot. After developing an infection, her left arm had to be amputated below the elbow. The defendants denied liability and disputed damages, but in 2011 Mr. Sieff secured a $3.8 million settlement to cover the woman's massive, ongoing medical expenses, projected future expenses, and allowed the creation of a plan to help her adapt to her life-altering injuries. To learn more about the case, click here.
Fatal Car Accident. Mr. Sieff settled a case involving the wrongful death of a 22-year-old single female resulting from a motor vehicle accident. Pre-suit settlement with defendants for $1,630,000.
Wrongful Death of a Teenager. The family of a 13-year-old who died from injuries sustained in a single car motor vehicle crash retained Mr. Sieff to pursue a wrongful death claim against the driver of the car. Mr. Sieff was able to settle the case through mediation for $1,500,000 with much of the settlement being used for charitable purposes by the family of the deceased teenager. (2013)
Wrongful Death of a Senior Citizen. Mr. Sieff represented the family of a 75-year-old unmarried woman who was a passenger in a vehicle which was rear-ended by a school bus. The case settled at mediation for $900,000 while a motion for punitive damages against the bus company was pending. (2013)
Wrongful Death of Grandmother and Grandson. A 14-year-old and his 65-year-old grandmother were in a car in Duluth, Minnesota, which was hit by a drunk driver. The grandmother died in the crash. The 14-year-old boy survived the crash with a massive traumatic brain injury but tragically died one year post-collision following brain surgery. Mr Sieff helped the families of the grandmother and her grandson settle their wrongful death claim on a confidential basis while litigation was pending. (2013)
Wrongful Death/Dram Shop. The widow and two adult sons of a former law enforcement official who died in a single car collision were represented by Mr. Sieff in suit brought against a bar for over-serving the deceased. The case settled on a confidential basis just before trial. (2012)
Wrongful Death of an Infant. Tragically, a 3-month-old baby boy died from probable positional asphyxia while in licensed daycare after the daycare provider put the infant to sleep on an adult bed and not on his back, in violation of Minnesota law. The parents of the infant retained Mr. Sieff who was able to settle their claim for wrongful death with the insurer for the daycare paying full policy limits. (2013)
Catastrophic Injury to a Toddler. Mr. Sieff represented a 2-year-old who was a passenger in his daycare provider's vehicle which slid off the road and hit a light pole. The toddler sustained a severe traumatic brain injury. The insurer for the daycare provider settled for full insurance policy limits. The settlement will be used for the toddler's long-term health needs. (2013)
Workplace Death. Confidential settlement for the family of a 25-year-old man who died in an industrial accident.
Wellstone Plane Crash. Mr. Sieff worked on the team representing the family of United States Senator Paul Wellstone and others following a plane crash that killed Senator Wellstone and members of his family and staff.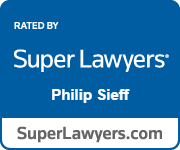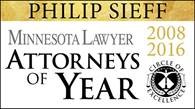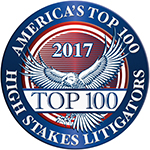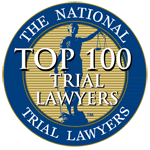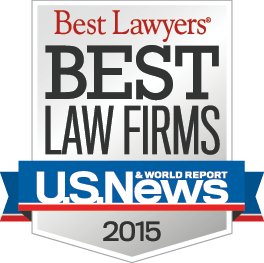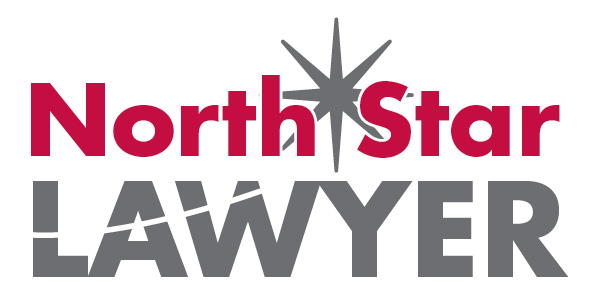 Mr. Sieff has received both local and national recognition for his commitment to clients and justice. Specific honors include:
Selected as a Litigation Counsel of America Fellow
Named to POWER 30 List, Minnesota Lawyer (2023)
Listed in "500 Leading Plaintiff Consumer Lawyers," Lawdragon (2019; 2021-2023)
Listed in The Best Lawyers in America (2012-2024 editions)
Named a "Minnesota Super Lawyer," Super Lawyers (2000-2023)
Named to the "Minnesota Super Lawyers Top 100" list by Super Lawyers (2016-2020, 2022)
Named "Lawyer of the Year," The Best Lawyers in America (2021 edition)
Voted a "Super Lawyer" of Minnesota law by his peers every year since 2000
Named a "Plaintiff's Lawyer Trailblazer," The National Law Journal (2019)
Named one of "America's Top 100 High Stakes Litigators" by America's Top 100 Attorneys (2017)
Named to the "Circle of Excellence" by Minnesota Lawyer, honoring the multiple years the publication has named him an "Attorney of the Year" (2008, 2016)
Named a "North Star Lawyer" by the Minnesota State Bar Association for providing at least 50 hours of pro bono legal services (2015-2016)
Elected to the American Board of Trial Advocates, Member, Minnesota Chapter (2014)
Named a "Top Rated Lawyer in Personal Injury Law," American Lawyer Media (2013)
Named one of "Minnesota's Best Lawyers," Best Lawyers in America and Minnesota Monthly (2013)
Named a "Litigation Star," Benchmark Litigation (2013 edition)
Recipient of the "Leadership & Service Award," Cornell College (2012)
"Distinguished Alumni Award," Hamline University School of Law (2011)
Recipient of the "Arthur von Briesen Award," from the National Legal Aid and Defender Association, in recognition of his work following the I-35W Bridge Collapse (2010)
Recipient of the second annual "Pro Bono Award" from the American Association for Justice for securing a bridge fund for the victims, as well as assisting the investigation into the cause of the I-35W Bridge Collapse (2009)
"Professional Excellence Award," from the Minnesota State Bar Association, awarded to a group of lawyers who represented survivors of the I-35W Bridge Collapse on a pro bono basis (2009)
Designation as Co-lead Counsel for the I-35W Pro Bono Consortium
In addition, Mr. Sieff has been quoted in various media outlets both locally and nationally. His media appearances include The New York Times, USA Today, Associated Press, Minneapolis Star Tribune, St. Paul Pioneer Press, KSTP TV, WCCO Radio, Minnesota Public Radio and WCCO TV. He has also appeared in newspapers all across the Iron Range and North Dakota.
Bar Admissions
Minnesota
U.S. District Court, Minnesota
U.S. District Court, Western District of Missouri
U.S. District Court, Western District of Wisconsin
Education
Hamline University Law School, J.D., cum laude (1985), Associate Member, Hamline Law Review and Associate Editor-In-Chief, Hamline Law Review Symposium
Cornell College, B.S.S., Politics, with distinction
Messaging Your Case for the Jury and the Media
Robins Kaplan LLP 2022 Trial Advocacy Seminar, Minneapolis, Minnesota (December 15, 2022)
Flipping the Defense Turning the Truckers Defense Into Your Best Case
North Dakota Association for Justice (October 1, 2018)
Methadone and Opiate Addiction Is the Cure as Bad as the Disease
South Dakota Trial Lawyers Association, Larchwood, South Dakota (May 11, 2017)
The I35W Bridge
University of Minnesota Law School, Minneapolis, Minnesota (November 16, 2016)
Methadone and Opiate Addiction Is the Cure as Bad as the Disease
Robins Kaplan Trial Advocacy Seminar, Minneapolis, Minnesota (October 13, 2016)
Maximizing Damages Seminar
Minnesota Association for Justice (October 1, 2013)
Representing People of Color: Lessons Learned from The Red Lake School Shooting, The I-35W Bridge Collapse, and Other Catastrophic Events
North Dakota Association for Justice (May 1, 2013)
Lessons Learned: Red Lake Shooting
Minnesota Association for Justice (February 1, 2013)
Maximizing Wrongful Death Damages
Minnesota Association for Justice (January 1, 2012)
Trials – How to Make or Break Your Case
Minnesota Attorney General's Office (June 7, 2011)
Litigating Mass Tort Cases
Hispanic National Bar Association, Minneapolis, Minnesota (September 8, 2010)
Subrogation Seminar
Minnesota Association for Justice (December 15, 2008)
Physical Injuries, Loss of Physical Capabilities, Pain and Suffering
Minnesota State Bar Association (December 15, 2008)

National Business Institute (January 15, 2004)
Advanced Legal Training Course Personal Injury
NALS, The Association for Legal Professionals (January 14, 2003)
The Evidence Factor Spoliation of Evidence
Minnesota State Bar Association (January 12, 2003)
The Holidazzle Parade Trial An Examination
Minnesota Trial Lawyer Association Convention (January 14, 2002)
Mold Why Mold Why Now Evaluating the Case A Reality Check
Minnesota State Bar Association (January 12, 2002)
RESOURCES
Links to full publications and news releases.
Any information that you send us in an e-mail message should not be confidential or otherwise privileged information. Sending us an e-mail message will not make you a client of Robins Kaplan LLP. We do not accept representation until we have had an opportunity to evaluate your matter, including but not limited to an ethical evaluation of whether we are in a conflict position to represent you. Accordingly, the information you provide to us in an e-mail should not be information for which you would have an expectation of confidentiality.

If you are interested in having us represent you, you should call us so we can determine whether the matter is one for which we are willing or able to accept professional responsibility. We will not make this determination by e-mail communication. The telephone numbers and addresses for our offices are listed on this page. We reserve the right to decline any representation. We may be required to decline representation if it would create a conflict of interest with our other clients.

By accepting these terms, you are confirming that you have read and understood this important notice.