Minnesota Settles Lawsuit Against JUUL and Altria for $60.5 million
May 17, 2023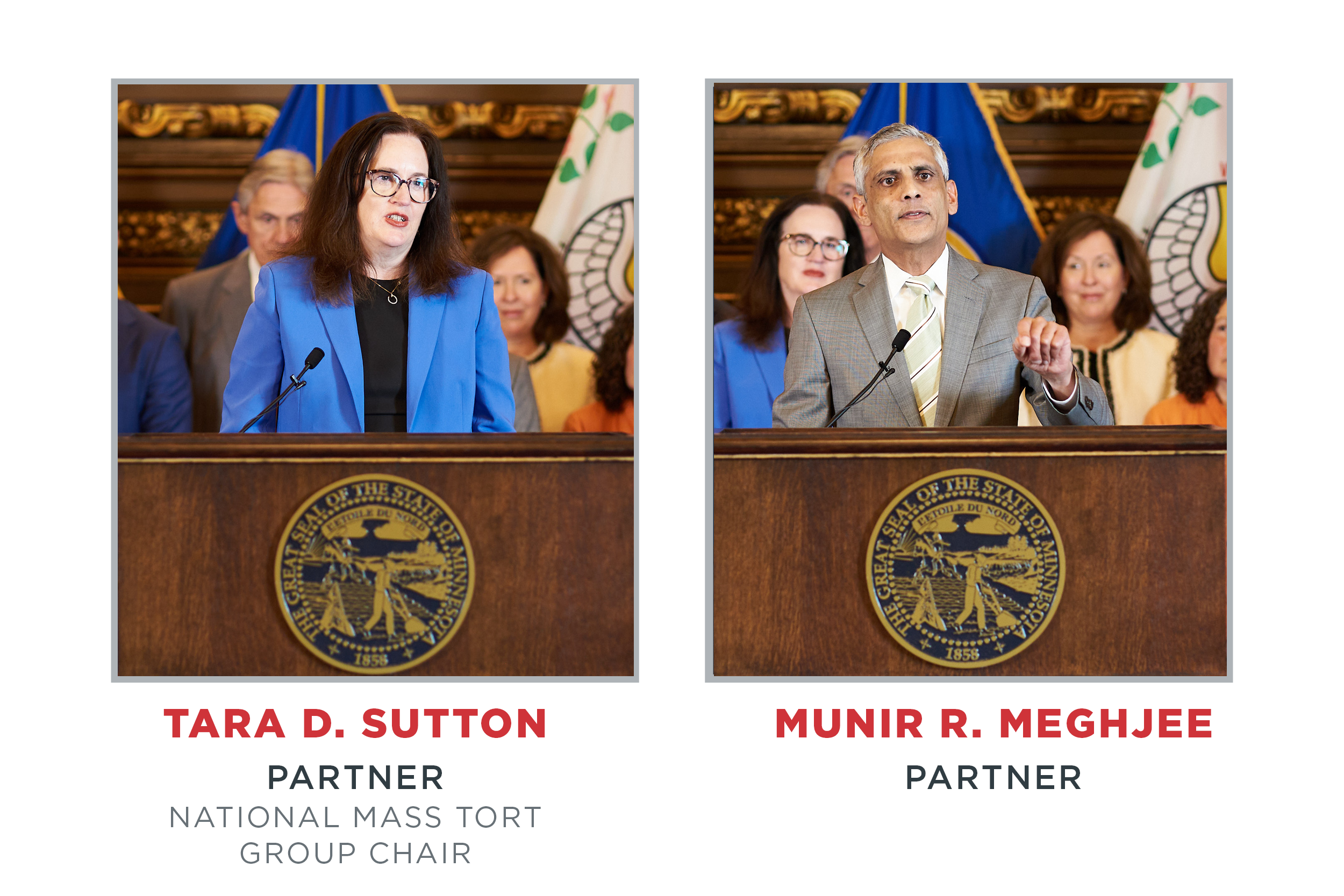 After three-week trial, settlement value is largest per capita in U.S., exceeds JUUL's gross revenues from marketing and selling to Minnesotans; State to receive 60% of the funds within one year
Minnesota also wins prohibitions against marketing to youth and young adults and publication of industry documents
Minnesota Attorney General Keith Ellison today announced the details of his Office's settlement with JUUL and Altria for deceptively marketing e-cigarettes, which includes $60.5 million in combined payments by the two companies and public disclosure of JUUL and Altria internal documents. This announcement follows Minnesota's three-week trial against the companies in March and April 2023. Robins Kaplan and Zimmerman Reed were privileged to partner with the State of Minnesota on this litigation.
Under the terms of the Consent Judgment filed today with the Hennepin County District Court, JUUL and Altria will together pay a total of $60.5 million to the State of Minnesota over an eight-year period. This settlement is the largest per capita of all 48 states and territories that have settled with JUUL. The terms of the settlement require JUUL and Altria to publish their internal documents related to the litigation in a public document depository.
The trial began on March 28, 2023, with opening statements by Attorney General Ellison and lead trial counsel Tara Sutton of Robins Kaplan. The State presented 11 witnesses in support of its claims against JUUL and Altria before Attorney General Ellison rested the State's case on April 11. The settlement was announced on the eve of the case going to the jury for deliberation.
"In late March, I told a Hennepin County jury that JUUL and Altria baited, deceived, and addicted a whole new generation of kids — all so they could make money. They did this after Minnesotans had slashed youth smoking rates down to the lowest level in a generation. As we did in the Big Tobacco litigation 25 years ago, Minnesotans once again demonstrated leadership by being the first, and so far only, state in the nation to take JUUL and Altria to trial," Attorney General Ellison said. "After three weeks of trial where we demonstrated over and over how JUUL and Altria knowingly deceived Minnesotans — and on the verge of closing arguments — we reached this historic settlement that will quickly get resources into prevention and will put a stop to the deceptive behavior that led to this crisis in the first place. This settlement, which is the largest of its kind in the country, also sends a clear message: we will not tolerate marketing nicotine products to children and youth in Minnesota and we will hold you accountable if you do."
"Minnesota is a state that stands up for and protects our young people. As a father and as Governor, I am proud that Minnesota is holding JUUL accountable for the harm it caused so many young Minnesotans," said Governor Tim Walz. "I am grateful to Attorney General Ellison for leading this charge and to the trial team for their work. This settlement brings us another step closer to making Minnesota the best state for kids."
"Three and a half years ago, we heard firsthand the devastating impacts that nicotine addiction and e-cigarette use had on our young people's physical and mental health and overall well-being," said Lieutenant Governor Peggy Flanagan. "We have a responsibility to protect our kids. Allowing deceptive, harmful marketing to target young children is unacceptable — and we are not going to tolerate it here in Minnesota. Thank you to the Attorney General and his team for their work and to the young people who had the courage to share their stories and inspire action."
"We are proud to stand with Governor Walz, Attorney General Ellison, and Lieutenant Governor Peggy Flanagan today to close another chapter in the fight against the tobacco companies putting Minnesota youth at risk through deceptive marketing," said Tara Sutton, lead trial counsel from Robins Kaplan. "From the groundbreaking tobacco trial in 1998 to today, Robins Kaplan has been honored to play a role in protecting Minnesota's children."

"As the first state to go to trial against JUUL, Minnesota has proven once again, as it did 25 years ago, that it will hold tobacco companies accountable for their actions," said Munir Meghjee, lead trial co-counsel and Robins Kaplan partner. "Thank you to Attorney General Ellison and our co-counsel Zimmerman Reed for partnering with us in this hard-fought battle for the benefit of Minnesota youth."
"We knew from the outset that this litigation would be exceptionally hard-fought. And it was. But we also knew that protecting Minnesota's youth from the dangers and addictiveness of e-cigarettes was a responsibility we owed to the future. We had to challenge these tobacco companies over their role in fueling Minnesota's youth e-cigarette epidemic," said Zimmerman Reed partner June Hoidal. "It has been an honor to work alongside our Attorney General and his Office and our co-counsel at Robins Kaplan to achieve such a great result for our State. We are grateful for the work we were able to contribute to this case and take satisfaction knowing that our success has made Minnesota, our cities, and communities healthier and better places for the next generation."
You can read AG Ellison's statement here and the Consent Judgment here. Watch the press conference announcing the settlement here.
Any information that you send us in an e-mail message should not be confidential or otherwise privileged information. Sending us an e-mail message will not make you a client of Robins Kaplan LLP. We do not accept representation until we have had an opportunity to evaluate your matter, including but not limited to an ethical evaluation of whether we are in a conflict position to represent you. Accordingly, the information you provide to us in an e-mail should not be information for which you would have an expectation of confidentiality.

If you are interested in having us represent you, you should call us so we can determine whether the matter is one for which we are willing or able to accept professional responsibility. We will not make this determination by e-mail communication. The telephone numbers and addresses for our offices are listed on this page. We reserve the right to decline any representation. We may be required to decline representation if it would create a conflict of interest with our other clients.

By accepting these terms, you are confirming that you have read and understood this important notice.