Acumen Powered By Robins Kaplan LLP® Earns Firm 2022 New York Law Journal Innovation Award
August 17, 2022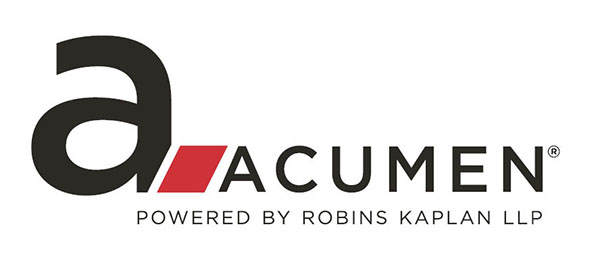 The New York Law Journal announced on Monday that Robins Kaplan is among three firms selected to receive the 2022 Innovation Award, which honors forward-thinking firms and individuals who have pushed the envelope during unprecedented times.
The firm is recognized for its suite of interdisciplinary professional services, Acumen Powered by Robins Kaplan LLP®, which the firm launched amidst the pandemic in August 2021. With Acumen, Robins Kaplan combines more than 80 years of trial experience with the expertise of Ph.D. scientists, engineers, financial and economic consultants, as well as dedicated Ediscovery professionals. Together, they leverage cutting-edge technologies to help clients increase efficiency, reduce costs, and develop specialized solutions to meet their business goals.
The full suite of services includes Ediscovery, Science and Engineering Advisors, Financial and Economic Consultants, Patent Analytics with Pinpoint IP®, Investigators, Research and Business Intelligence, and Trial and Multimedia Consultants. The following is just a sampling of the recent wins fueled in significant part by the teams that are part of Acumen:
In June 2021, the firm's science and engineering advisors were key to driving confidential settlements on behalf of a patent holder against several smartphone manufacturers as part of a series of related patent litigation matters.
In November 2021, the firm's trial and multimedia consultants served on the team that obtained a $27.8 million jury verdict for a plastic surgeon who endured a leg amputation after he was denied transport for proper medical care.
The Robins Kaplan Ediscovery Group played a critical role in assisting the firm in settling a sprawling insurance dispute that lasted more than eight years, with claims of more than $150 million. The group handled expansive document organization and review of 2.4 terabytes of information resulting from more than 900 interrogatories and document requests.
"We define success as helping our clients win, against all odds, and Acumen Powered by Robins Kaplan LLP® has supercharged that," said Shelley Gilliss, the firm's Chief Talent Officer and Chief Administrative Officer.
Learn more about Acumen Powered by Robins Kaplan's LLP® here.
Any information that you send us in an e-mail message should not be confidential or otherwise privileged information. Sending us an e-mail message will not make you a client of Robins Kaplan LLP. We do not accept representation until we have had an opportunity to evaluate your matter, including but not limited to an ethical evaluation of whether we are in a conflict position to represent you. Accordingly, the information you provide to us in an e-mail should not be information for which you would have an expectation of confidentiality.

If you are interested in having us represent you, you should call us so we can determine whether the matter is one for which we are willing or able to accept professional responsibility. We will not make this determination by e-mail communication. The telephone numbers and addresses for our offices are listed on this page. We reserve the right to decline any representation. We may be required to decline representation if it would create a conflict of interest with our other clients.

By accepting these terms, you are confirming that you have read and understood this important notice.