Robins Kaplan's Antitrust Class Action Practice Recognized as Leader In The Field For Fourth Consecutive Year
June 23, 2022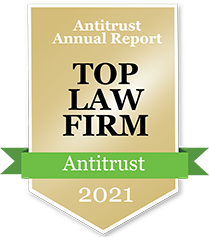 Robins Kaplan LLP is pleased to announce that the firm received top rankings in the 2021 Antitrust Annual Report produced by The Huntington National Bank and the Center for Litigation and Courts at UC Hastings College of Law.
The 2021 Antitrust Annual Report compiles data from all antitrust class actions litigated in United States Federal Court from 2009 through 2021. Now in its fourth year, the report provides a data-driven analysis of the volume of antitrust class action complaints filed each year, average times to settlement, recoveries, law firms representing plaintiffs and defendants, and more.
Robins Kaplan is ranked among the leading firms in four categories:
Top 50 Cases with Settlements Reaching Final Approval 2009-2021
Top 25 Lead Counsel in Complaints Filed
Top 25 Lead Counsel in Number of Settlements Filed
Top 25 Lead Counsel in Class Recovery
"Our antitrust attorneys have worked tirelessly to obtain justice for our clients in some of the most high-profile antitrust class actions to ever be litigated," said Kellie Lerner, Co-Chair of Robins Kaplan's Antitrust Group. "In the past year alone, we have reached $100 million in settlements in In re Contact Lenses Antitrust Litigation and settled a class action against Pharma Bro Martin Shkrelli and his company within months of our initial filing in In re Daraprim Antitrust Litigation. It is an honor to be recognized for our achievements and we look forward to another decade of precedent-setting success."
Stacey Slaughter, Co-Chair of Robins Kaplan's Antitrust Group, agrees: "Our firm has a long track record of prosecuting innovative antitrust cases. From the Minnesota Tobacco litigation to Private Equity, we've pioneered new theories and advanced the discussion for decades now. Those cases, along with our recent successes, demonstrate that our firm's lawyers don't just practice law, we make history."
The full report is available here.
Any information that you send us in an e-mail message should not be confidential or otherwise privileged information. Sending us an e-mail message will not make you a client of Robins Kaplan LLP. We do not accept representation until we have had an opportunity to evaluate your matter, including but not limited to an ethical evaluation of whether we are in a conflict position to represent you. Accordingly, the information you provide to us in an e-mail should not be information for which you would have an expectation of confidentiality.

If you are interested in having us represent you, you should call us so we can determine whether the matter is one for which we are willing or able to accept professional responsibility. We will not make this determination by e-mail communication. The telephone numbers and addresses for our offices are listed on this page. We reserve the right to decline any representation. We may be required to decline representation if it would create a conflict of interest with our other clients.

By accepting these terms, you are confirming that you have read and understood this important notice.