Benchmark Litigation Names Patrick Arenz and Aaron Fahrenkrog to its 40 & Under Hot List in 2021
July 21, 2021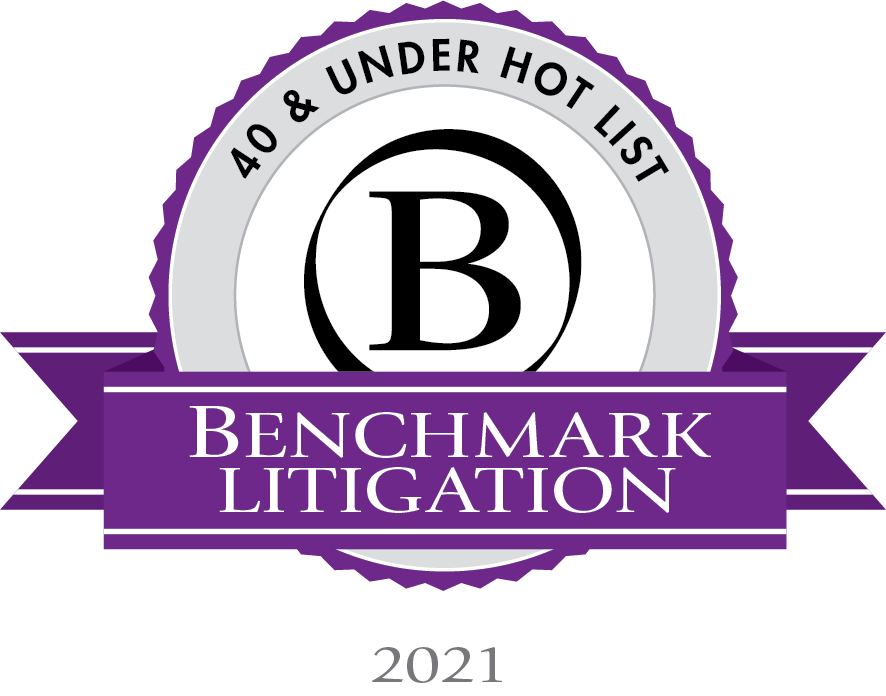 Robins Kaplan LLP is pleased to share that Benchmark Litigation has recognized Patrick Arenz and Aaron Fahrenkrog in its 6th edition of Benchmark Litigation, 40 & Under Hot List, the guide to the nation's most notable up and coming litigation attorneys in the United States. This is the third consecutive year that Patrick and Aaron have been recognized on this prestigious list.
Patrick Arenz handles high-stakes disputes for clients ranging from Fortune 100 companies to small inventor-led companies, as well as individuals, with a particular focus on patent and copyright infringement matters, trade secret misappropriation, breach of contract disputes, and business and individual tort cases.
Patrick served as co-lead counsel representing celebrity chef Chloe Coscarelli in a breach of contract dispute that went to arbitration, wherein he helped restore her interest as a 50% owner of the company that operates her namesake restaurants. The arbitrator also awarded more than $2 million in fees and costs. Patrick later won a federal court order preventing the company from selling the eponymous "by Chloe" trademark without her consent. He also served as co-lead trial counsel in Covidien v. Esch, securing a final judgment in excess of $2 million that held a former Covidien employee liable for breaching his contracts and disclosing and using confidential information to start his own company.
Patrick also served as trial counsel in Megdal Associates LLC v. La-Z-Boy, Inc., wherein the jury awarded his client, an inventor of power motion furniture, $5.7 million in damages and a judgment that La-Z-Boy, Inc., had breached its technology license agreement. La-Z-Boy later settled for $13.5 million while the case was pending on appeal.
Leveraging his academic background in chemical engineering, Aaron Fahrenkrog handles complex intellectual property cases in a wide range of areas, including patents, strategic IP monetization, class actions, technology licensing, and publicity rights.
Aaron currently represents Corel in a patent infringement suit against Microsoft, alleging that most or all products in the Microsoft Office suite infringe patents originating in Corel's market-leading Word Perfect software, with damages based on sales of Microsoft Word and other Office products. Aaron is also involved in a series of lawsuits against Netflix and Hulu, wherein he and his colleagues assert that the streaming platforms are benefitting from technology invented by their client.
Aaron has also developed a robust practice representing clients who practice in the computing and semiconductors industry, successfully representing his client Advanced Micro Devices, Inc. (AMD) in a number of high profile patent infringement litigations involving hundreds of products, including USB, graphics processing units, thermal management, memory, and more. Aaron and his colleagues have recovered over $500 million for clients in the computing and semiconductor industry alone.
Benchmark Litigation describes individuals named to the 40 & Under Hot List as follows:
These select litigators are diverse and enthusiastic, ready to take the reins from previous generations. These young ambitious and accomplished lawyers frequently handle major cases – some of which are high-stakes or precedent-setting. They are able to adapt to rapidly changing times in addition to juggling their flourishing careers and personal lives, and all while staying on top of their industry. These practitioners are among the top young talent in their respective litigation communities in the U.S. and Canada.
Any information that you send us in an e-mail message should not be confidential or otherwise privileged information. Sending us an e-mail message will not make you a client of Robins Kaplan LLP. We do not accept representation until we have had an opportunity to evaluate your matter, including but not limited to an ethical evaluation of whether we are in a conflict position to represent you. Accordingly, the information you provide to us in an e-mail should not be information for which you would have an expectation of confidentiality.

If you are interested in having us represent you, you should call us so we can determine whether the matter is one for which we are willing or able to accept professional responsibility. We will not make this determination by e-mail communication. The telephone numbers and addresses for our offices are listed on this page. We reserve the right to decline any representation. We may be required to decline representation if it would create a conflict of interest with our other clients.

By accepting these terms, you are confirming that you have read and understood this important notice.