Robins Kaplan LLP Celebrates 80 Years
Robins Kaplan LLP celebrates its 80th anniversary this year, continuing to honor the premise on which it was created – to provide equal access to justice to all.
June 5, 2018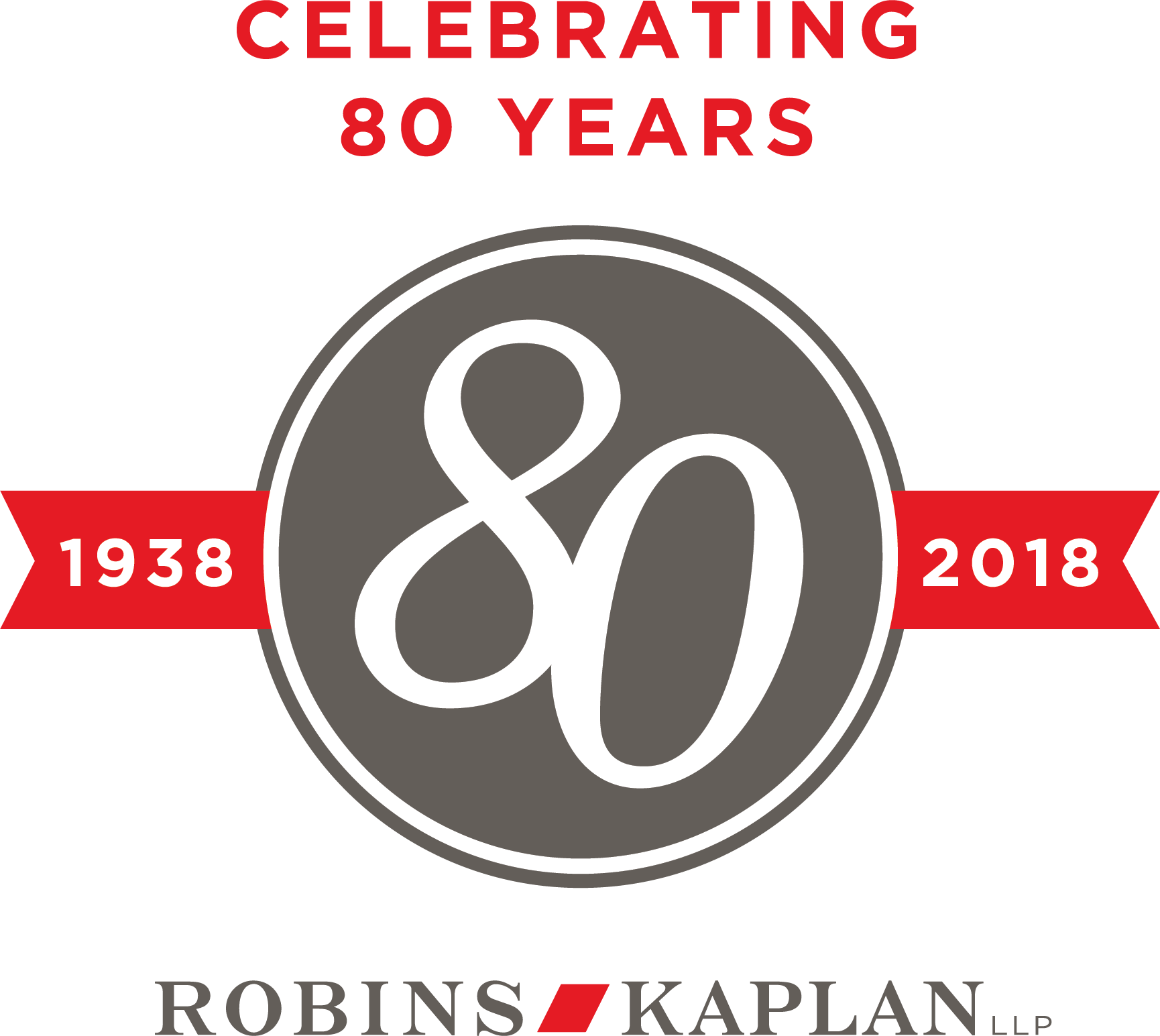 Robins Kaplan LLP celebrates its 80th anniversary this year, continuing to honor the premise on which it was created – to provide equal access to justice to all.
What started as a two-person partnership in Minneapolis in 1938 has grown to a national powerhouse litigation firm with eight offices spread across the United States. The firm has stayed true to the foundation from which it was established: the bottom line conviction that wrongs should be righted, regardless of the odds.
A central core belief of the firm since these early beginnings is that everyone deserves equal access to the justice system regardless of race, religious beliefs, nationality, or economic situation. This creed is the central premise that formed the firm from the beginning when in 1938, Solly Robins and Julius Davis started their own law firm. Due to antisemitism they could not find a place at the table among the established firms in Minneapolis and Saint Paul.
"Solly Robins and Julius Davis built this firm on the principle of equal justice for all. They would be proud to see how their vision has been carried forward into a litigation firm that helps clients and individuals around the world," said Martin Lueck, Chairman of the firm's Executive Board.
The firm has historically taken on cases cast aside as unwinnable and unprofitable by more traditional firms. That willingness to take risks, to challenge convention, remains a fundamental part of the firm's culture today. The firm's trial lawyers are involved in legal issues of lasting civic importance and they have secured tens of billions of dollars for their clients over the years. A sampling of some of the firm's most notable cases that demonstrate this principle include:
Air Cargo Antitrust Litigation, Bermingham v. Emergency Care Consultants, P.A., Bhopal Gas Leak Disaster, Celador International, Ltd. v. Walt Disney Co., Eolas Technologies, Inc. and the Regents of the University of California v. Microsoft Corporation, Fonar v. General Electric, Honeywell v. Minolta, and the Minnesota Tobacco Litigation.
Robins Kaplan's dedication to service is also reflected in the firm's history of pro bono representation, which has been a fundamental core value of the firm since its origin. Since 2008, 7% of total attorney billable time has been contributed to pro bono work, helping clients win shelter, support, and in some cases, freedom from oppression. The firm's largest pro bono effort to date recovered more than $77 million for I-35W bridge collapse survivors and those who lost loved ones; the firm's attorneys and staff devoted more than 20,000 pro bono hours to the case during a period of more than three years.
More recently, our pro bono efforts have achieved a first-of-its-kind verdict in favor of a victim of sex tourism, secured necessary health care for an incarcerated transgender woman, and represented the State of Illinois in pursuit of safe police reforms in the City of Chicago. In 2017 alone, Robins Kaplan attorneys devoted more than 25,000 hours to pro bono representation.
In 1998, the firm established the Robins, Kaplan, Miller & Ciresi Foundation for Children* to achieve a long-term impact in promoting education and equal opportunities for all Minnesota's children and youth. The Robins Kaplan Private Foundation contributes to nonprofit organizations nationwide. Together, they have donated more than $45 million to those in need.
* Now the Ciresi Walburn Foundation for Children
Any information that you send us in an e-mail message should not be confidential or otherwise privileged information. Sending us an e-mail message will not make you a client of Robins Kaplan LLP. We do not accept representation until we have had an opportunity to evaluate your matter, including but not limited to an ethical evaluation of whether we are in a conflict position to represent you. Accordingly, the information you provide to us in an e-mail should not be information for which you would have an expectation of confidentiality.

If you are interested in having us represent you, you should call us so we can determine whether the matter is one for which we are willing or able to accept professional responsibility. We will not make this determination by e-mail communication. The telephone numbers and addresses for our offices are listed on this page. We reserve the right to decline any representation. We may be required to decline representation if it would create a conflict of interest with our other clients.

By accepting these terms, you are confirming that you have read and understood this important notice.