Settlements Continue to Build in Ongoing Auto Parts Antitrust Litigation
Newest Settlements Bring Total Recoveries to Almost $200 Million
August 26, 2015
New York, NY—August 26, 2015—Plaintiffs announced today that two additional settlements have been reached in the massive antitrust proceedings against automobile parts manufacturers. The settlements call for:
T.RAD to pay $7.41 million; and
Fujikura to pay $7.14 million.
Total settlements in the end-payor case, where class members include businesses and consumers who purchased or leased new automobiles, have now reached almost $200 million.
Hollis Salzman, co-lead counsel for the end-payor plaintiffs and co-chair of Robins Kaplan LLP's Antitrust and Trade Regulation Practice, represents a group of more than 50 individuals who purchased or leased new automobiles containing the auto parts at issue in the litigation.
"We're pleased that these additional settlements continue to compensate victims of the conspiracy," said Salzman. "Also, each of the settling defendants has agreed to provide substantial cooperation, which will assist consumers and businesses in their continued litigation against the non-settling defendants."
Total recoveries to date are reflected in the below infographic.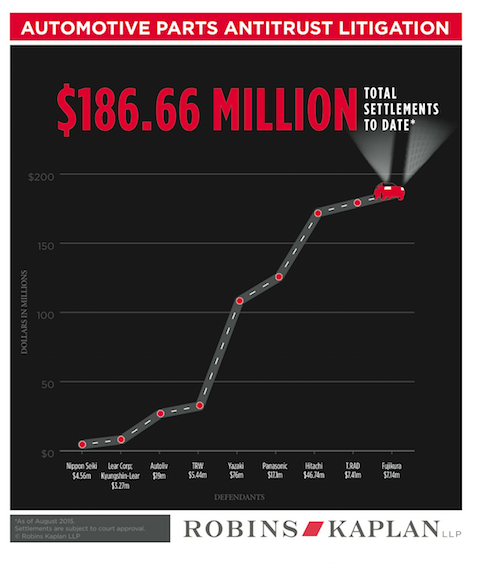 The allegations in the class actions stem from a Department of Justice antitrust investigation that has already resulted in corporate fines of more than $2.5 billion. To date, more than 35 different companies and 55 executives have pleaded or agreed to plead guilty as a result of the Department of Justice's ongoing investigation into price-fixing and bid-rigging in the auto parts industry.
Additional background
On Hollis Salzman:
Salzman serves as co-chair of the Antitrust and Trade Regulation Practice at Robins Kaplan LLP in New York. She also serves as assistant managing partner of the New York office.
Salzman also serves as co-lead counsel in In re Air Cargo Shipping Services Antitrust Litigation, a private antitrust action against air cargo carriers that has resulted in over $1 billion in settlements to date.
Robins Kaplan LLP attorneys Bernard Persky and William Reiss also represent the plaintiffs.
On civil proceedings:
The case, formally titled In re Automotive Parts Antitrust Litigation, is a multi-district litigation (MDL) pending before the Hon. Marianne Battani in the United States District Court for the Eastern District of Michigan.
The proceeding was coordinated before Judge Battani in June 2012.
Although captioned as a single MDL, the litigation is unprecedented in scope and complexity. Itcurrently encompasses 32 separate sets of cases and approximately 150 separate defendants, each involving different auto parts, different anticompetitive agreements, different conspirators, and different timelines.
On criminal investigation:
Companies that have submitted guilty pleas include Aisan Industry Co., Ltd., Aisin Seiki Co., Ltd., Autoliv Inc., Bridgestone Corporation, Continental Automotive Electronics LLC, Continental Automotive Korea Ltd., DENSO Corporation, Diamond Electric Manufacturing Co., Ltd., Fujikura Ltd., Furukawa Electric Co., Ltd., G.S. Electech Inc., Hitachi Automotive Systems, Ltd., Hitachi Metals Ltd., JTEKT Corporation, Koito Manufacturing Co., Ltd., Mitsuba Corporation, Mitsubishi Electric Corporation, Mitsubishi Heavy Industries, Ltd., NGK Spark Plug Co., Ltd., Nippon Seiki Co., Ltd., NSK Ltd., Panasonic Corp., Sanden Corporation, Showa Corporation, Stanley Electric Co., Ltd., Takata Corp., Tokai Rika Co., Ltd., Toyo Tire & Rubber Co., Ltd., Toyoda Gosei Co., Ltd., T. RAD Co., Ltd., TRW Deutschland Holding GmbH, Valeo Japan Co., Ltd., Yamashita Rubber Co., Ltd., Yamada Manufacturing Co., Ltd., and Yazaki Corp.
Any information that you send us in an e-mail message should not be confidential or otherwise privileged information. Sending us an e-mail message will not make you a client of Robins Kaplan LLP. We do not accept representation until we have had an opportunity to evaluate your matter, including but not limited to an ethical evaluation of whether we are in a conflict position to represent you. Accordingly, the information you provide to us in an e-mail should not be information for which you would have an expectation of confidentiality.

If you are interested in having us represent you, you should call us so we can determine whether the matter is one for which we are willing or able to accept professional responsibility. We will not make this determination by e-mail communication. The telephone numbers and addresses for our offices are listed on this page. We reserve the right to decline any representation. We may be required to decline representation if it would create a conflict of interest with our other clients.

By accepting these terms, you are confirming that you have read and understood this important notice.