Meet Our Keynote Speaker: Journalist and New York Times Contributor Katie Engelhart
By Gabe Berg
September 2023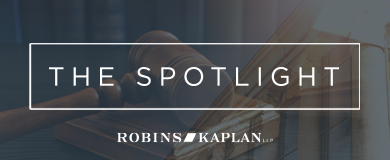 In anticipation of our upcoming annual CLE, entitled "Inconceivable: Fiduciary Circumstances That You Never Imagined (But Maybe Should)," we are excited to feature this profile of our keynote speaker, Katie Engelhart, and some of her reporting. Katie is a journalist, documentary producer, and contributing writer at the New York Times Magazine. Based in New York and Toronto, she is a Fellow at New America.
Earlier this year Katie's reporting came to our attention with her New York Times Magazine feature article "The Mother Who Changed: A Story of Dementia," which told the story of a mother suffering from Alzheimer's disease, the man she had a romantic relationship with after the death of her husband, and her two daughters.
Katie's reporting focuses on ethics and medicine, and "The Mother Who Changed: A Story of Dementia" was not her first foray into the topic of elder issues. Her story "What Happened in Room 10?" for the California Sunday Magazine won a George Polk Award for Magazine Reporting in 2021. The article was the product of Katie's months-long investigation into the first COVID outbreak in an American nursing home — and, more broadly, the rise of the for-profit nursing home industry in America. The article also won the John Bartlow Martin Award for Public Interest Journalism and the MOLLY Prize for Investigative Journalism, and it was a finalist for the National Magazine Award in Feature Writing.
More recently, she penned an opinion piece for the New York Times Sunday edition about dementia in the prison population, entitled: "I've Reported on Dementia for Years, and One Image of a Prisoner Keeps Haunting Me." That image is "that of a prisoner who, as a result of cognitive impairment, no longer remembers his crimes — but is still being punished for them." She visits a "Memory Disorder Unit" in Massachusetts, "the federal prison system's first purpose-built facility for incarcerated people with Alzheimer's disease and other forms of dementia." And as is the case with all her writing, she grapples with challenging questions with no easy answers. One of the clinical directors she speaks to states: "In this country, we incarcerate way too many people for way too long. We give people life sentences. And then they turn 90, they're in diapers, they get demented. We have to ask ourselves, what are we accomplishing?"
In "The Mother Who Changed," Katie poses the question: "When cognitive decline changes people, should we respect their new desires?" This was the key question in a lawsuit brought by the mother's two daughters. The mother, Diane Norelius, found herself alone for the first time in 2011 after the death of her husband of 53 years. She later started a relationship with Denzil Nelson, a caretaker on the Norelius farm. According to her daughters, Diane had always complained about Denzil — that he smelled bad or would stop by for coffee when she wished he wouldn't. Then, suddenly, Denzil moved in with Diane and she referred to him as "the love of my life." The daughters later learned that Diane had been diagnosed with dementia. Shortly after her diagnosis, Diane gave Denzil her financial power of attorney and granted him the right to live in her house when she died. She also dissolved her financial trust that held all her assets and investments of which one of the daughters was trustee. The daughters filed an elder-abuse claim against Denzil and a motion for immediate temporary (and later, permanent) guardianship and conservatorship of their mother, requesting control of Diane's finances. Sadly, the story was familiar to those of us who handle trust and estate and conservatorship/guardianship matters.
Katie's stories, while focused on medicine and ethics, also touch upon tough legal issues. Indeed, much of her reporting in "The Mother Who Changed," came from transcripts from the various legal proceedings that arose as a result of Diane's dementia and relationship with Denzil. And the legal issues were many: What does it mean to have legal capacity, and how should that be decided? How does the law answer the philosophical question of whether the decision making of the "then-self: before the disease" or the "now-self," should prevail? If Diane and Denzil were having sex, was she competent enough to consent to it, or was it rape? How could Diane and Denzil share the same legal counsel when he was alleged to be her abuser? Should Diane's stated preferences be dispositive, or, as suggested by an expert, are they analogous to the expert's six-year-old grandson stating his preferences — very few of which are allowed?
Unlike lawyers, who have a duty to zealously represent their clients and focus on telling their client's story as persuasively as possible, as a journalist, Katie is able to tell a more comprehensive story that seeks to include a wide variety of perspectives— the daughters, Denzil, the lawyers, medical professionals, guardians/conservators, and the judge. But that doesn't necessarily mean she can provide any clear answers to the questions she raises.
We look forward to talking to Katie in greater depth about her reporting on these important issues and challenges that will no doubt continue and likely increase.
Any information that you send us in an e-mail message should not be confidential or otherwise privileged information. Sending us an e-mail message will not make you a client of Robins Kaplan LLP. We do not accept representation until we have had an opportunity to evaluate your matter, including but not limited to an ethical evaluation of whether we are in a conflict position to represent you. Accordingly, the information you provide to us in an e-mail should not be information for which you would have an expectation of confidentiality.

If you are interested in having us represent you, you should call us so we can determine whether the matter is one for which we are willing or able to accept professional responsibility. We will not make this determination by e-mail communication. The telephone numbers and addresses for our offices are listed on this page. We reserve the right to decline any representation. We may be required to decline representation if it would create a conflict of interest with our other clients.

By accepting these terms, you are confirming that you have read and understood this important notice.