Evenstad Family Trial Aftermath: Rule 408 May Not Be Used as a Sword and Shield
By Anne Lockner
September 2023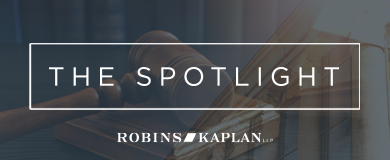 It's unlikely the extended Evenstad family, former owners and heirs of the Upsher-Smith company, will be celebrating Thanksgiving together this year. After all, the last time the family got together was likely for the 16-day bench trial in Minnesota state court before Judge Edward T. Wahl,1 who considered Serene Warren's (née Evenstad) various fiduciary-duty and shareholder-oppression claims against her family's company (ACOVA), her family members (including her parents and brother), and a trustee. In a 354-page opinion in Warren v. ACOVA, issued on March 27, 2023, Judge Wahl ruled against Serene Warren and denied her request for a buyout. He instead ordered that ACOVA must continue to wind down operations and liquidate now that it has sold its primary asset, the Upsher-Smith pharmaceutical company.
One of the many issues that Judge Wahl addressed in the lengthy opinion was the following: What are the confines of Rule of Evidence 408 and when can settlement and mediation discussions be admissible at trial? During trial, the court admitted evidence of discussions at two mediations — one in 2017 and one in 2019 — "as well as communications between the parties' attorneys in the aftermath of those mediations[.]" While the court had explained on the record its reasoning, it further elaborated on the ruling in the opinion.
Many legal practitioners have a knee-jerk reaction to an opposing party making any reference to settlement discussions or statements made during mediations. That may have something to do with the fact that many mediators' agreements contain language that creates a contractual agreement between the parties. \
But Minn. R. Evid. 408 (and its analogous but not-identical federal counterpart, Fed. R. Evid. 408) is more nuanced than just prohibiting the admission of any reference to mediation or settlement. Minn. R. Evid. 408 states:
Rule 408. Compromise and Offers to Compromise
Evidence of (1) furnishing or offering or promising to furnish, or (2) accepting or offering or promising to accept, a valuable consideration in compromising or attempting to compromise a claim which was disputed as to either validity or amount, is not admissible to prove liability for or invalidity of the claim or its amount. Evidence of conduct or statements made in compromise negotiations is likewise not admissible. This rule does not require the exclusion of any evidence otherwise discoverable merely because it is presented in the course of compromise negotiations. This rule also does not require exclusion when the evidence is offered for another purpose, such as proving bias or prejudice of a witness, negativing a contention of undue delay, or proving an effort to obstruct a criminal investigation or prosecution.
The court provided several reasons why admitting the settlement evidence was appropriate.
First, noting that the evidence was not being admitted to prove either liability or invalidity of Serene's claims or the amount of those claims, the court found that Serene Warren herself opened the door to admitting the evidence by seeking a buyout under Minn. Stat. § 302A.751 and § 302A.467. In considering this equitable claim, the court "is obliged to consider 'all circumstances of the case' to assess if" the defendants acted in a way that was "unfairly prejudicial to Serene that frustrated her reasonable expectations of financial separation," and the mediation negotiations were necessary to consider a "complete picture of the parties' dealings[.]" Warren v. ACOVA, Inc., No. 27-CV-18-3944 2023 WL 2663230 (Minn. Dist. Ct. Mar. 27, 2023).
Thus, the court found that, in seeking to exclude the settlement evidence, "Serene sought to use Rule 408 as a sword and a shield." Id. at 312. Serene pled "her claims as if these communications never occurred, turning a blind eye to the continual — and in the Courts view, good faith — efforts by ACOVA and the Evenstad defendants seeking to reach agreement with Serene for ACOVA to buy out her ACOVA stock." Id. But "[s]he cannot have it both ways: she cannot offer her side of the mediation evidence while simultaneously seeking to preclude Defendants from offering other contextual evidence relating to the mediations." Id. at 313. The court had proposed solving the sword-shield problem by "broadly exclud[ing] any settlement evidence that either Serene or any of the Defendants sought to offer," but Serene declined the court's proposal. Id.
Second, the court also made clear that the 2017 and 2019 mediation evidence was offered "to disprove Serene's claim, pled for the first time after the 2019 post-mediation negotiations ended, that they had acted in ways that were unfairly prejudicial to and deprived her of her reasonable expectations of receiving fair value for her ACOVA shares." Id. at 315. Thus, the mediations were addressing different disputes than Serene's later-asserted "reasonable expectation" or "fair separation" claim. Because "[t]he scope of Rule 408 is limited to the particular claim discussed during the compromise discussion," the court held that the rule did not preclude offering evidence to disprove a different claim that had not yet been asserted at the time of the mediations. Id. 314.
The court was careful to caution that its "ruling on this issue does not mean settlement evidence should always be admitted in all lawsuits involving section 302A.751 buyout claims." Id. at 313. Rather, the unique nature of the "two-track process by which the mature, readily marketable generic drug business would be sold first, followed by efforts to wind down the company selling off all remaining assets to fund distributions to all shareholders" made it impossible to separate the continuing negotiations from the mediations. Id. at 313-14.
Nevertheless, practitioners will likely try to apply this holding to other shareholder-oppression claims and expand it to other scenarios as well. Therefore, attorneys — and their clients — should be mindful of how their demands, offers, and conduct during the course of a mediation could be used against them to show the reasonableness of conduct if that is relevant to an equitable determination.
1 Judge Wahl will be a panelist at Robins Kaplan's upcoming CLE, Inconceivable! Fiduciary Circumstances That You Never Imagined (But Maybe Should).
Any information that you send us in an e-mail message should not be confidential or otherwise privileged information. Sending us an e-mail message will not make you a client of Robins Kaplan LLP. We do not accept representation until we have had an opportunity to evaluate your matter, including but not limited to an ethical evaluation of whether we are in a conflict position to represent you. Accordingly, the information you provide to us in an e-mail should not be information for which you would have an expectation of confidentiality.

If you are interested in having us represent you, you should call us so we can determine whether the matter is one for which we are willing or able to accept professional responsibility. We will not make this determination by e-mail communication. The telephone numbers and addresses for our offices are listed on this page. We reserve the right to decline any representation. We may be required to decline representation if it would create a conflict of interest with our other clients.

By accepting these terms, you are confirming that you have read and understood this important notice.