What Could be the Harm? Minnesota's Harmless Error Statute
Summer 2020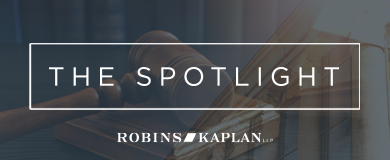 Against the backdrop of a global pandemic, many clients developed a newfound sense of urgency regarding their estate planning, which presented new challenges in light of the attendant health risks and stay at home orders. At the same time, many estate planners went from being largely skeptical of electronic wills to newly appreciative of how such allowances might help them address the challenges that they were facing in properly executing estate planning documents—particularly documents such as wills that require witnesses.
As it became apparent in Minnesota that it would be some time before electronic will legislation could be considered and passed, practitioners became creative and accomplished witnessing and executions that accommodated social distancing and other public health guidance, including executing in larger spaces, sometimes even outdoors (including "drive-by" witnessing and notarization), engaging in deep cleaning of conference rooms, wearing masks and gloves, having testators and witnesses bring their own pens, and utilizing remote notarization. Still, practitioners recognized that such creativity could not address all situations, including individuals with significant health issues and/or those who were isolated in congregate care.
As a consequence, the Minnesota legislature passed a short-term measure—known as the harmless error rule— that would provide some temporary cover. Minn. Stat. § 524.2-503 provides that a document or writing that was not executed in compliance with Minnesota's execution requirements can be treated as if it had been properly executed if the proponent of the document or writing establishes by clear and convincing evidence that the decedent intended the document or writing to constitute his or her will, a revocation of a will, an addition to or an alteration of a will, or a partial or complete revival of a formerly revoked will or portion of a will. This section applies to documents and writings executed on or after March 13, 2020, and will sunset on February 15, 2021.
Extrinsic evidence of the decedent's own action as evidence of his or intent represents a consistent theme in the case law. In In re Estate of Stoker, 122 Cal. Rptr. 3d 529, 532 (Cal Ct. App. 2011), for example, the court found clear and convincing evidence that the decedent intended to revoke his 1997 will because he destroyed it by urinating on it and burning it. In In re Estate of Wiltfong, 148 P.3d 465, 469-70 (Colo. App. 2006), the court found the decedent's statements to others and the language of an associated letter to be determinative the decedent's intent.
Logically, the absence of action can be problematic, as in In re Prob. of Will & Codicil of Macool, 3 A.3d 1258, 1264-66 (N.J. Super. Ct. App. Div. 2010), where the court held that the proponent of an unsigned document did not meet the standard because the decedent died one hour after leaving her lawyer's office and did not have a chance to review a draft of the will and assent to its contents as required by the New Jersey statute. Contradictory actions can also present impediments to meeting the standard, as in In re Estate of Hand, 73 N.E.3d 880, 884-86 (Ohio Ct. App. 2016), where the court found that there was not clear and convincing evidence that the decedent intended a love letter to be his will in part due to the fact the decedent also used LegalZoom to prepare a will around the same time.
Third-party testimony has also been analyzed by courts, with unsurprising attention given to the credibility of the witness. Compare, for example, In re Estate of Palmer, 2007 SD 133, ¶ 19, 744 N.W.2d 550 (2007), where the court considered witness accounts as extrinsic evidence relevant to the decedent's intent but found that the evidence lacked credibility, with In re Estate of Ehrlich, 47 A.3d 12, 18 (N.J. Super. Ct. App. Div. 2012), where the court admitted an unsigned document to probate and where the decedent acknowledged "the existence of the Will to others to whom he expressed an intention to change one or more of the testamentary dispositions."
These examples suggest a few things. First, in a situation where reliance on the statute may be inevitable, the worst option may be to take no steps to document the testator's intent. Related, having the testator take available contemporaneous actions, such as making a video or audio recording, writing a letter or notes documenting his or her intent, and making consistent statements to credible and independent third parties regarding his or her wishes, may ultimately prove effective. In addition, practitioners should keep in mind that the need to rely on the statute can and probably should be limited to the hopefully small percentage of clients who execute in the relevant time frame and then pass away or lose capacity shortly thereafter. Where proper statutory execution was not achieved, due considerations should be given to re-execution and/or self-proving affidavits when circumstances allow.
1 Hawaii, Michigan, Montana, New Jersey, South Dakota, Utah, California, Colorado, Ohio, Virginia, and Oregon.
Any information that you send us in an e-mail message should not be confidential or otherwise privileged information. Sending us an e-mail message will not make you a client of Robins Kaplan LLP. We do not accept representation until we have had an opportunity to evaluate your matter, including but not limited to an ethical evaluation of whether we are in a conflict position to represent you. Accordingly, the information you provide to us in an e-mail should not be information for which you would have an expectation of confidentiality.

If you are interested in having us represent you, you should call us so we can determine whether the matter is one for which we are willing or able to accept professional responsibility. We will not make this determination by e-mail communication. The telephone numbers and addresses for our offices are listed on this page. We reserve the right to decline any representation. We may be required to decline representation if it would create a conflict of interest with our other clients.

By accepting these terms, you are confirming that you have read and understood this important notice.