Achieving the Largest Jury Verdict in Minnesota History
Q&A with Michael Collyard
March 2023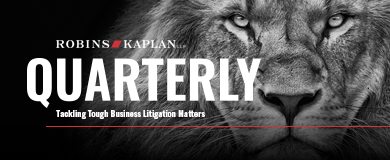 In November 2022, following a four-week trial, a Minnesota jury awarded approximately $564 million in damages to Robins Kaplan client Douglas A. Kelley in his capacity as trustee for the BMO Litigation Trust. It is the largest jury award in Minnesota history.
The case arose out of one of the biggest Ponzi schemes in U.S. history involving convicted fraudster Tom Petters. He was sentenced to 50 years in prison for using accounts held at M&I Bank, which was acquired in 2011 by BMO Harris Bank. The jury found that BMO aided and abetted breaches of fiduciary duty by Petters and his cohorts in using an M&I checking account to launder nearly $74 billion in Ponzi scheme proceeds between 2002 and 2008.
The jury awarded $484 million in compensatory damages and $80 million in punitive damages. The trustee is also pursuing prejudgment interest, which would bring the bank's total liability to nearly $1 billion.
We sat down with Michael Collyard, lead trial counsel, to understand what goes into explaining a complex Ponzi scheme to a jury – and ultimately, securing such a massive result.
Can you provide a high-level summary of this case?
This case was about how the bank helped a criminal use a small business checking account to carry out one of the biggest money laundering frauds in American history – then turned around and intentionally destroyed key evidence to try to cover up everything it had done.
What was your strategy for proving your case to the jury?
I created a few easy, memorable themes that I used throughout the entire trial to show the jury that the bank knew the billions of dollars going in and out of the Petters Company Inc. small business checking account made no sense for the Petters Company Inc. business model. The bank knew from its line of sight into the account that the activity wasn't right – and therefore illegal. The bank also knew from 3½ years of investigating the money laundering alarms that sounded off inside the bank that the activity was suspicious. Yet the bank chose to close every one of those alarms even though nobody could explain why or how that activity wasn't suspicious.
I had to teach the jury that the bank had a responsibility to detect and prevent suspicious activity on its accounts. As part of that, the bank knew how the Petters Company Inc. business model worked. Petters would borrow money from investors to buy TVs from wholesalers, then resell them to big box retailers and use the money to pay back investors.
However, the bank knew the account activity didn't match the business model because it could see three things every single day:
One: The bank knew retailers were supposed to wire money into the account to pay for the TVs, but no retailer had ever wired a cent into the account.
Two: The bank knew nearly all money being wired into the account was from two wholesalers that should have never wired money into the account. Additionally, the bank knew the money was flowing the wrong way. The money should have been going to the wholesalers to pay for the TVs, rather than coming from them.
Three: The bank could see that tens of millions of dollars were going out of the account and directly to Petters and his coconspirators. The bank knew there was no legitimate business purpose for that.
I called these the three fingerprints of the bank's knowledge and came back to them at every turn to prove the bank's insight and assistance.
Was there anything else that helped prove your case?
I proved the bank intentionally destroyed millions of pages of critical evidence. The bank's key witness admitted to the destruction during cross-examination and even admitted that if the jury wanted to see what that evidence looked like, they would have to access the backup tapes that the bank intentionally destroyed.
How did you breakdown and explain confusing concepts to the jury?
In my opening statement and closing argument, I used a nontraditional PowerPoint that was synched with everything I said so the jury could see and hear at the same time. I showed hand-drawn pictures, photos, video clips, animations, and everyday graphics like road signs and money symbols to teach the jury everything they needed to know.
The goal was to have a few graphics that the jury could look at and understand the story without thinking about it. I spent months coming up with different ways to get the jury's comprehension rate up as quickly as possible to limit any need to think as they listened. That way, they could just keep retaining information.
Any information that you send us in an e-mail message should not be confidential or otherwise privileged information. Sending us an e-mail message will not make you a client of Robins Kaplan LLP. We do not accept representation until we have had an opportunity to evaluate your matter, including but not limited to an ethical evaluation of whether we are in a conflict position to represent you. Accordingly, the information you provide to us in an e-mail should not be information for which you would have an expectation of confidentiality.

If you are interested in having us represent you, you should call us so we can determine whether the matter is one for which we are willing or able to accept professional responsibility. We will not make this determination by e-mail communication. The telephone numbers and addresses for our offices are listed on this page. We reserve the right to decline any representation. We may be required to decline representation if it would create a conflict of interest with our other clients.

By accepting these terms, you are confirming that you have read and understood this important notice.