Going Remote: 2021 Emerging Trends for Medical Malpractice Litigation
Winter 2021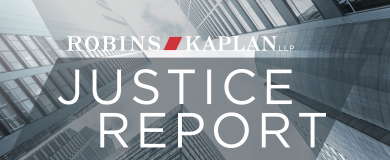 With the COVID-19 crisis driving everything online, medicine has been no exception. Telemedicine appointments are becoming more and more of our everyday life and changing the way healthcare operates. While telemedicine brings advantages, such as accessibility and efficiency, it also brings many dangers. Beyond the foremost danger of virtual care not reaching the accepted standards of medical care, it is likely to present legal pitfalls for personal injury attorneys practicing in the medical malpractice space. For example, ignorance of your case's telemedicine aspects can present thorny jurisdictional problems.
Robins Kaplan has noticed this increasing trend and has identified important practice thoughts to help you avoid potential pitfalls from this trend. Key among them: When reading the medical record, don't presume that the patient-client's physical treatment location is the appropriate jurisdiction. Consider and analyze what aspects of the negligent care may have occurred in another county or even outside the state. For example, was a blood culture negligently analyzed at an outside facility across county or state lines? Or was your client's breast cancer missed by a radiologist working remotely (a growing norm) in another state? Perhaps a critical neurophysiological monitor reading during a surgery was missed, but the negligence was from a neurologist performing live remote review many time zones away.
The point is this: Telemedicine is rapidly changing the time, place, and scope of medical care. Don't just assume that the care occurred in the location your client recalls or at the first location listed on the medical records. If our experience has shown anything, it is this: The devil is in the details and will come out from a close reading of the record. This diligence will both help you from falling into an unexpected jurisdictional pitfall and allow you to consider potentially more favorable venues if any arguable portion of the care occurred in a less favorable one.
Seth Zawila - The Robins Kaplan Justice Report
Any information that you send us in an e-mail message should not be confidential or otherwise privileged information. Sending us an e-mail message will not make you a client of Robins Kaplan LLP. We do not accept representation until we have had an opportunity to evaluate your matter, including but not limited to an ethical evaluation of whether we are in a conflict position to represent you. Accordingly, the information you provide to us in an e-mail should not be information for which you would have an expectation of confidentiality.

If you are interested in having us represent you, you should call us so we can determine whether the matter is one for which we are willing or able to accept professional responsibility. We will not make this determination by e-mail communication. The telephone numbers and addresses for our offices are listed on this page. We reserve the right to decline any representation. We may be required to decline representation if it would create a conflict of interest with our other clients.

By accepting these terms, you are confirming that you have read and understood this important notice.