Mentoring Diverse Attorneys During the Pandemic
In this article, we explore how diverse attorneys are particularly impacted by the new virtual working environment.
Summer 2020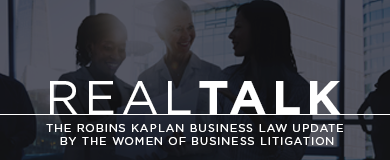 The value of mentoring in the legal profession cannot be overstated. From a diversity and inclusion perspective, it is critical. But with remote working, diverse attorneys face new challenges that may make mentoring more difficult. Some of the best mentoring relationships occur organically, whether the mentor and mentee connect at a networking event or in the cafeteria. Today, those venues are replaced with Zoom, which opens literal windows into diverse attorneys' personal lives.
Those windows can shine light directly on attorneys' diversity marker(s). For mothers, this may mean more interruptions from children. For attorneys of color, it may mean mentors can see items reflecting different cultures or religions, such as Islamic prayer rugs. For women – mothers or not – it may mean not wearing makeup to save time because they generally shoulder more domestic responsibilities (which have increased because of a lack of domestic help such as housekeepers and non-live-in nannies). For LGBTQ+ individuals, this may mean mentors seeing their mentees' same sex partners in the background. This enhanced visibility may impact mentors in the majority group (i.e., white, straight, male, cis-gender, able-bodied), forcing them to answer this question: are they actually comfortable with their diverse mentees or does this glimpse into their mentees' personal lives make the mentor feel more distant, impairing their ability to mentor effectively?
Women attorneys today face more demands on their time than before. They typically handle a majority of the housework, despite strides to achieve more balance between genders, and the amount of housework has grown exponentially. With remote working, there is simply more to be done, such as more dishes, laundry, sweeping, etc. And, to honor social distancing, people may not order takeout or have cleaning services come, so there is more cooking and cleaning. The net result? More housework, but no help, on top of practicing law.
This does not even take account of the additional demands placed on mothers without childcare. With schools and daycare centers closed, childcare responsibilities also have increased as parents must now entertain and educate their children full time. And children of different age groups present their own set of challenges. Younger children may not fully understand what is going on, but need constant parental supervision and attention for their basic needs. The opposite may be true for older children who need less overt supervision, but have more questions and concerns. Women most likely will bear this additional childcare responsibility. But even if parents split time equally between each other to balance paid work, housework, and childcare, there will be a drop in the number of billable hours worked – that is just basic math.
Thus, women attorneys, especially mothers, are faced with decreased billable hours worked and increased domestic responsibilities, with the latter being more visible thanks to videoconferencing. Would a mentor, such as an older male senior partner attempting to navigate Zoom, be patient with a young associate mother who is interrupted frequently by her three-year old asking for another snack?
Attorneys of color also face unique challenges. They are often invisible to potential mentors, as senior attorneys typically want to mentor those who "look like" them. With the majority of senior attorneys being older white men, their mentees tend to be younger white men. Now, attorneys of color are at an even greater risk of not being mentored. Everyone is more selective when prioritizing their time. The result? Those who could serve as mentors may not make the time to do so. For attorneys of color, if they do not have mentors already, they may be unable to find one.
Hampered mentoring of diverse attorneys can fortify feelings of imposter syndrome, which is the (baseless) fear of being exposed as incompetent, and that one does not belong. Remote working can reinforce such feelings as, per Neha Sampat, imposter syndrome "breeds and feeds on isolation." Sharing experiences can interrupt imposter syndrome, and mentors are in the perfect position to do just that. But if mentoring is harder to come by, imposter syndrome may strengthen without interruption, which may start a vicious cycle of diverse attorneys questioning themselves, letting that doubt infect their performance, which then validates their beliefs that they are incompetent. It can become a self-fulfilling prophecy.
The good news is that, with a little creativity and attention, virtual mentoring can be just as meaningful as in-person mentoring. Mentors can use videoconferencing to get to know their mentees by creating a space for fun and laughter. For example, a mentor and mentee can share an embarrassing photo of each other and then share the story behind it. Other ideas include a virtual tour of each other's workspaces, game night or a happy hour with spouses and other loved ones (including pets!) invited. On a more serious note, mentors can assemble attorneys dealing with similar stressors, such as dual-career parents with young children. Also, mentors do not have to connect with mentees via Zoom. Other, more informal modes of communication (e.g., text, instant messaging, phone call) may ease some of the awkwardness videoconferencing may entail. Increasing the frequency of contacts, by whatever means, may also help facilitate honest conversations.
Today, mentoring – particularly of diverse attorneys – has become even more challenging. But if careful attention is not paid to mentoring diverse attorneys, especially those with multiple diversity markers, the legal profession may survive the pandemic, but become less diverse in the process.
Manleen Singh - The Bureau of National Affairs, Inc. and REAL TALK: The Robins Kaplan Business Law Update Summer 2020
Any information that you send us in an e-mail message should not be confidential or otherwise privileged information. Sending us an e-mail message will not make you a client of Robins Kaplan LLP. We do not accept representation until we have had an opportunity to evaluate your matter, including but not limited to an ethical evaluation of whether we are in a conflict position to represent you. Accordingly, the information you provide to us in an e-mail should not be information for which you would have an expectation of confidentiality.

If you are interested in having us represent you, you should call us so we can determine whether the matter is one for which we are willing or able to accept professional responsibility. We will not make this determination by e-mail communication. The telephone numbers and addresses for our offices are listed on this page. We reserve the right to decline any representation. We may be required to decline representation if it would create a conflict of interest with our other clients.

By accepting these terms, you are confirming that you have read and understood this important notice.