Interview with Lucy Fato, Executive Vice President and General Counsel of AIG
RELATIONSHIPS ARE EVERYTHING: A CONVERSATION WITH AIG'S GENERAL COUNSEL LUCY FATO.
Winter 2019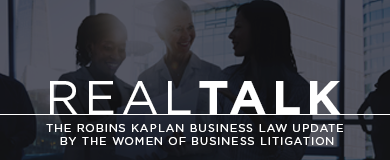 "Relationships are everything," said Lucy Fato, Executive Vice President and General Counsel of American International Group, Inc. Lucy's warmth, graciousness, and sincerity leave no doubt as to why she has enjoyed tremendous success throughout her career. Recently, Robins Kaplan had the opportunity to sit down with Lucy to discuss her career and her path to success.
Lucy joined AIG in October 2017 and is responsible for overseeing the Global Legal, Compliance, and Regulatory functions of the company. Prior to joining AIG, she was Managing Director, Head of the Americas & General Counsel of Nardello & Co., a global private investigative firm; Executive Vice President and General Counsel of McGraw Hill Financial (now known as S&P Global); and Vice President, Deputy General Counsel & Corporate Secretary at Marsh & McLennan Companies. She began her legal career at the law firm Davis Polk & Wardwell, where she spent 14 years, including five as a partner in the capital markets group.
Part of Lucy's success stems from recognizing that problems can be solved by talking them through, preferably in person. Case-in-point: Her first challenge when joining McGraw Hill Financial was to address several high-profile lawsuits concerning mortgage-backed securities. One of the cases against McGraw Hill was venued in state court in Pittsburgh, and the general counsel on the other side was a Pittsburgh native. Lucy recalled thinking, "I should just call him and work this out. That's how people from Pittsburgh think."
This philosophy on the crucial role of relationship-building and collaborative problem-solving in business explains Lucy's success in leading global companies to address even the most challenging litigation and regulatory landscapes. In coming to her role at AIG from a corporate, transactional background, Lucy tends to bring a fresh and less combative perspective to contentious litigations and government investigations. She strongly believes in being "the face of her company" in these matters and "opening up lines of communication" between herself and the other side.
Lucy recognizes the inherent difficulty of working in a client service industry and notes that businesses should be open to creative approaches to attracting and retaining women. She also notes that a solid support system, both at home and in the office, is the key. Lucy explained that she was fortunate to have worked with many women leaders during her career and received opportunities to work on challenging, high-profile transactions. She made partner at Davis Polk with the backing, mentorship, and sponsorship of both male and female attorneys. Her positive experience continued when she transitioned in-house to Marsh & McLennan.
When asked about challenges faced by women in the insurance industry specifically, Lucy explained that although insurance has historically been a very male-dominated industry, AIG has a diverse leadership structure. Several women sit on its executive committee, driven in part by AIG's Chief Executive Officer, Brian Duperreault, who believes strongly in building teams that are diverse on multiple levels.
Lucy's advice to aspiring women who want to emulate her success? Be open-minded about what you are learning and try several different roles and positions before deciding where to land. And, perhaps most important, be yourself. People gravitate toward folks who are authentic and comfortable in their own skin.
And certainly, Lucy's authenticity is one of her many positive traits, helping to explain why so many seem to gravitate to her.
Stacey Slaughter - Real Talk: The Robins Kaplan Business Law Update
Any information that you send us in an e-mail message should not be confidential or otherwise privileged information. Sending us an e-mail message will not make you a client of Robins Kaplan LLP. We do not accept representation until we have had an opportunity to evaluate your matter, including but not limited to an ethical evaluation of whether we are in a conflict position to represent you. Accordingly, the information you provide to us in an e-mail should not be information for which you would have an expectation of confidentiality.

If you are interested in having us represent you, you should call us so we can determine whether the matter is one for which we are willing or able to accept professional responsibility. We will not make this determination by e-mail communication. The telephone numbers and addresses for our offices are listed on this page. We reserve the right to decline any representation. We may be required to decline representation if it would create a conflict of interest with our other clients.

By accepting these terms, you are confirming that you have read and understood this important notice.