Genentech, Inc. v. Sandoz Inc.
Esbriet® (pirfenidone)
December 22, 2022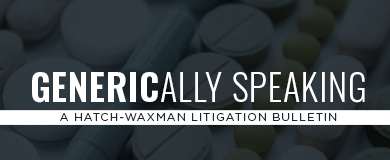 Case Name: Genentech, Inc. v. Sandoz Inc., No. 2022-1595, 2022 WL 17839055 (Fed. Cir. Dec. 22, 2022) (Circuit Judges Newman, Lourie, and Prost presiding; Opinion by Lourie, J.; Dissenting Without Opinion by Newman, J.) (Appeal from D. Del., Andrews, J.)
Drug Product and Patent(s)-in-Suit: Esbriet® (pirfenidone); U.S. Patents Nos. 7,566,729 ("the '729 patent"), 7,635,707 ("the '707 patent"), 8,592,462 ("the '462 patent"), and 8,609,701 ("the '701 patent"), collectively the "LFT patents"; U.S. Patents Nos. 7,816,383 ("the '383 patent") and 8,013,002 ("the '002 patent"), together the "DDI patents"
Nature of the Case and Issue(s) Presented: Pirfenidone treats idiopathic pulmonary fibrosis ("IPF"), a chronic, irreversible lung disease. There is no cure for IPF and patients living with the disease face an average survival of two to five years. Pirfenidone was first studied as an investigational new drug in 1973. In 2004, the FDA granted pirfenidone orphan drug status for treatment of patients with IPF. In 2014, pirfenidone was approved to treat IPF in the U.S. as Esbriet, sold by Genentech.
Sandoz submitted two ANDAs seeking approval from the FDA to market generic pirfenidone. Genentech then sued for patent infringement, asserting that Sandoz's generic product would induce the infringement of the LFT and DDI patents. The asserted patents claim methods for managing certain side effects when using pirfenidone to treat IPF. Genentech appeals the district court's decision that the claims of the LFT patents are obvious and that Sandoz's ANDA product would not infringe either the LFT or the DDI patents. The Federal Circuit affirmed.
Why Sandoz Prevailed: With respect to obviousness of the LFT patents, the appeals court began its analysis by noting "our initial perception that, as the district court noted, varying doses in response to the occurrence of side effects would seem to be a well-established, hence obvious, practice. Thus, claiming it as an invention would appear to be at best a long shot." The Federal Circuit found that the specific dose modifications claimed in the LFT patents would have been obvious over the disclosures in the prior art, combined with well-known standard medical practices. Moreover, Genentech failed to identify any clear error in the district court's interpretation of the prior art. The district court's analysis relied on extensive record evidence, which illustrated that standard medical practice at the time was not to discontinue medical treatment with pirfenidone or other drugs for patients experiencing Grade 2 liver enzyme elevations. This evidence included expert testimony as well as FDA guidance. On objective indicia of non-obviousness, the Federal Circuit also found Genentech's evidence unpersuasive. "Weak secondary considerations generally do not overcome a strong prima facie case of obviousness," and here Genentech's evidence of objective indicia did not outweigh Sandoz's affirmative case of obviousness. There was no industry skepticism regarding rechallenging patients with Grade 2 liver enzyme elevations compared to patients with more serious Grade 3 or higher elevations. There was also contrary evidence of long felt, but unmet, need. The asserted claims in the LFT patents did not represent the invention of a new drug, nor did they recite a novel application of an existing drug; instead, those claims recited adjusting doses in the presence of side effects, which clinicians routinely do, and which would have been obvious in view of the prior art.
Turning to the DDI patents, Genentech argued that the district court erred in concluding that Sandoz's proposed label, which encourages, recommends, and promotes infringement, is not dispositive. Sandoz responded that the district court did not err in weighing the relevant evidence, including the label's instruction and physician practice, and that while Genentech was not required to show an actual incident of direct infringement by a physician, past conduct was relevant to what would happen in the future. The Federal Circuit explained that courts regularly consider evidence outside a proposed label in evaluating whether a product will be used in a way that directly infringes method claims. Courts have also considered, with respect to different method patents requiring concomitant administration of two drugs, the fact that "physician experts declared that they try to and can easily avoid concomitant administration of the drugs." Here, Sandoz presented evidence of how pirfenidone would be prescribed in practice, including testimony from physicians that, in their decades of treating IPF patients, they had never prescribed pirfenidone to an IPF patient taking fluvoxamine; and were they to find themselves in that position, they would choose a non-infringing response. The district court did not clearly err by considering physician evidence, weighing it against the language in Sandoz's proposed label, and finding that Genentech failed to prove direct infringement.
GENERICally Speaking Hatch Waxman Bulletin
Any information that you send us in an e-mail message should not be confidential or otherwise privileged information. Sending us an e-mail message will not make you a client of Robins Kaplan LLP. We do not accept representation until we have had an opportunity to evaluate your matter, including but not limited to an ethical evaluation of whether we are in a conflict position to represent you. Accordingly, the information you provide to us in an e-mail should not be information for which you would have an expectation of confidentiality.

If you are interested in having us represent you, you should call us so we can determine whether the matter is one for which we are willing or able to accept professional responsibility. We will not make this determination by e-mail communication. The telephone numbers and addresses for our offices are listed on this page. We reserve the right to decline any representation. We may be required to decline representation if it would create a conflict of interest with our other clients.

By accepting these terms, you are confirming that you have read and understood this important notice.