Sanofi-Aventis U.S. LLC v. Apotex Corp.
Jevtana® (cabazitaxel)
July 8, 2022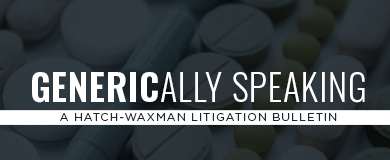 Case Name: Sanofi-Aventis U.S. LLC v. Apotex Corp., C.A. No. 20-cv-804-RGA, 2022 WL 2643532 (D. Del. July 8, 2022) (Hall, J.)
Drug Product and Patent(s)-in-Suit: Jevtana® (cabazitaxel); U.S. Patents Nos. 8,927,592 ("the '592 patent"), 10,583,110 ("the '110 patent"), and 10,716,777 ("the '777 patent")
Nature of the Case and Issue(s) Presented: Sanofi sells Jevtana, which is approved by the FDA for use in combination with prednisone for treating patients with metastatic castration-resistant prostate cancer previously treated with a docetaxel-containing treatment regimen. At the time Apotex filed an ANDA seeking approval from FDA to make and sell generic cabazitaxel, Sanofi had three Orange Book-listed patents, including the '592 patent and U.S. Patent No. 5,847,170 ("the '170 patent"). Sanofi originally sued Apotex and other defendants in D.N.J. One of those co-defendants, Mylan, filed and IPR of the '592 patent, which claimed methods of using cabazitaxel. In its institution decision, the PTAB held that the preambles of independent claims 1 ("method for treating a patient ...") and 27 ("method of increasing the survival of a patient ...") were "non-limiting," which meant the only claim limitations were administering the specified drugs to the specified patients. Sanofi then amended its patent claims making "increasing survival" a claim limitation and adding a three-component premedication regimen that Sanofi contended was not disclosed in the prior art. After a bench trial, the D.N.J. issued an injunction against approval of the defendants' ANDAs until the '170 patent expired on September 26, 2021, and found that the '592 patent was obvious. Sanofi did not appeal the district court's obviousness finding. During the D.N.J. trial, the PTAB issued its final written decision finding that original claims 1-5 and 7-30 of the '592 patent were obvious and denied Sanofi's contingent motion to amend its patent claims.
Sanofi appealed the denial of its contingent motion to amend. On appeal, the Federal Circuit ruled that the PTAB had erred by construing the preamble ("method of increasing survival ...") as non-limiting and by putting the burden on Sanofi to prove that the proposed substitute claims were valid. On remand, the PTAB concluded that Mylan had not shown substitute claims 31-34 were obvious. The Federal Circuit summarily affirmed, and the amended claims issued on August 23, 2021.
In June and July 2020, Sanofi filed complaints in in D. Del. against Apotex and co-defendants alleging patent infringement of the more recently issued patents-in-suit. On September 13, 2021, Defendants Apotex and Sandoz filed the instant motion to dismiss arguing that the doctrine of claim preclusion bars Sanofi from asserting the '592 patent against Defendants a second time and that the second amended complaint fails to plausibly allege that the sale of their products will induce infringement of the '110 and '777 patents. The Magistrate Judge recommended that the court dismiss the counts related to the '592 patent and deny the motion to dismiss as to the '110 and '777 patents.
Why Sanofi Prevailed: With respect to the '592 patent, Defendants argued that Sanofi previously sued Defendants for infringement of that patent in a case that went to final judgment. Claim preclusion requires: (i) a final judgment on the merits in a prior suit involving; (ii) the same parties; and (iii) a subsequent suit based on "the same cause of action." The issue here concerns the third prong: whether Sanofi's current assertion that Defendants' ANDAs infringe the amended '592 patent claims is "the same cause of action" as Sanofi's previous assertion that those same ANDAs infringed the original claims of the '592 patent. Put another way, under what circumstances is a patentee's assertion of amended claims that issued out of an IPR proceeding considered the same cause of action as a prior suit involving original claims in the same patent?
The new '592 patent claims Sanofi obtained from the IPR proceeding are essentially original patent plus two additional limitations—limitations the PTAB did not find proven to be in the prior art. Thus, if Defendants infringe the new claims, they would also have infringed the original claims. Because the new claims are a subset of the original claims, no new cause of action was created by their issuance. Moreover, because claim preclusion does not turn on what claims were actually asserted in the prior case but what could have been asserted in the prior case, Sanofi's argument that the amended claims are broader is also rejected. Finally, Sanofi could not explain why any differences between reexamination and IPR proceedings are relevant to the claim preclusion analysis.
With respect to the '110 and '777 patents, to state a claim of induced infringement under § 271(b), the complaint must plausibly allege that (i) there has been direct infringement, (ii) the defendant knowingly induced infringement, and (iii) the defendant possessed the intent to encourage another's infringement. Under 35 U.S.C. § 271(e)(2), an ANDA or 505(b)(2) applicant is liable for inducing infringement of a method patent if its label would actively encourage a patented use. Defendants argue that their proposed labels will not encourage infringement of asserted claims of the '110 and '777 patents, which cover "methods of increasing survival" in patients with castration-resistant metastatic prostate cancer that has progressed during or after treatment with docetaxel because the Court already construed that term to mean "the intentional purpose of increasing ... survival in an individual patient in need of ... increasing survival" and that their labels do not encourage doctors to form the intent to administer the products with the purpose of increasing survival. But Defendants' proposed labels tell physicians that their products are indicated "for treatment of patients with metastatic castration-resistant prostate cancer previously treated with a docetaxel-containing treatment regimen." The proposed labels also describe the results of a clinical study that found a decrease in the number of deaths and an increase in the median survival time when such patients were treated with cabazitaxel as opposed to another treatment regimen. That is sufficient at this stage of the case to meet Sanofi's notice pleading burden.
GENERICally Speaking Hatch Waxman Bulletin
Any information that you send us in an e-mail message should not be confidential or otherwise privileged information. Sending us an e-mail message will not make you a client of Robins Kaplan LLP. We do not accept representation until we have had an opportunity to evaluate your matter, including but not limited to an ethical evaluation of whether we are in a conflict position to represent you. Accordingly, the information you provide to us in an e-mail should not be information for which you would have an expectation of confidentiality.

If you are interested in having us represent you, you should call us so we can determine whether the matter is one for which we are willing or able to accept professional responsibility. We will not make this determination by e-mail communication. The telephone numbers and addresses for our offices are listed on this page. We reserve the right to decline any representation. We may be required to decline representation if it would create a conflict of interest with our other clients.

By accepting these terms, you are confirming that you have read and understood this important notice.