Par Pharm., Inc. v. Eagle Pharms., Inc.
Vasostrict® (vasopressin)
August 18, 2022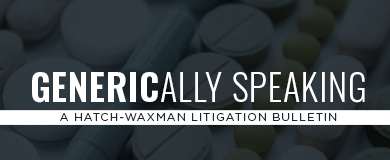 Case Name: Par Pharm., Inc. v. Eagle Pharms., Inc., No. 2021-2342, 2022 WL 3449817 (Fed. Cir. Aug. 18, 2022) (Circuit Judges Moore, Prost, and Hughes presiding; Opinion by Moore, J.) (Appeal from D. Del., Connolly, J.)
Drug Product and Patent(s)-in-Suit: Vasostrict® (vasopressin); U.S. Patents Nos. 9,744,209 ("the '209 patent") and 9,750,785 ("the '785 patent")
Nature of the Case and Issue(s) Presented: Par makes and sells Vasostrict, an injectable drug used to treat patients with critically low blood pressure. FDA approved Vasostrict in April 2014, and Par began selling Vasostrict in November 2014. Vasostrict was added to the Orange Book and the patents-in-suit were listed. The '785 patent claims vasopressin compositions. The '209 patent claims methods of increasing blood pressure using those compositions. Both patents require the vasopressin composition to have a rounded pH between 3.7-3.9. In 2018, Eagle filed an ANDA to make and sell generic vasopressin. In a press release, Eagle represented that the pH of its ANDA product would be between 3.4-3.6. Par sued Eagle and Eagle stipulated that its ANDA product would meet all asserted claim limitations except the claimed pH range.
Par argued that "real-world" evidence showed the pH of Eagle's product drifts up over time and that Eagle sought authority to release products into the marketplace with a pH of 3.64, just 0.01 beneath the infringing range. After a three-day bench trial, the district court found the minor fluctuations in pH value identified by Par did not reveal any discernible trend, let alone "a steady and inevitable" upward drift. Moreover, the district court found that while the release specification alone required a pH range between 3.4-3.6 only at the time of distribution, the stability specification imposed an additional constraint that Eagle's proposed product maintain a pH between 3.4-3.6 from the time of its distribution through the entirety of its shelf life. Because Eagle's ANDA specification controls and defines a non-infringing product under § 271(e)(2), and the district court did not abuse its discretion in denying Par's request for declaratory judgment, the Federal Circuit affirmed.
Why Eagle Prevailed: Under § 271(e)(2), it is an act of infringement to submit an ANDA seeking FDA approval to make and sell a patented drug. Because the characteristics of a proposed ANDA product may not be established until the ANDA is approved, to determine infringement under § 271(e)(2), courts must conduct an inquiry to determine whether the probable ANDA product would infringe once it is made, used, or sold. This inquiry is controlled by the ANDA specification itself. The ANDA directly resolves the infringement question if it defines a proposed generic product in a manner that either meets the limitations of an asserted patent claim or is outside the scope of such a claim. According to the Federal Circuit, "Here, the inquiry begins and ends with Eagle's ANDA specification. Both the release and stability specification directly and unambiguously address the pH range of Eagle's proposed product and thus speak directly to infringement." "Together, these specifications restrict the pH of the proposed product to a pH range between 3.4-3.6 at release and throughout the products' shelf life—outside the infringing range."
Instead, Par argued that because the FDA cannot ensure that every product Eagle sells will comply with the stability specification, it is irrelevant. But the Federal Circuit could not point to any evidence that suggests Eagle would not comply with its stability specification and Eagle acknowledged it was bound by its representations to the FDA and that its ANDA product must therefore have a pH between 3.4-3.6 throughout its shelf life, not just at release. Thus, "Par's unsupported conjecture that Eagle will not abide by its representations is inadequate to establish infringement."
Next, it was not an abuse of discretion for the district court to deny Par's request for declaratory judgment under § 271(a) and (b) because Par failed to establish by a preponderance of the evidence that Eagle's product would infringe, and that Eagle was therefore not engaged in an activity directed toward an infringing activity. Par argued that the district court erred by finding no discernable upward drift in pH and rejecting the relevance of even minor pH fluctuations. The Federal Circuit disagreed. "The [district] court thoroughly considered the post-release pH data Par cites, along with Eagle's expert testimony assessing that data, and found that, while the pH measurements fluctuated over time, there was no discernable trend—and certainly not an inevitable upward trend—in the fluctuations."
GENERICally Speaking Hatch Waxman Bulletin
Any information that you send us in an e-mail message should not be confidential or otherwise privileged information. Sending us an e-mail message will not make you a client of Robins Kaplan LLP. We do not accept representation until we have had an opportunity to evaluate your matter, including but not limited to an ethical evaluation of whether we are in a conflict position to represent you. Accordingly, the information you provide to us in an e-mail should not be information for which you would have an expectation of confidentiality.

If you are interested in having us represent you, you should call us so we can determine whether the matter is one for which we are willing or able to accept professional responsibility. We will not make this determination by e-mail communication. The telephone numbers and addresses for our offices are listed on this page. We reserve the right to decline any representation. We may be required to decline representation if it would create a conflict of interest with our other clients.

By accepting these terms, you are confirming that you have read and understood this important notice.