In re Entresto (Sacubitril/Valsartan) Patent Litigation
Entresto® (sacubitril and valsartan)
September 27, 2022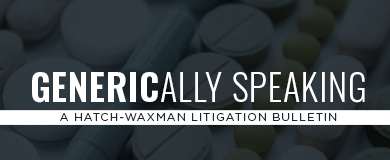 Case Name: In re Entresto (Sacubitril/Valsartan) Patent Litigation, Civ. No. 22-2930-RGA, 2022 WL 4482717 (D. Del. Sept. 27, 2022) (Andrews, J.)
Drug Product and Patent(s)-in-Suit: Entresto® (sacubitril and valsartan); U.S. Patents Nos. 9,517,226 ("the '226 patent"), 9,937,143 ("the '143 patent"), 11,135,192 ("the '192 patent"), 11,058,667 ("the '667 patent"), and 11,096,918 ("the '918 patent")
Nature of the Case and Issue(s) Presented: In September 2019, Plaintiff received notice that Hetero and Torrent ("Defendants") filed ANDA applications for a generic version of Novartis's Entresto product. Plaintiff sued Defendants alleging infringement of the '918 patent. Defendants answered and included counterclaims seeking a declaratory judgment that the '226, '143, '192, and '667 patents ("Late OB Patents") were invalid and/or not infringed. The Late OB Patents were added to the Orange Book after Defendants filed their ANDAs. Defendants supplemented their ANDA applications to include a Section viii statement prior to filing their counterclaims. Plaintiffs moved to dismiss the declaratory judgment counterclaims, and the court granted the motion.
Why Novartis Prevailed: Novartis argued that the Hatch-Waxman statute barred declaratory judgment counterclaims against the Late OB Patents because Defendants never submitted paragraph IV notice letters for those patents. More particularly, Novartis averred that the Hatch-Waxman Act restricts an ANDA applicant from filing a declaratory judgment action unless the applicant filed a Paragraph IV certification for that patent and the patent owner was first given 45 days to bring an action for infringement. In other words, because Defendants chose to submit Section viii statements for the Late OB Patents, Defendants lacked standing to seek declaratory relief.
Defendants responded by arguing that 35 U.S.C. § 271(e)(2) provides a basis for the declaratory judgment counterclaims because "the Federal Circuit has held that submission of an ANDA alone, not submission of a paragraph IV certification, creates justiciable controversy."
The court found that while the Hatch-Waxman Act did not include a per-se statutory bar of counterclaims, it nevertheless lacked a statutory basis for, or subject matter jurisdiction over, Defendants' counterclaims in this instance. The court explained that § 271(e)(2) provides that court with subject matter jurisdiction over infringement claims filed by patent owners but is silent about subject matter jurisdiction for an ANDA applicant's counterclaims. When, as here, the ANDA applicant submits a Section viii statement, there can be no "actual controversy" because there is no case and controversy.
GENERICally Speaking Hatch Waxman Bulletin
Any information that you send us in an e-mail message should not be confidential or otherwise privileged information. Sending us an e-mail message will not make you a client of Robins Kaplan LLP. We do not accept representation until we have had an opportunity to evaluate your matter, including but not limited to an ethical evaluation of whether we are in a conflict position to represent you. Accordingly, the information you provide to us in an e-mail should not be information for which you would have an expectation of confidentiality.

If you are interested in having us represent you, you should call us so we can determine whether the matter is one for which we are willing or able to accept professional responsibility. We will not make this determination by e-mail communication. The telephone numbers and addresses for our offices are listed on this page. We reserve the right to decline any representation. We may be required to decline representation if it would create a conflict of interest with our other clients.

By accepting these terms, you are confirming that you have read and understood this important notice.