Chiesi USA, Inc. v. Aurobindo Pharma USA, Inc.
Cleviprex® (clevidipine injectable emulsions)
August 16, 2022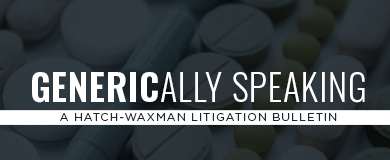 Case Name: Chiesi USA, Inc. v. Aurobindo Pharma USA, Inc., Civ. No. 19-18756, 2022 WL 3703207 (D.N.J. Aug. 16, 2022) (Quraishi, J.)
Drug Product and Patent(s)-in-Suit: Cleviprex® (clevidipine injectable emulsions); U.S. Patents Nos. 8,658,676 ("the '676 patent"), 10,010,537 ("the '537 patent"), and 11,103,490 ("the '490 patent")
Nature of the Case and Issue(s) Presented: Cleviprex® is an improved version of clevidipine that has a longer period over which its vials can be used compared to the previous version. The active ingredient, clevidipine, is a calcium channel blocker that is administered intravenously to treat high blood pressure. After a seven-day bench trial, the court found the asserted claims infringed and not invalid.
Why Chiesi Prevailed: The asserted claim recited "an antimicrobial agent, EDTA, present at about 0.001% to about 1.5% w/v." Defendant argued that it did not infringe this claim limitation because its proposed product contained 0.0005% EDTA. The court explained that a POSA would understand that "about" must expand the claimed numerical range to some degree, otherwise the term would be meaningless. In particular, the court examined the purpose that the EDTA claim limitation served in the formulation and assessed whether a value outside the expressly stated numeric range would serve the same purpose. The court found infringement because Defendant employed its 0.0005% EDTA for the same purpose—limiting microbial contamination—stated in the patent and because there was no suggestion that the 0.001% lower limit was critical to the claimed invention.
Defendant then argued that the claimed invention was obvious in view of Original Cleviprex. The only difference between Original Cleviprex and the claimed invention was the inclusion of EDTA and oleic acid. For a teaching to add EDTA, Defendant noted that a prior art drug product Diprivan (intravenous propofol) used EDTA and Chiesi's own FDA Briefing Document recognized the similarity of Diprivan to improved Cleviprex. Defendant also argued that "oleic acid is a commonly used excipient in a number of currently approved and marketed parenteral emulsions." In response, Plaintiff argued that the prior art did not disclose EDTA in combination with clevidipine and, similarly, that the prior art included no teaching of oleic acid in combination with clevidipine. Plaintiffs presented no secondary indicia of non-obviousness, but the court still found the patents not invalid as obvious. In particular, the court concluded that it was undisputed that formulating oil-in-water emulsions is a complex and unpredictable science and that a POSA would not have been motivated to modify Original Cleviprex based on the prior art's teachings with respect to Diprivan.
Defendant also argued that Plaintiffs committed inequitable conduct because the inventors told FDA in 2009 that adding EDTA and oleic acid to Original Cleviprex would be safe, but later argued to the Patent Office from 2010–2013 that a POSA would consider it unsafe. Plaintiff showed, however, that Applicant submitted the allegedly contradictory statement to the Examiner—who acknowledged its submission in the IDS—and nevertheless the claims were allowed. As a result, the court found that Applicants failed to misrepresent or omit information to the USPTO during prosecution that was "but-for" material to patentability.
GENERICally Speaking Hatch Waxman Bulletin
Any information that you send us in an e-mail message should not be confidential or otherwise privileged information. Sending us an e-mail message will not make you a client of Robins Kaplan LLP. We do not accept representation until we have had an opportunity to evaluate your matter, including but not limited to an ethical evaluation of whether we are in a conflict position to represent you. Accordingly, the information you provide to us in an e-mail should not be information for which you would have an expectation of confidentiality.

If you are interested in having us represent you, you should call us so we can determine whether the matter is one for which we are willing or able to accept professional responsibility. We will not make this determination by e-mail communication. The telephone numbers and addresses for our offices are listed on this page. We reserve the right to decline any representation. We may be required to decline representation if it would create a conflict of interest with our other clients.

By accepting these terms, you are confirming that you have read and understood this important notice.