Bial-Portela & Ca. S.A. v. Alkem Labs. Ltd.
Aptiom® (eslicarbazepine acetate)
September 15, 2022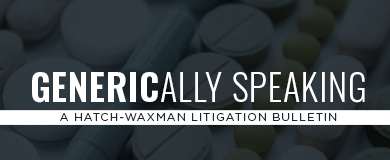 Case Name: Bial-Portela & Ca. S.A. v. Alkem Labs. Ltd., Civ. Nos. 18-304-CFC-CJB, 20-786-CFC-CJB, 21-186-CFC, 2022 WL 4244989 (D. Del. Sep. 15, 2022) (Connolly, J.)
Drug Product and Patent(s)-in-Suit: Aptiom® (eslicarbazepine acetate); U.S. Patents Nos. 10,675,287 ("the '287 patent"), 10,695,354 ("the '354 patent"), 10,702,536 ("the '536 patent"), 9,763,954 ("the '954 patent"), and 10,912,781 ("the '781 patent")
Nature of the Case and Issue(s) Presented: Alkem submitted an ANDA to FDA for approval of generic eslicarbazepine acetate, a once-a-day tablet used to treat epileptic seizures called partial-onset seizures. Aptiom is marketed by Bial, which filed suit alleging patent infringement of six claims across five patents-in-suit. None of the six asserted claims cover the compound eslicarbazepine acetate; rather, five of the claims cover methods of administering eslicarbazepine acetate and one of the claims is a formulation claim for a tablet with eslicarbazepine acetate as its active pharmaceutical ingredient. The "once-daily patents"—the '287, '354, and '536 patents—claim the administration of eslicarbazepine acetate once-daily to treat partial-onset seizures. The '954 method of treatment patent claims using eslicarbazepine acetate to treat a patent who has previously been treated with oxcarbazepine but has ongoing seizures. The '781 formulation patent claims eslicarbazepine acetate along with various other functional excipients and their amounts. Alkem denied infringing the '781 and '954 patents and alleged that all six patents-in-suit are invalid. After a three-day bench trial, the court found the '781 patent infringed and invalid and the '954 patent not infringed and invalid. The court further found the remaining patents not invalid as obvious.
Why Bial-Protela Prevailed: The court first addressed infringement of the '954 method patent, finding that nothing in Alkem's label taught, recommended, or encouraged using the ANDA product in patients who are intractable to oxcarbazepine. It further found that nothing in the label suggested that using the product in that patient population specifically would be a "medically desirable activity." Thus, Alkem's label did not establish that Alkem intended for its product to be used in this patient population.
With respect to the issue of infringement of the '781 formulation patent, the dispute, came down to whether Bial proved at trial that microcrystalline cellulose acted as a disintegrant in Alkem's ANDA product. Based on the Bial's expert's testimony, the court found that it did. Microcrystalline cellulose is a well-known disintegrant because of its "good wicking properties and hydrogen bonds between adjacent matchstick–like bundles that break when exposed to water." Those properties are inherent and will function as such regardless of the amount of microcrystalline cellulose in the compound.
The court next addressed the issue of validity of the once-daily patents. The benefits of once-daily dosing generally include patient convenience and improved patient adherence to the medication regimen. But fluctuations in blood plasma concentration of a compound where the concentration falls below the therapeutic range for the compound should be avoided when administering antiepileptic drugs because a concentration below the therapeutic range would not be expected to be efficacious and would increase the risk of the patient experiencing breakthrough seizures. Therefore, the court found that dosing once-daily has a higher risk of the blood plasma concentration of the active compound falling below the therapeutic level than dosing twice-daily, and even if a skilled artisan generally preferred to dose once-daily, the artisan would not have been motivated to dose an anti-epileptic drug once-daily. There was no record evidence that a skilled artisan would have a reasonable expectation of success of treating epilepsy with once-daily dosing of eslicarbazepine acetate. "If anything, the record evidence suggests that an artisan of ordinary skill would doubt that dosing once-daily would be successful."
Next, the court addressed the Section 112 defenses associated with the '954 method of treatment patent. There is no study in humans described anywhere in the '954 patent where the human patient or subject of the study was intractable to oxcarbazepine and shown to respond to eslicarbazepine acetate. The inventor testified that Figures 4 and 5 show data from a kindling mouse experiment modeling epileptogenesis, which may be used as a model of intractable epilepsy if and when the animal becomes resistant to the drug. The court disagreed, finding that Figures 4 and 5 do not establish that eslicarbazepine acetate would treat patients intractable to oxcarbazepine. The court concluded that "the data presented in the patent does not show that eslicarbazepine acetate could be used to effectively treat a patient intractable to oxcarbazepine and that the theories of why eslicarbazepine acetate might be effective in these patients are simply research hypotheses."
Finally, the court addressed the validity of the '781 formulation patent. The '781 patent claims "high drug loaded pharmaceutical compositions containing the active drug substance eslicarbazepine acetate, exhibiting an immediate-release dissolution profile with certain excipients and excipient ranges." The court found the patent invalid as obvious in view of a prior art reference that disclosed an immediate-release formulation with eslicarbazepine acetate as the active ingredient and administering a high drug load even if not all contained in one tablet, in combination with another reference that disclosed an immediate release formulation with a high drug load of a compound that has comparable solubility to eslicarbazepine acetate, and the Handbook of Pharmaceutical Excipients, which disclosed information regarding the remaining excipient amounts. The court further found that a skilled artisan would have had a reasonable expectation of success in achieving the claimed invention because a related compound was successfully formulated with a comparable drug load and excipients in the claimed ranges to be immediate release.
GENERICally Speaking Hatch Waxman Bulletin
Any information that you send us in an e-mail message should not be confidential or otherwise privileged information. Sending us an e-mail message will not make you a client of Robins Kaplan LLP. We do not accept representation until we have had an opportunity to evaluate your matter, including but not limited to an ethical evaluation of whether we are in a conflict position to represent you. Accordingly, the information you provide to us in an e-mail should not be information for which you would have an expectation of confidentiality.

If you are interested in having us represent you, you should call us so we can determine whether the matter is one for which we are willing or able to accept professional responsibility. We will not make this determination by e-mail communication. The telephone numbers and addresses for our offices are listed on this page. We reserve the right to decline any representation. We may be required to decline representation if it would create a conflict of interest with our other clients.

By accepting these terms, you are confirming that you have read and understood this important notice.