AstraZeneca AB v. Mylan Pharms., Inc.
Symbicort® (budesonide and formoterol)
July 12, 2022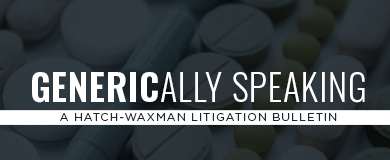 Case Name: AstraZeneca AB v. Mylan Pharms., Inc., No. 22-cv-35, 2022 WL 2707729 (N.D.W.V. July 12, 2022) (Bailey, J.)
Drug Product and Patent(s)-in-Suit: Symbicort® (budesonide and formoterol); U.S. Patent No. 11,311,558 ("the '558 patent")
Nature of the Case and Issue(s) Presented: On June 26, 2018, Mylan submitted an ANDA seeking approval to market a generic version of AstraZeneca's Symbicort. Mylan submitted a paragraph IV certification to the then-in-existence Orange Book patents ("Round I Patents"). Thereafter, Mylan submitted an additional paragraph IV certification to a new-to-issue Orange Book patent ("Round II Patent"). Based on the court's claim construction, the parties stipulated that Mylan did not infringe the Round I Patents. The court held a bench trial on the Round II Patent in May 2022.
The FDA granted final approval of Mylan's ANDA on March 15, 2022. Shortly thereafter, the '558 patent issued on April 26, 2022. AstraZeneca filed suit on April 29, 2022, asserting infringement under 35 U.S.C. § 271(e)(2)(A). Mylan moved to dismiss, which the court denied.
Why AstraZeneca Prevailed: Mylan argued that §271(e)(2)(A) was inapplicable because the '558 patent was not even in existence when its ANDA was approved. More specifically, Mylan argued that AstraZeneca's infringement claim under § 271(e)(2)(A) must fail because Mylan's ANDA "was already approved before the '558 patent issued," thereby mooting the requirement that it amend its ANDA to include a Paragraph IV certification to the '558 patent.
In response, AstraZeneca argued that (i) a paragraph IV certification is not a prerequisite to a § 271(e)(2) claim, (ii) that FDA approval does not bar assertion of claims under § 271(e)(2), and (iii) that the Court retained authority to award relief even absent a claim under § 271(e).
The court found that at the motion-to-dismiss phase, the Complaint "alleges enough facts to state a claim to relief that is plausible on its face for infringement under § 271(e)(2) because it identifies the ANDA and alleges that the proposed ANDA product will infringe." The court additionally explained that "Plaintiffs' Complaint [went] well beyond plausibility" and concluded that "Plaintiffs have sufficiently pled infringement on one or more claims of the '558 patent."
GENERICally Speaking Hatch Waxman Bulletin
Any information that you send us in an e-mail message should not be confidential or otherwise privileged information. Sending us an e-mail message will not make you a client of Robins Kaplan LLP. We do not accept representation until we have had an opportunity to evaluate your matter, including but not limited to an ethical evaluation of whether we are in a conflict position to represent you. Accordingly, the information you provide to us in an e-mail should not be information for which you would have an expectation of confidentiality.

If you are interested in having us represent you, you should call us so we can determine whether the matter is one for which we are willing or able to accept professional responsibility. We will not make this determination by e-mail communication. The telephone numbers and addresses for our offices are listed on this page. We reserve the right to decline any representation. We may be required to decline representation if it would create a conflict of interest with our other clients.

By accepting these terms, you are confirming that you have read and understood this important notice.