Bausch Health Ireland, Ltd. v. Padagis Israel Pharms., Ltd.
Duobrii® (halobetasol propionate / tazarotene)
May 20, 2022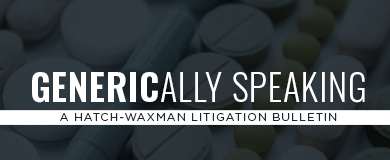 Case Name: Bausch Health Ireland, Ltd. v. Padagis Israel Pharms., Ltd., Civ. No. 20-5426 (SRC), 2022 WL 1606961 (D.N.J. May 20, 2022) (Chesler, J.)
Drug Product and Patent(s)-in-Suit: Duobrii® (halobetasol propionate / tazarotene); U.S. Patents Nos. 10,251,895 ("the '895 patent") and 10,426,787 ("the '787 patent")
Nature of the Case and Issue(s) Presented: Bausch moved for summary judgment on Padagis's affirmative defense and counterclaim that the patents-in-suit were unenforceable for inequitable conduct. The patents-in-suit shared common inventors and claimed priority to the same provisional patent application filed in June 2015. The court granted Bausch's motion for summary judgment.
Why Bausch Health Prevailed: Padagis raised two theories of inequitable conduct: (i) that applicants submitted a false declaration (the "Sugarman Declaration") during prosecution and (ii) that Dr. Pillai, a named inventor, withheld material prior art during prosecution. Both theories failed.
Padagis argued that the Sugarman Declaration, submitted to the PTO in 2018 during prosecution, was false because it incorrectly stated that "the Invention unexpectedly achieved the synergistic efficacy over the combination of halobetasol propionate and tazarotene monotherapies." More particularly, Padagis averred that the word "unexpectedly" was incorrect and that Sugarman knew that the synergistic effects were expected. In support, Padagis relied on a 2017 journal article that listed Sugarman as the lead author and stated that "combining a topical corticosteroid [with tazarotene] is one option that may prevent the irritancy effects of tazarotene while providing a synergistic therapeutic effect as well as a potential decrease in steroid-induced atrophy." Importantly, Padagis contended that the 2017 journal article stated a "historical fact" evidencing a POSA's knowledge prior to the June 2015 priority date. But the court disagreed, finding that nothing in the 2017 journal article (that published after the priority date) could be used to inform the state of the art in 2015. For the same reason that Sugarman's 2017 journal article did not directly conflict with the Sugarman Declaration, the court found no intent to deceive the PTO.
Regarding the issue concerning Dr. Pillai, Padagis argued that he, a named inventor, knowingly withheld material prior art during prosecution of the patents-in-suit. Specifically, Padagis contended that Dr. Pillai withheld a ClinicalTrials.Gov posting that dosed the claimed combination. But the court found that the elements recited in the patents-in-suit, and described in the ClinicalTrials.gov posting, had already been found in other examined prior art. As a result, the ClinicalTrials.Gov posting, at most, provided a shortcut to the Examiner's conclusion of obviousness, but it would not have changed the Examiner's conclusion that the combined teachings of the prior art references suggested the claimed invention. Importantly, the court found that Padagis failed to demonstrate that the ClinicalTrials.gov posting taught anything materially different from the prior art references discussed by the Examiner.
GENERICally Speaking Hatch Waxman Bulletin
Any information that you send us in an e-mail message should not be confidential or otherwise privileged information. Sending us an e-mail message will not make you a client of Robins Kaplan LLP. We do not accept representation until we have had an opportunity to evaluate your matter, including but not limited to an ethical evaluation of whether we are in a conflict position to represent you. Accordingly, the information you provide to us in an e-mail should not be information for which you would have an expectation of confidentiality.

If you are interested in having us represent you, you should call us so we can determine whether the matter is one for which we are willing or able to accept professional responsibility. We will not make this determination by e-mail communication. The telephone numbers and addresses for our offices are listed on this page. We reserve the right to decline any representation. We may be required to decline representation if it would create a conflict of interest with our other clients.

By accepting these terms, you are confirming that you have read and understood this important notice.