Astellas US LLC v. Hospira, Inc.
Lexiscan® (regadenoson)
May 19, 2022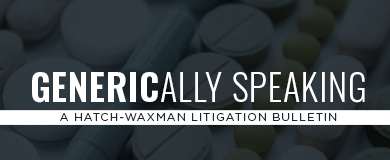 Case Name: Astellas US LLC v. Hospira, Inc., No. 18-cv-1675-CFC, 2022 WL 1591277 (D. Del. May 19, 2022) (Connolly, J.)
Drug Product and Patent(s)-in-Suit: Lexiscan® (regadenoson); U.S. Patents Nos. 106,183 ("the '183 patent"), RE47,301 ("the '301 patent"), and 8,524,883 ("the '883 patent")
Nature of the Case and Issue(s) Presented: Astellas sued Hospira, alleging that Hospira's submission of its ANDA to the FDA constituted infringement of claim 1 of the '183 patent and claim 6 of the '301 patent. Additionally, Astellas sought declaratory judgment that the manufacture of Hospira's regadenoson product after the FDA's approval of Hospira's ANDA would constitute direct and induced infringement of claims 1–3 of the '883 patent under. After a three-day bench trial, the Court found that Hospira did not infringe the asserted claims.
Why Hospira Prevailed: The prior art recognized eight crystalline forms of regadenoson (called Form A through Form G). Form A is the only known monohydrate crystalline form of the chemical and is the most stable of the known crystalline forms. Crude, Form F, and Form G regadenoson are anhydrous forms. Astellas's asserted claims all recite, or depend from independent claims that recite, a "monohydrate" or "crystalline monohydrate" form of regadenoson. In other words, the claims recite Form A regadenoson. Hospira's ANDA product, manufactured by third-party manufacturer Curia, uses anhydrous Form G regadenoson.
The thrust of Plaintiff's main infringement theory at trial was that anhydrous regadenoson forms have a propensity to convert to Form A when exposed to water, and that water is introduced into Curia's manufacturing process through at least two reagents (methylamine and ethanol) and/or ambient humidity. This "propensity," however, as explained by experts at trial, exists only if the anhydrous regadenoson forms are exposed to a sufficient level of "water activity" and a sufficient amount of water.
The court found as a factual matter that Plaintiff failed to prove both: (i) what level of water activity and amount of water are necessary to convert crude and Forms F and G regadenoson into Form A; and (ii) the level of water activity and amount of water in Curia's manufacturing process related to Hospira's ANDA. Thus, Plaintiff did not prove by a preponderance of the evidence that Hospira's ANDA product was likely to contain a monohydrate form of regadenoson. That failure of proof necessitated a finding of non-infringement.
Additionally, the court found that Plaintiff did not prove that Form A was actually present in Hospira's ANDA. First, Curia's DMF requires that the Form G be identified with an XRPD analysis that: (i) shows a pattern that conforms to the Form G reference pattern; and (ii) shows that no peaks are observed for other solid forms. This testing step in the DMF, incorporated by reference in Hospira's ANDA, rules out the observation of any other solid forms, including Form A. More, beyond XRPD analysis, Plaintiff failed to adduce evidence of any additional testing (like synchrotron testing) to back up its arguments regarding Form A regadenoson being present in the Form G in trace amounts undetected by XRPD. Thus, Plaintiffs failed to show by a preponderance of the evidence that Curia's Form G actually contained Form A regadenoson.
In light of its non-infringement findings, the court did not address Hospira's affirmative defenses of invalidity.
GENERICally Speaking Hatch Waxman Bulletin
Any information that you send us in an e-mail message should not be confidential or otherwise privileged information. Sending us an e-mail message will not make you a client of Robins Kaplan LLP. We do not accept representation until we have had an opportunity to evaluate your matter, including but not limited to an ethical evaluation of whether we are in a conflict position to represent you. Accordingly, the information you provide to us in an e-mail should not be information for which you would have an expectation of confidentiality.

If you are interested in having us represent you, you should call us so we can determine whether the matter is one for which we are willing or able to accept professional responsibility. We will not make this determination by e-mail communication. The telephone numbers and addresses for our offices are listed on this page. We reserve the right to decline any representation. We may be required to decline representation if it would create a conflict of interest with our other clients.

By accepting these terms, you are confirming that you have read and understood this important notice.