Horizon Medicines LLC v. Dr. Reddy's Labs., Inc.
Vimovo® (naproxen/esomeprazole magnesium)
February 24, 2022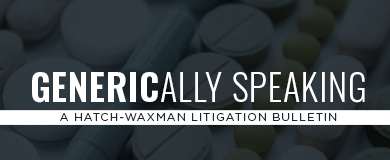 Case Name: Horizon Medicines LLC v. Dr. Reddy's Labs., Inc., No. 15-3324 (SRC), 2022 WL 577957 (D.N.J. Feb. 24, 2022) (Chesler, J.)
Drug Product and Patent(s)-in-Suit: Vimovo® (naproxen/esomeprazole magnesium); U.S. Patents Nos. 8,858,996 ("the '996 patent") and 9,161,920 ("the '920 patent")
Nature of the Case and Issue(s) Presented: Plaintiff Nuvo owned the patents-in-suit, Plaintiff Horizon was a licensee, and Defendants were pharmaceutical companies that had filed ANDAs seeking approval to make and sell generic versions. An earlier round of litigation had found several of Plaintiff's patents invalid for failure to satisfy the written-description requirement. During that round, nine additional patents related to Vimovo issued and were listed in the Orange Book. The two patents-in-suit descended from U.S. Patent No. 6,926,907. DRL had previously moved for summary judgment of invalidity of the asserted claims in the '996 and '920 patents for lack of adequate written description pursuant to § 112 ¶ 1. That motion was denied. DRL now moved again for summary judgment on several issues, including invalidity on the basis of issue preclusion, and claim preclusion. The court granted in part DRL's motion.
Why DRL Prevailed: DRL contended that the identical issue of invalidity for lack of adequate written description that had been litigated and decided previously applied to the patents-in-suit. Specifically, DRL argued, and the Federal Circuit held, that the '907 patent claimed uncoated PPI (proton pump inhibitor) effective to raise the gastric pH to at least 3.5 and that "the claimed effectiveness of uncoated PPI" was not supported by an adequate written description.
DRL's argument relied on three undisputed propositions: (i) the earlier-litigated patents and the patents-in-suit had materially identical specifications; (ii) the court construed "all claims at issue to require esomeprazole which [sic] is effective to raise gastric pH to at least 3.5;" and (iii) esomeprazole was a species in the genus of PPIs. Therefore, the issue here was does the effective esomeprazole required by the claims at issue materially differ from the effective uncoated PPI, as understood in the prior litigation, in the context of the written-description analysis?
All the claims at issue there required esomeprazole, whereas the claims in the prior litigation variously required esomeprazole, an acid inhibitor, or a proton-pump inhibitor. Plaintiffs had not asserted that this constituted any material difference. Plaintiffs did, however, contend that the claims at issue there were narrower and required more specific formulations, whereas the claims in the prior litigation were broader and more general. This was evidenced by (i) specific dosage ranges and (ii) the specific dosage form of a tablet. DRL responded that Plaintiffs selected claims from the prior litigation for comparison that showed a difference, rather than claims that showed sameness. For example, there were claims in the prior litigation that contained the same dosage ranges as in the claims there at issue. Thus, the court found that there was no material difference in scope between the narrowest claims from the prior litigation and the narrowest asserted claims there.
Next, the court found that Plaintiffs' conclusory assertion that the contrary conclusions of their experts were sufficient to raise a factual dispute did not hold water. Plaintiffs' brief cited no particular expert statement; instead, it cited fourteen pages of expert reports. "This Court found no factual questions as it considered the parties' arguments and compared the claims presently at issue to the [prior litigation] claims, nor have Plaintiffs supported their assertion of factual disputes with particular evidence."
The court also took issue with Plaintiffs' inability in their brief to distinguish between issue preclusion and claim preclusion. "In any case, none of their arguments succeed under the law of either issue preclusion or claim preclusion, and Plaintiffs fail to point out any material distinctions in the patent claims."
The court also dismissed Plaintiffs' argument, offered in opposition to the prior motion for summary judgment, that DRL had waived its preclusion arguments by failing to plead them, which the court considered and rejected. But the court was not persuaded that DRL had failed to raise these defenses at a pragmatically sufficient time, or that Plaintiffs were significantly prejudiced by the timing.
The court then turned to the issue of claim preclusion. DRL contended that claim preclusion barred all the present claims. The court observed that claim preclusion could not apply to Counts II and IV in the Third Amended Complaint, which alleged patent infringement based on the launch at risk of a generic product in February of 2020, well after the prior litigation had terminated. Thus, those counts could not have been raised in the earlier case and could not be subject to claim preclusion on that basis. Because the court had concluded that all claims were barred by issue preclusion, it did not further address the claim-preclusion arguments.
GENERICally Speaking Hatch Waxman Bulletin
Any information that you send us in an e-mail message should not be confidential or otherwise privileged information. Sending us an e-mail message will not make you a client of Robins Kaplan LLP. We do not accept representation until we have had an opportunity to evaluate your matter, including but not limited to an ethical evaluation of whether we are in a conflict position to represent you. Accordingly, the information you provide to us in an e-mail should not be information for which you would have an expectation of confidentiality.

If you are interested in having us represent you, you should call us so we can determine whether the matter is one for which we are willing or able to accept professional responsibility. We will not make this determination by e-mail communication. The telephone numbers and addresses for our offices are listed on this page. We reserve the right to decline any representation. We may be required to decline representation if it would create a conflict of interest with our other clients.

By accepting these terms, you are confirming that you have read and understood this important notice.