Azurity Pharms., Inc. v. Alkem Labs., Ltd.
Firvanq® (vancomycin HCl)
January 31, 2022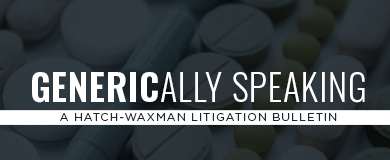 Case Name: Azurity Pharms., Inc. v. Alkem Labs., Ltd., No. 20-cv-1094, 2022 WL 605746 (D. Del. Jan. 31, 2022) (Goldberg, J.)
Drug Product and Patent(s)-in-Suit: Firvanq® (vancomycin HCl); U.S. Patents Nos. 10,493,028 ("the '028 patent"), 10,688,046 ("the '046 patent"), and 10,959,948 ("the '948 patent").
Nature of Case and Issue(s) Presented: Plaintiff Azurity sued Alkem alleging that the liquid solution of vancomycin described in Alkem's ANDA infringed three of Azurity's patents literally and under the doctrine of equivalents. Alkem moved for judgment on the pleadings, arguing that its product did not infringe the '028 and the '046 patents. Those patents claimed a formulation consisting of: (i) 0.1-0.4% w/v anhydrous citric acid; (ii) water; (iii) 0.1-0.3% w/v sucralose; (iv) 0.01-0.1% w/v of a flavoring agent; (v) 0.08-0.2% w/v sodium benzoate; (vi) 0.0001-0.0003% w/v of a dye; and (vii) vancomycin hydrochloride, homogenous and stable for at least 30 days at ambient and refrigerated temperature conditions with a pH of 2.5-4.5, and wherein the concentration of vancomycin in the solution was 25-50 mg/ml.
The ANDA formulation differed in three respects: (i) sodium benzoate was present in the claim but absent from the ANDA; (ii) methyl paraben and ethyl paraben were absent from the claim but present in the ANDA; (iii) and propylene glycol was absent from the claim but present in the ANDA. Based on those differences, and Azurity's alleged disavowal of propylene glycol in the prosecution of the '028 and '046 patents, Alkem argued that, as a matter of law, its product could not infringe the asserted claims. The Court denied Alkem's motion for judgment on the pleadings.
Why Azurity Prevailed: Azurity acknowledged that ingredient lists introduced with "consisting of" are closed to unlisted ingredients. But there is a narrow exception for unclaimed aspects of the accused product that are "unrelated to the invention." Norian Corp. v. Stryker Corp., 363 F.3d 1321, 1331 (Fed. Cir. 2004). Azurity argued that, if given the opportunity to present expert testimony, it would prove that the propylene glycol in the accused product was unrelated to the claimed invention and therefore did not avoid infringement. That question was a factual one, and at that early stage all inferences weighed in Azurity's favor as the nonmoving party. The court noted that "Plaintiff may face a difficult burden to prove it has met the prerequisites for the Norian exception," but noted that evidence could establish that the propylene glycol in Alkem's formulation was unrelated to Azurity's invention. Thus, judgement on the pleadings was inappropriate.
Alkem further claimed that Azurity was prevented from relying on the doctrine of equivalents due to argument-based prosecution history estoppel, since Azurity allegedly had disavowed certain subject matter during its prosecution of the '028 and '046 patents. Specifically, Alkem pointed to arguments Azurity made to distinguish the "Palepu" prior-art reference. Palepu, like the asserted claim, described a liquid solution of vancomycin, but differed in that its solution contained a polar solvent such as propylene glycol. According to Alkem, Azurity had told the PTO that the claimed invention was not obvious in light of Palepu because the claimed invention did not contain propylene glycol. Alkem also argued that even if additional ingredients in the accused product could be unrelated to the invention, its product still could not literally infringe because the accused product omitted the claimed ingredient sodium benzoate. Alkem reasoned that because there could be no literal infringement, Azurity's only path to a finding of infringement was through the doctrine of equivalents, which was precluded by Defendant's estoppel argument and the unclaimed presence of propylene glycol.
But infringement under the doctrine of equivalents was established on a limitation-by-limitation basis in which the accused device must be shown to include an equivalent for each literally absent claim limitation. Thus, equivalents need only be shown for limitations not literally satisfied. Again, at that early stage of the litigation, the undisputed facts did not exclude the possibility that the accused product could satisfy the absence of unlisted ingredients literally while satisfying the presence of an equivalent of sodium benzoate.
GENERICally Speaking Hatch Waxman Bulletin
Any information that you send us in an e-mail message should not be confidential or otherwise privileged information. Sending us an e-mail message will not make you a client of Robins Kaplan LLP. We do not accept representation until we have had an opportunity to evaluate your matter, including but not limited to an ethical evaluation of whether we are in a conflict position to represent you. Accordingly, the information you provide to us in an e-mail should not be information for which you would have an expectation of confidentiality.

If you are interested in having us represent you, you should call us so we can determine whether the matter is one for which we are willing or able to accept professional responsibility. We will not make this determination by e-mail communication. The telephone numbers and addresses for our offices are listed on this page. We reserve the right to decline any representation. We may be required to decline representation if it would create a conflict of interest with our other clients.

By accepting these terms, you are confirming that you have read and understood this important notice.