UCB, Inc. v. Catalent Pharma Solutions, Inc.
Vimpat® (lacosamide)
May 12, 2021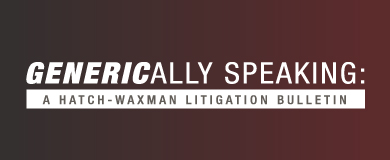 Case Name: UCB, Inc. v. Catalent Pharma Solutions, Inc., No. 5:21-cv-00038-GFVT, 2021 WL 1910079 (E.D. Ky. May 12, 2021) (Van Tatenhove, J.)
Drug Product and Patent(s)-in-Suit: Vimpat® (lacosamide); U.S. Patent No. RE38,551 ("the '551 patent")
Nature of the Case and Issue(s) Presented: The '551 patent issued on July 6, 2004, and claimed "anticonvulsant enantiomeric amino acid derivatives," including lacosamide. UCB held the NDA for Vimpat. Catalent, a contract manufacturer, imported 479 kgs of lacosamide between April 2019 and September 2020 to its facility in Kentucky. Catalent was importing lacosamide in order to provide manufacturing and testing services on lacosamide products for a customer's anticipated 505(b)(2) application product.
UCB sued Catalent and sought a preliminary injunction to enjoin Catalent from manufacturing, using, offering to sell, or selling within the United States, or importing into the United States the chemical compound lacosamide. Catalent acknowledged its importation of lacosamide, but claimed protection under the Safe Harbor provision of the Hatch-Waxman Act. The court denied UCB's motion.
Why Catalent Prevailed: The court first considered whether UCB could demonstrate a likelihood of success on the merits of its claim that Catalent infringed the '551 patent and its actions were not protected under the Safe Harbor provision. Both parties acknowledged that Catalent's importation of lacosamide constituted patent infringement under Section 271(a), and the court agreed. Thus, the critical analysis concerned whether said importation was protected. The parties relied on two Federal Circuit cases. UCB, relying on Proveris Sci. Corp. v. Innovasystems, Inc., 536 F.3d 1256 (Fed. Cir. 2008), argued that the Safe Harbor does not exempt infringing parties "whose own commercial services/products are not subject to regulatory approval." The Proveris court declined to extend Safe Harbor protection to Proveris because the company "is not a patentee who would have been faced with a reduction of effective patent life caused by the FDA approval process, the reason being that the invention claimed in the ... patent is not subject to the premarket approval required by the FDCA." On the other hand, Catalent, relying on Shire LLC v. Amneal Pharms. LLC, 802 F.3d 1301 (Fed. Cir. 2015), argued that a third party who had supplied API to a drug company preparing for an ANDA filing was protected by the safe harbor of § 271(e)(1) because the drug was used for purposes reasonably related to the submission of the ANDA.
Relying on the holding in Shire, the court found that Catalent's actions of importing, testing, and manufacturing lacosamide products were reasonably related to the submission its customer's 505(b)(2) drug application with the FDA. Various officials of both Catalent and its customer attested to that fact. Also, the statute's "reasonably related" language did not mean that the use of the patented invention must necessarily result in the submission of information to the FDA. Therefore, UCB has not established a likelihood of success on the merits.
In light of the aforementioned finding, UCB could not show that it had been harmed, let alone irreparably. Also, because UCB was unable to show a reasonable likelihood of success on the merits, the balancing of the equities and the public interest factors were foreclosed.
GENERICally Speaking Summer 2021
Any information that you send us in an e-mail message should not be confidential or otherwise privileged information. Sending us an e-mail message will not make you a client of Robins Kaplan LLP. We do not accept representation until we have had an opportunity to evaluate your matter, including but not limited to an ethical evaluation of whether we are in a conflict position to represent you. Accordingly, the information you provide to us in an e-mail should not be information for which you would have an expectation of confidentiality.

If you are interested in having us represent you, you should call us so we can determine whether the matter is one for which we are willing or able to accept professional responsibility. We will not make this determination by e-mail communication. The telephone numbers and addresses for our offices are listed on this page. We reserve the right to decline any representation. We may be required to decline representation if it would create a conflict of interest with our other clients.

By accepting these terms, you are confirming that you have read and understood this important notice.