Belcher Pharms., LLC v. Hospira, Inc.
Epinephrine
September 1, 2021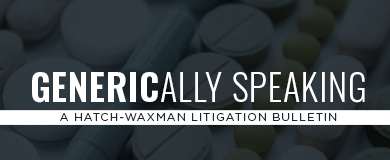 Case Name: Belcher Pharms., LLC v. Hospira, Inc., Nos. 2020-1799, 2021 WL 3889810 (Fed. Cir. Sept. 1, 2021) (Circuit Judges Reyna, Taranto, and Stoll presiding; Opinion by Reyna, J.) (Appeal from D. Del., Stark, J.)
Drug Product and Patent(s)-in-Suit: Epinephrine; U.S. Patent No. 9,283,197 ("the '197 patent")
Nature of Case and Issue(s) Presented: Hospira submitted a NDA seeking approval to market injectable epinephrine, which included a "paragraph IV" certification that the ''197 patent was invalid, unenforceable, and/or not infringed. Belcher sued Hospira for infringement of the ''197 patent, asserting claims 6 and 7 specifically. The parties stipulated that Hospira's product did not literally infringe those claims. The district court held a two-day bench trial. At trial, Darren Rubin, Belcher's chief science officer testified that he was regarded as the head of IP, and his responsibilities included overseeing regulatory approval, product development, and working on IP maters including patent application drafting, prosecution, and litigation. Mr. Rubin was involved in the development of Belcher's NDA product, participated in drafting the NDA, and was involved in the prosecution of the ''197 patent. He possessed knowledge of certain prior art epinephrine formulations and their pH ranges prior to filing the ''197 patent application. Mr. Rubin was also in possession of a label for and samples of an epinephrine product that a company named JHP had already introduced into the market, which exhibited a pH range of 2.8 to 3.3 at 15 months. Because Mr. Rubin withheld this information from the PTO, the district court found the ''197 patent unenforceable for inequitable conduct because it would have disclosed two aspects of the asserted claims: the pH range and the impurity levels. Belcher appealed and the Federal Circuit affirmed.
Why Hospira Prevailed: Belcher did not challenge the district court's decision that he asserted claims were invalid as obvious based on JHP's epinephrine product testing that showed the product has a pH within the claimed range. That alone evidences that the prior art JHP epinephrine is "necessarily material to patentability." Next, the court dismissed Belcher's argument that the JHP epinephrine was cumulative because such an argument is directly at odds with Belcher's argument during prosecution that the claimed range was "critical," and the fact that the Examiner only allowed the claims to issue after accepting Belcher's "criticality" argument.
Although there was no direct evidence of deceptive intent, the evidence persuaded the Federal Circuit "clearly and convincingly that this is the only reasonable inference that can be drawn." Mr. Rubin was an active participant in the FDA approval process and told FDA that the 2.8 to 3.3 pH range was an "old" range. But when later drafting the '197 patent application, Mr. Rubin did an about-face and told the PTO that the 2.8 to 3.3 pH range was a "critical" innovation contrary to the knowledge of a skilled artisan that yielded "unexpected results." Belcher argued that Mr. Rubin's mental state was a genuine in its belief that the information presented to the PTO was irrelevant, rather than a desire to deceive the Examiner. But the Federal Circuit didn't buy it, finding no clear error in the district court's findings that Mr. Rubin's reasons were not plausible and not credible.
GENERICally Speaking Fall 2021
Any information that you send us in an e-mail message should not be confidential or otherwise privileged information. Sending us an e-mail message will not make you a client of Robins Kaplan LLP. We do not accept representation until we have had an opportunity to evaluate your matter, including but not limited to an ethical evaluation of whether we are in a conflict position to represent you. Accordingly, the information you provide to us in an e-mail should not be information for which you would have an expectation of confidentiality.

If you are interested in having us represent you, you should call us so we can determine whether the matter is one for which we are willing or able to accept professional responsibility. We will not make this determination by e-mail communication. The telephone numbers and addresses for our offices are listed on this page. We reserve the right to decline any representation. We may be required to decline representation if it would create a conflict of interest with our other clients.

By accepting these terms, you are confirming that you have read and understood this important notice.