Grünenthal GmbH v. Alkem Labs. Ltd.
Finding no clear error on the part of the district court concerning the issues of non-obviousness and non-infringement resulting from a "section viii" carve-out, the Federal Circuit affirmed.
March 28, 2019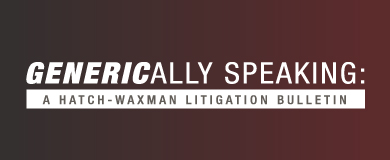 Case Name: Grünenthal GmbH v. Alkem Labs. Ltd., 2017-1153, 2017-2048, 2017-2049, 2017-2050, 2019 U.S. App. LEXIS 9187 (Fed. Cir. Mar. 28, 2019) (Circuit Judges Reyna, Taranto, and Chen presiding; Opinion by Reyna) (Appeal from D.N.J., Cecchi, J.)
Drug Product and Patent(s)-in-Suit: Nucynta® ER (tapentadol HCl); U.S. Patents Nos. 7,994,364 ("the '364 patent") and 8,536,130 ("the '130 patent")
Nature of the Case and Issue(s) Presented: The '364 patent is directed to the Form A polymorph of the chemical compound tapentadol hydrochloride and a method of treating pain and/or urinary incontinence. The '364 patent states that Form A "is very stable at ambient conditions and therefore useful for producing a pharmaceutical composition." The asserted claims of the '364 patent recite various X-ray powder diffraction patterns. The '130 patent describes a method of using tapentadol and tapentadol hydrochloride for the treatment of polyneuropathic pain. Polyneuropathic pain is a type of pain caused by damage to multiple nerves. In contrast, mononeuropathic pain is pain associated with damage to a single nerve.
Plaintiffs sued defendants stemming from defendants' respective ANDA filings seeking to market generic versions of immediate and extended-release tapentadol hydrochloride tablets. Defendants stipulated to infringement of the '364 patent, but challenged the validity of both patents-in-suit. After a bench trial, the district court concluded that Alkem infringed the '130 patent, but that Actavis and Hikma did not. The district court also determined that the '364 patent was not invalid as obvious, that the '130 patent was not invalid as anticipated, and that the '130 patent was not invalid due to obviousness-type double patenting in light of U.S. Patent No. RE39,593. Alkem and Hikma each appealed different aspects of the district court's invalidity rulings. Plaintiffs appealed the district court's finding of non-infringement of the '130 patent. Because the district court did not err in its conclusions, the Federal Circuit affirmed.
Why Plaintiffs Prevailed on Validity: Alkem argued that because of FDA guidance suggesting the undertaking of polymorph screenings for pharmaceutical solids, the district court clearly erred in finding no motivation to combine. But the Federal Circuit did not have to address that issue because Alkem acknowledged that it also had to prove a reasonable expectation of success in arriving at Form A or, relatedly, it would have been obvious to try to find a polymorph of Form B of tapentadol hydrochloride, and the Federal Circuit found that Alkem has not met those standards.
The Federal Circuit found that a POSA did not know, or would have no reason to know, that tapentadol hydrochloride is polymorphic. Nor could a POSA know, or have reason to know, how the multiple variables involved in conducting a polymorph screen would affect the recrystallization of tapentadol hydrochloride. The prior art did not provide any guidance as to how the different solvents, varying temperatures, rates of agitation, or other variables used in polymorph screenings should be manipulated to even determine whether polymorphism occurs. This lack of knowledge in the field shows there was little to no basis from which a POSA could expect a probability of success in producing Form A. The prior art provided "a general approach" to polymorph screening, only giving "general guidance," without providing "detailed enabling methodology." A conclusion of obviousness does not follow from merely varying all parameters or trying each of numerous possible choices until one possibly arrived at a successful result, where the prior art gave either no indication of which parameters were critical or no direction as to which of many possible choices were likely to be successful. Therefore, it would not have been obvious to try to produce Form A based on the prior art in the record.
Why Actavis and Hikma Prevailed on Infringement: The court's infringement determination for the '130 patent hinged on a single issue: did the label of the generic product instruct users to use tapentadol hydrochloride to treat polyneuropathic pain? Nucynta ER was indicated for the management of: (i) moderate to severe chronic pain in adults; and (ii) neuropathic pain associated with diabetic peripheral neuropathy (DPN) in adults when a continuous, around-the-clock opioid analgesic was needed for an extended period of time. The label made no explicit reference to "polyneuropathic pain," but DPN was a type of polyneuropathic pain. Hikma and Actavis each filed "Section viii" statements under 21 U.S.C. § 355(j)(2)(A)(viii), whereby Hikma and Actavis told FDA that they would not seek FDA approval for an indication directed to the treatment of DPN. Actavis's proposed ANDA product was indicated for "pain severe enough to require daily, around-the-clock, long-term opioid treatment." Hikma's proposed ANDA product was indicated for "moderate to severe chronic pain in adults when a continuous, around-the-clock opioid analgesic is needed for an extended period of time." Severe chronic pain included polyneuropathic, mononeuropathic, and nociceptive pain. Therefore, the proposed ANDA labels did not specifically encourage use of tapentadol hydrochloride for treatment of polyneuropathic pain. Further, it was undisputed that neither of the accused ANDA labels listed an indication for the management of pain associated with DPN, nor did they mention any DPN clinical studies, which served as the basis for FDA approval of Nucynta ER's indication for the treatment of neuropathic pain. Therefore, the Federal Circuit discerned no clear error in the district court's finding of no induced infringement. The Federal Circuit reached the same outcome concerning contributory infringement after considering the record evidence, including the district court's credibility determinations that supported Actavis and Hikma's theories of non-infringement.
GENERICally Speaking Spring 2019
Any information that you send us in an e-mail message should not be confidential or otherwise privileged information. Sending us an e-mail message will not make you a client of Robins Kaplan LLP. We do not accept representation until we have had an opportunity to evaluate your matter, including but not limited to an ethical evaluation of whether we are in a conflict position to represent you. Accordingly, the information you provide to us in an e-mail should not be information for which you would have an expectation of confidentiality.

If you are interested in having us represent you, you should call us so we can determine whether the matter is one for which we are willing or able to accept professional responsibility. We will not make this determination by e-mail communication. The telephone numbers and addresses for our offices are listed on this page. We reserve the right to decline any representation. We may be required to decline representation if it would create a conflict of interest with our other clients.

By accepting these terms, you are confirming that you have read and understood this important notice.