Forest Labs., LLC v. Sigmapharm Labs., LLC
Judgment of non-infringement vacated as a result of improper claim construction and judgment of non-obviousness remanded to make an express finding on motivation to combine references.
March 14, 2019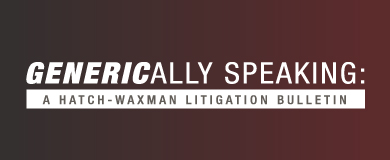 Case Name: Forest Labs., LLC v. Sigmapharm Labs., LLC, No. 2017-2369, 2019 U.S. App. LEXIS 7485 (Fed. Cir. March 14, 2019) (Circuit Judges Prost, Dyk, and Moore presiding; Opinion by Moore, J.) (Appeal from D. Del., Robinson, J.)
Drug Product and Patent(s)-in-Suit: Saphris® (asenapine maleate); U.S. Patent No. 5,763,476 ("the '476 patent")
Nature of Case and Issue(s) Presented: Forest sells Saphris, an atypical antipsychotic containing asenapine maleate. Asenapine was originally developed as a conventional oral tablet. But Saphris is administered sublingually, meaning that after administration, the formulation dissolves under the tongue.
After a bench trial, the court held that the asserted claims were not invalid for obviousness or for lack of written description. The court also issued a mixed-infringement decision, holding that only certain ANDA applicants infringed certain of the asserted claims. The Federal Circuit vacated and remanded.
Why Defendants Prevailed: On appeal, the ANDA applicants argued that the district court erred in its obviousness analysis because a POSA would have been motivated to administer asenapine maleate sublingually in order to: (i) improve patient compliance; and (ii) obtain more treatment options. As to the former, Forest's expert explained that sublingual dosage forms are more burdensome in treating schizophrenic patients insofar as the patient must hold the dosage form under their tongue for a long period of time. But the Federal Circuit explained that "summarizing testimony" is not a "clear finding" and the court remanded for "an express finding regarding whether compliance concerns regarding patients with swallowing difficulties would provide a motivation to combine." As to the latter motivation-to-combine argument, the Federal Circuit found no clear error in the district court's conclusion that a generic need for more routes of administration did not provide the requisite motivation.
The ANDA applicants also argued that the specification fails to describe asenapine free base in a rapidly disintegrating, sublingual composition. The Federal Circuit explained, however, that the ANDA applicants' own expert agreed that asenapine free base was known in the art and that the specification repeatedly refers to pharmaceutical compositions containing the free base. As a result, the written description requirement was met.
Finally, the Federal Circuit vacated the finding of non-infringement. The claim-in-question recited "a method for treating tension, excitation, anxiety, and psychotic and schizophrenic disorders." The Federal Circuit concluded that the district court erred in treating "excitation" as being limited to "excitation disorders." In other words, because the claim language "excitation" refers to a symptom, rather than a disorder, the ANDA applicants were found to infringe.
GENERICally Speaking Spring 2019
Any information that you send us in an e-mail message should not be confidential or otherwise privileged information. Sending us an e-mail message will not make you a client of Robins Kaplan LLP. We do not accept representation until we have had an opportunity to evaluate your matter, including but not limited to an ethical evaluation of whether we are in a conflict position to represent you. Accordingly, the information you provide to us in an e-mail should not be information for which you would have an expectation of confidentiality.

If you are interested in having us represent you, you should call us so we can determine whether the matter is one for which we are willing or able to accept professional responsibility. We will not make this determination by e-mail communication. The telephone numbers and addresses for our offices are listed on this page. We reserve the right to decline any representation. We may be required to decline representation if it would create a conflict of interest with our other clients.

By accepting these terms, you are confirming that you have read and understood this important notice.