Brigham & Women's Hospital, Inc. v. Perrigo Co.
JMOL of non-infringement was affirmed when the data relied on for proving infringement were speculative and not within the parameters of the district court's claim construction.
February 28, 2019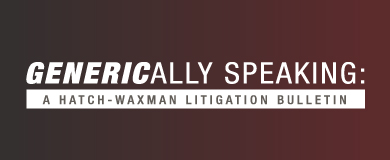 Case Name: Brigham & Women's Hospital, Inc. v. Perrigo Co., Nos. 2017-1950, 2017-2021, 2017-2555, 2018-1243, 2019 U.S. App. LEXIS 5988 (Fed. Cir. Feb. 28, 2019) (Circuit Judges Lourie, O'Malley, and Stoll presiding; Opinion by Lourie, J.) (Appeal from D. Mass., Zobel, J.)
Drug Product and Patent(s)-in-Suit: Pepcid Complete® (coadministered H2-receptor antagonists ("H2-blocker") and antacids); U.S. Patent No. 5,229,137 ("the '137 patent")
Nature of the Case and Issue(s) Presented: Brigham's '137 patent was directed to a method for treating episodic heartburn by coadministering two known types of heartburn medications: (i) H2-receptor antagonists (known as H2-blockers); and (ii) antacids. Antacids were known to provide fast but momentary relief from heartburn. In contrast, H2-blockers were known to provide slower but longer-lasting relief. Critically, the method of treatment as claimed requires that coadministering an antacid and H2-blocker achieve a certain clinical result: "immediate and sustained relief from pain, discomfort and/or symptoms associated with episodic heartburn." The dispositive issue on appeal was whether Perrigo's product met the "immediate and sustained relief" limitation. The district court concluded that the '137 patent was not invalid as a matter of law but also determined that Perrigo's generic product did not infringe because it did not provide "immediate and sustained relief" of heartburn per the claimed method. Both parties appealed. The Federal Circuit upheld the lower court's finding of non-infringment and thus did not reach the validity issue.
Why Perrigo Prevailed: Based on the specification, the district court construed the term "immediate and sustained relief" as "relief from pain, discomfort and/or symptoms associated with heartburn which starts within about 5-10 minutes following ingestion of the active ingredient and continues for at least 4-6 hours." After trial and a number of post-trial motions, the district court ultimately granted JMOL of non-infringement because it concluded that Brigham failed to present sufficient evidence of direct infringement. Specifically, the district court determined that the clinical evidence did not demonstrate that Pepcid Complete® provided immediate relief from episodic heartburn.
Brigham's infringement case relied primarily on the clinical studies reported in the NDA for Pepcid Complete®. The Federal Circuit agreed with the district court's conclusion that the first study could not prove that the patients in taking Pepcid Complete® were provided with immediate relief from episodic heartburn within 5-10 minutes. At most, the data in that study suggested that Pepcid Complete might provide immediate and sustained relief. But such speculative data could not sustain Brigham's burden of proof. While additional studies relied on by Brigham did report symptomatic relief from heartburn, the district court concluded that those studies could not support the infringement verdict because they each measured "adequate relief" beginning at 15 minutes, not immediate relief starting within 5-10 minutes as claimed. Because those studies did not measure the result that Brigham claimed in the '137 patent, the Federal Circuit agreed with the district court that they did not support the jury verdict.
Finally, the Federal Circuit considered "the bare assertion by Dr. Wolfe, the inventor of the '137 patent, that he ingested Perrigo's product after litigation began, and that it provided immediate relief as claimed." Considering the absence of any clinical data demonstrating the claimed immediate relief, the Federal Circuit did not credit this uncorroborated, conclusory, and interested testimony as carrying Brigham's burden of proof and to sustain the jury verdict.
GENERICally Speaking Spring 2019
Any information that you send us in an e-mail message should not be confidential or otherwise privileged information. Sending us an e-mail message will not make you a client of Robins Kaplan LLP. We do not accept representation until we have had an opportunity to evaluate your matter, including but not limited to an ethical evaluation of whether we are in a conflict position to represent you. Accordingly, the information you provide to us in an e-mail should not be information for which you would have an expectation of confidentiality.

If you are interested in having us represent you, you should call us so we can determine whether the matter is one for which we are willing or able to accept professional responsibility. We will not make this determination by e-mail communication. The telephone numbers and addresses for our offices are listed on this page. We reserve the right to decline any representation. We may be required to decline representation if it would create a conflict of interest with our other clients.

By accepting these terms, you are confirming that you have read and understood this important notice.