Belcher Pharms., LLC v. Int'l Medication Systems
A Hatch-Waxman Act complaint complies with the requirements of Iqbal and Twombly when it alleges plaintiff's: (i) interest in the patent, (ii) receipt of the paragraph IV certification, (iii) knowledge of the filing of the ANDA or NDA, and (iv) contention that the defendant's proposed product will infringe.
March 31, 2019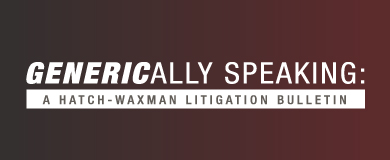 Case Name: Belcher Pharms., LLC v. Int'l Medication Systems, C.A. No. 18-960-LPS-CJB, 2019 U.S. Dist. LEXIS 55778 (D. Del. Mar. 31, 2019) (Stark, J.)
Drug Product and Patent(s)-in-Suit: Adrenaline (a.k.a. Epinephrine) Injection; U.S. Patent No. 9,283,197 ("the '197 patent")
Nature of Case and Issue(s) Presented: IMS filed its paper NDA in February, 2018 for 0.1 mg/mL epinephrine injections. IMS's NDA contained a PIV certification with respect to the '197 patent, a patent which is listed in the FDA's Orange Book. IMS sent notice of its PIV certification to Belcher. The parties negotiated an offer of confidential access ("OCA") by Belcher to IMS's NDA. Belcher filed suit. Pending before the Court was IMS's motion to dismiss under Federal Rule of Civil Procedure 12(b)(6). The court denied IMS's motion.
Why Belcher Prevailed: IMS argued that Belcher's complaint "merely states legal conclusions without alleging any facts that could make a plausible case for patent infringement against IMS." IMS contended that the mere allegation that "[t]he manufacture of IMS's NDA Product is covered by Claims 6 and 7 of the '197 Patent" was conclusory and provides insufficient notice of Belcher's claim. In IMS's view, Belcher "fails to describe any facts regarding how IMS's NDA infringes the asserted claims." "In essence, Defendant's position is that while the Hatch-Waxman Act creates subject matter jurisdiction over the 'artificial act of infringement' of filing a paper NDA (or ANDA), actual infringement still must be pled with particularity to survive a Rule 12(b)(6) motion." IMS believed that the pleading standard set forth in Iqbal and Twombly should apply to Hatch-Waxman complaints.
Belcher responded that only the asserted claims and the artificial act of infringement need be pled "because Congress defined infringement in a special way to create an artificial act of infringement under § 271(e)(2): submitting an ANDA." Belcher contended that it provided IMS with fair and sufficient notice of infringement by describing IMS's NDA submission and alleging that the NDA product will infringe claims 6 and 7.
The court agreed with Belcher. Both the language and the purpose of the Hatch-Waxman Act established that a plaintiff in receipt of a paragraph IV certification providing notice of the filing of an ANDA (or a paper NDA) relating to one of the plaintiff's Orange Book-listed patents may state a claim for infringement by alleging its interest in the patent, its receipt of the paragraph IV certification, the filing of the ANDA or NDA, and its contention that the defendant's proposed product will infringe. Under the Act, filing an ANDA or paper NDA constitutes an artificial but justiciable act of patent infringement. These cases allow plaintiffs to rely on the sufficiency of pleading the artificial act of infringement, thereby allowing the particularized theory of infringement to be developed through discovery and other phases of the case. A plaintiff in receipt of a paragraph IV certification has an extremely limited time, just 45 days, in which to decide whether (and, if so, where and against whom), to file suit, if it is to obtain the benefit of the automatic stay of FDA approval. Moreover, the negotiation of an OCA will not always occur, and it is not a requirement of the Hatch-Waxman Act. Thus, a plaintiff may not know much about the details of a proposed product and may, again, not be able to plead infringement with specificity. Nor may the plaintiff go out and purchase the accused product and test it for itself since, in these cases, the product does not yet actually exist. Finally, because the defendant in these cases actually triggers the litigation, the defendant already knows at least some of the reason why the plaintiff may plausibly believe that its patent also covers defendant's proposed product.
GENERICally Speaking Spring 2019
Any information that you send us in an e-mail message should not be confidential or otherwise privileged information. Sending us an e-mail message will not make you a client of Robins Kaplan LLP. We do not accept representation until we have had an opportunity to evaluate your matter, including but not limited to an ethical evaluation of whether we are in a conflict position to represent you. Accordingly, the information you provide to us in an e-mail should not be information for which you would have an expectation of confidentiality.

If you are interested in having us represent you, you should call us so we can determine whether the matter is one for which we are willing or able to accept professional responsibility. We will not make this determination by e-mail communication. The telephone numbers and addresses for our offices are listed on this page. We reserve the right to decline any representation. We may be required to decline representation if it would create a conflict of interest with our other clients.

By accepting these terms, you are confirming that you have read and understood this important notice.