Sanofi v. Watson Labs. Inc.
The Federal Circuit affirmed the trial court's finding of infringement and validity.
November 09, 2017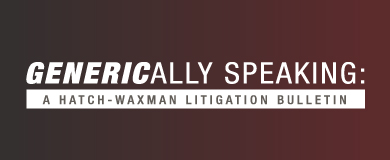 Case Name: Sanofi v. Watson Labs. Inc., Nos. 875 F.3d 636, Nos. 2016-2722, 2016-2726, 2017 U.S. App. LEXIS 22438 (Fed. Cir. Nov. 9, 2017) (Circuit Judges Prost, Wallach, and Taranto presiding; Opinion by Taranto, J.) (Appeal from D. Del., Andrews, J.)
Drug Product and Patent(s)-in-Suit: Multaq® (dronedarone); U.S. Patents Nos. 8,318,800 ("the '800 patent") and 8,410,167 ("the '167 patent")
Nature of the Case and Issue(s) Presented: The patents-in-suit claimed compositions and uses of the cardiovascular drug dronedarone. The '800 patent claimed pharmaceutical compositions containing dronedarone. The '167 patent claimed methods of reducing hospitalization by administering dronedarone to patients having specified characteristics. Sanofi sued Watson and Sandoz for patent infringement. After a three-day bench trial, the district court ruled in crucial respects for Sanofi, finding that Sanofi proved that Watson's and Sandoz's sale of their proposed generic drugs, with their proposed labels, would induce physicians to infringe all but one of the asserted claims, and that Watson and Sandoz did not prove that any of the asserted claims were invalid for obviousness. As to the '800 patent, the district court, rejecting defendants' non-infringement argument and their invalidity arguments. Defendants then appealed. The Federal Circuit affirmed the district court's decision.
Why Sanofi Prevailed: The '167 patent claimed methods of reducing cardiovascular hospitalization by administering dronedarone to patients meeting conditions mirroring those stated in one of the clinical trials described in the product label. The labels also, however, described clinical trials of dronedarone where reduced hospitalization was not an endpoint. Defendants argued that these other clinical trials proved substantial non-infringing uses not forbidden by the label, and thus that they did not have the specific intent to induce infringement. The Federal Circuit disagreed, stating that: (i) whether there were substantial non-infringing uses was relevant only to contributory infringement; and (ii) there was considerable testimony that the label encouraged use of the drug with patients who have the claimed risk factors, thereby resulting in infringement. For these patients, the Federal Circuit concluded, defendants would have known their label would encourage an infringing use.
Concerning obviousness, the defendants argued that the trial court set too high a standard for making the combination—demanding that a person of ordinary skill be certain that hospitalization would be reduced as a result of the obviousness combination. The Federal Circuit disagreed that the trial court's standard was too stringent, and affirmed the claims' non-obviousness.
Turning to the '800 patent, the defendants argued that their product, which contained polysorbate surfactants, did not infringe because the patentee purportedly disclaimed those surfactants during prosecution of the '800 patent's parent application. The amendment made in the parent application did not amount to prosecution estoppel for the '800 child patent, the Federal Circuit said, because "[w]hen the purported disclaimers are directed to specific claim terms that have been omitted or materially altered in subsequent applications (rather than to the invention itself), those disclaimers do not apply." That was the case here, where the patentee—as the Federal Circuit said was common—prosecutes narrow claims to achieve immediate issuance of a narrow patent and postpones the prosecution of broader claims for continuation applications.
GENERICally Speaking Winter 2017
Any information that you send us in an e-mail message should not be confidential or otherwise privileged information. Sending us an e-mail message will not make you a client of Robins Kaplan LLP. We do not accept representation until we have had an opportunity to evaluate your matter, including but not limited to an ethical evaluation of whether we are in a conflict position to represent you. Accordingly, the information you provide to us in an e-mail should not be information for which you would have an expectation of confidentiality.

If you are interested in having us represent you, you should call us so we can determine whether the matter is one for which we are willing or able to accept professional responsibility. We will not make this determination by e-mail communication. The telephone numbers and addresses for our offices are listed on this page. We reserve the right to decline any representation. We may be required to decline representation if it would create a conflict of interest with our other clients.

By accepting these terms, you are confirming that you have read and understood this important notice.