Sanofi v. Lupin Atl. Holdings S.A.
The "clinical trials" section of defendants' proposed label evidenced induced infringement of the asserted claims, which were also found to be non-obvious.
October 23, 2017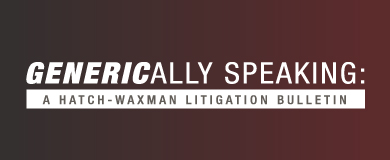 Case Name:Sanofi v. Lupin Atl. Holdings S.A., Civ. No. 15-415-RGA (consol.), 2017 U.S. Dist. LEXIS 174931 (D. Del. Oct. 23, 2017) (Andrews, J.)
Drug Product and Patent(s)-in-Suit: Multaq® (dronedarone HCl); U.S. Patent No. 9,107,900 ("the '900 patent")
Nature of the Case and Issue(s) Presented: Sanofi brought suit against defendants Watson and Sandoz. After a two-day bench trial, the district court issued findings of fact and conclusions of law concerning the patent-in-suit. It held that Sanofi met its burden of showing that defendants induced infringement of claims 1, 7, 9, and 14 of the '900 patent, but failed to meet its burden of showing that defendants induced infringement of claims 6 and 8 of the '900 patent. It further held that defendants failed to meet their burden of showing that claims 1, 7, 9, and 14 of the '900 patent were invalid as obvious.
Why Sanofi Prevailed: The court first addressed the issue of infringement. Sanofi argued that defendants' product labels would induce infringement of the asserted claims. Claims 1, 7, 9, and 14 were directed to patients with coronary heart disease and who met the Age Criteria. Sanofi acknowledged that there was no express reference to a patient who had coronary heart disease and was over 70 years of age; rather, defendants' labels indicated administering dronedarone tablets for reducing "the risk of hospitalization for atrial fibrillation in patients in sinus rhythm with a history of paroxysmal or persistent atrial fibrillation." The "Clinical Studies" section of the label, however, taught that dronedarone could be used for some patients with coronary heart disease, in particular, the ATHENA study. The court found that a POSA would have recognized from the ATHENA study that about 60% of the patients had structural heart disease, and that about half of those patients would have had coronary heart disease. It also found that defendants' labels suggested that dronedarone could be used in patients in the Age Criteria because the ATHENA study patients ranged from 23-97 years old, where 42% were 75 years old or older. Finally, the court held that defendants knew about the '900 patent and knew their generic dronedarone would be administered in a manner that infringes that patent; they, therefore, intended that result.
Next, the court addressed defendants' obviousness counterclaim. Atrial fibrillation ("AF") was a cardiac rhythm disorder characterized by an irregular rhythm, which was in contrast to the regular rhythm (normal sinus rhythm) associated with normal cardiac function. Defendants' expert conceded that as of 2008: it was not known whether the maintenance of sinus rhythm actually prevented stroke in patients with AF; it would have been a significant finding if a company could have demonstrated that dronedarone would reduce heart failure; it was more difficult to reverse the development of AF in older patients; it was more difficult to maintain sinus rhythm in older patients; AF patients with additional cardiovascular risk factors were significantly more likely to experience adverse events in response to an antiarrhythmic drug; and that older patients were also more likely to be on concomitant medications, increasing the chance of drug/drug interactions.
The prior art consisted mostly of published clinical-trial results in patients suffering from AF. The central dispute concerning obviousness was whether a POSA would reasonably expect dronedarone to reduce the risk of cardiovascular hospitalization in AF patients with coronary heart disease and within the Age Criteria, and the court found that defendants failed to make that showing. Certain of the prior-art clinical trials were without statistical significance. Some were limited by the fact that they were a "post-hoc analysis with inherent limitations in terms of reliability and by the fact that the patient population is generally younger and healthier than" what is contemplated by the asserted claims. The court also did not give weight to the fact that some of the clinical trials were authorized by the FDA. The ATHENA clinical trial, one of the prior-art trials, exhibited a population that was older and sicker; its population had a higher incidence of hypertension and cardiovascular disease. Ultimately, the court found that there was substantial evidence teaching away from the conclusion that dronedarone would reduce hospitalizations in the claimed patient population. Although the evidence of secondary consideration did not weigh in Sanofi's favor, the court ultimately held that defendants had not shown by clear and convincing evidence that claims 1, 7, 9, and 14 of the '900 patent were invalid as obvious.
GENERICally Speaking Winter 2017
Any information that you send us in an e-mail message should not be confidential or otherwise privileged information. Sending us an e-mail message will not make you a client of Robins Kaplan LLP. We do not accept representation until we have had an opportunity to evaluate your matter, including but not limited to an ethical evaluation of whether we are in a conflict position to represent you. Accordingly, the information you provide to us in an e-mail should not be information for which you would have an expectation of confidentiality.

If you are interested in having us represent you, you should call us so we can determine whether the matter is one for which we are willing or able to accept professional responsibility. We will not make this determination by e-mail communication. The telephone numbers and addresses for our offices are listed on this page. We reserve the right to decline any representation. We may be required to decline representation if it would create a conflict of interest with our other clients.

By accepting these terms, you are confirming that you have read and understood this important notice.