Otsuka Pharm. Co. v. Mylan Inc.
Because Mylan's sample productions were not representative of its ANDA product, its summary-judgment motion was dismissed until Otsuka was able to test a proper sample and thereby adequately respond to the motion.
November 07, 2017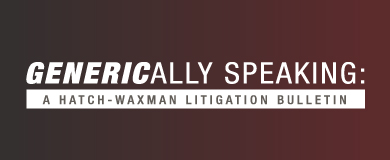 Case Name:Otsuka Pharm. Co. v. Mylan Inc., Civ. No. 14-4508 (JBS-KMW), 2017 U.S. Dist. LEXIS 184160 (D.N.J. Nov. 7, 2017) (Simandle, J.)
Drug Product and Patent(s)-in-Suit: Abilify® (aripiprazole); U.S. Patents Nos. 8,017,615 ("the '615 patent), 8,580,796 ("the '796 patent), and 8,642,760 ("the '760 patent")
Nature of the Case and Issue(s) Presented: Otsuka claimed that Defendants' submissions of ANDAs infringed its patents-in-suit that cover Abilify, indicated for the treatment of certain psychiatric conditions. Mylan filed a motion for summary judgment of non-infringement. Otsuka responded by filing a motion for discovery under Fed. R. Civ. P. 56(d).
The asserted claims of the patents-in-suit taught the process for preparing the low hygroscopic aripiprazole (the '615 patent), as well as claiming two of its forms: one in a pure crystal form (the '796 patent) and the other in a finalized form (the '760 patent). The '796 and '760 patents then identified a specific low-hygroscopic form of "anhydrous aripiprazole crystals B" and an "aripiprazole drug substance," both of which had a moisture content below either 0.40% or 0.10% even after being placed in a dessicator maintained at a temperature of 60° C and a humidity level of 100%. These forms did not take on water, despite exposure to a high-moisture environment.
Mylan produced a sample of its aripiprazole API to Otsuka on October 14, 2015 and produced additional API samples on August 15, 2016, but both times, Otsuka objected because the samples were provided in packaging that did not comply with certain required specifications. Hence, Otsuka's motion for discovery.
Why Otsuka Prevailed: Otsuka argues that the two API samples that Mylan produced were not representative of the API Mylan intended to use in manufacturing its tablet products. Otsuka thus requested that the Court deny Mylan's motion for summary judgment, or in the alternative, defer ruling on Mylan's motion until Mylan produced a representative API sample that Otsuka could test to fairly evaluate infringement. The court agreed with Otsuka that Mylan should produce a representative sample before the court would take Mylan's motion under advisement.
GENERICally Speaking Winter 2017
Any information that you send us in an e-mail message should not be confidential or otherwise privileged information. Sending us an e-mail message will not make you a client of Robins Kaplan LLP. We do not accept representation until we have had an opportunity to evaluate your matter, including but not limited to an ethical evaluation of whether we are in a conflict position to represent you. Accordingly, the information you provide to us in an e-mail should not be information for which you would have an expectation of confidentiality.

If you are interested in having us represent you, you should call us so we can determine whether the matter is one for which we are willing or able to accept professional responsibility. We will not make this determination by e-mail communication. The telephone numbers and addresses for our offices are listed on this page. We reserve the right to decline any representation. We may be required to decline representation if it would create a conflict of interest with our other clients.

By accepting these terms, you are confirming that you have read and understood this important notice.