Orexigen Therapeutics, Inc. v. Actavis Laboratories Fl, Inc.
Dissolution profile and testing limitations in asserted claims were valid and infringed.
October 13, 2017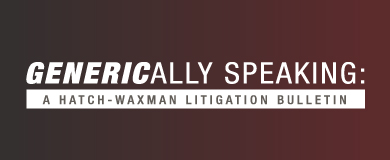 Case Name:Orexigen Therapeutics, Inc. v. Actavis Laboratories Fl, Inc., Civ. No. 15-451-RGA, 2017 U.S. Dist. LEXIS 169570 (D. Del. Oct. 13, 2017) (Andrews, J.)
Drug Product and Patent(s)-in-Suit: Contrave® (naltrexone HCl / bupropion HCl); U.S. Patents Nos. 7,462,626 ("the '626 patent"), 7,375,111 ("the '111 patent"), and 8,916,195 ("the '195 patent")
Nature of the Case and Issue(s) Presented: Contrave was approved for the treatment of adults who were obese or overweight. Orexigen sued Actavis alleging patent infringement. Actavis asserted that its accused products would not infringe the patents-in-suit and also raised invalidity defenses including failure to adequately describe the purported invention within the '195 patent and obviousness related to all of the asserted claims.
Why Orexigen Prevailed: Actavis argued that the '195 patent claim required dissolution to be measured using the USP Apparatus 2 Paddle method, but that the specification only supported measurement using the USP Apparatus 1 basket method. Thus, the purported invention was not adequately described because the two methods would not be expected to give the same results. The court first observed that the defendants did not offer measurements confirming their theory, and further concluded that the defendant's expert, relying--in an obviousness argument---on data gathered with the same basket method, undercut the argument that the two methods would give different results.
Actavis then raised an obviousness defense. First, Actavis argued that one of ordinary skill in the art would start with bupropion and then necessarily focus on improving it. The court concluded that this conclusion relied on impermissible hindsight. The weight-loss effects of bupropion were known to be, at best, relatively modest. In addition, the prior art reported potential risks of bupropion, including the risk of seizure. Further, the court concluded that prior art cited by Defendant did not teach that naltrexone was effective for weight loss. The court concluded that just because one prior-art reference taught that naltrexone was effective for curbing carbohydrate cravings, without more that would not inform a person of ordinary skill that naltrexone was effective for weight loss in overweight or obese individuals.
Orexigen further offered evidence of synergy between naltrexone and bupropion, and although the synergy was modest, the court found the synergy to be unexpected. The court credited the unexpected synergy as a secondary consideration of non-obviousness, and found the asserted claims valid.
Turning to infringement, Actavis contended that claim 1 of the '626 patent required divided infringement, with one step being performed by a physician (diagnosing a patient) and the other being performed by a patient (administering the drug). The relevant claim language concerning physician behaviour is "[a] method of treating overweight or obesity, comprising diagnosing an individual as suffering from overweight …, and treating said overweight or obesity by administering to said individual a first compound … ." The court concluded that a diagnosis is required, but it disagreed that this comprised a step in the method claim: "A plain reading of this claim limitation indicates that the individual will already be diagnosed prior to the method being performed. The method itself requires only the single step of administering the drug."
The court precluded Actavis from offering any non-infringement arguments concerning the '111 and found those claims infringed.
With respect to the '195 patent, Actavis's non-infringement argument was that some of its tablets fell outside the claimed dissolution profile. The court rejected this defense, noting first that some of Actavis's tablets fall squarely within the claimed dissolution profile, and second that "[a]n accused product that sometimes, but not always, embodies a claimed method nonetheless infringes."
GENERICally Speaking Winter 2017
Any information that you send us in an e-mail message should not be confidential or otherwise privileged information. Sending us an e-mail message will not make you a client of Robins Kaplan LLP. We do not accept representation until we have had an opportunity to evaluate your matter, including but not limited to an ethical evaluation of whether we are in a conflict position to represent you. Accordingly, the information you provide to us in an e-mail should not be information for which you would have an expectation of confidentiality.

If you are interested in having us represent you, you should call us so we can determine whether the matter is one for which we are willing or able to accept professional responsibility. We will not make this determination by e-mail communication. The telephone numbers and addresses for our offices are listed on this page. We reserve the right to decline any representation. We may be required to decline representation if it would create a conflict of interest with our other clients.

By accepting these terms, you are confirming that you have read and understood this important notice.