Novartis Pharms. Corp. v. West-Ward Pharms. Int'l Ltd.
Due to the experimental nature of anti-cancer therapeutics at the time of invention, defendant did not establish by clear and convincing evidence that one of ordinary skill would be motivated nor have a reasonable expectation of success to select the drug formulation in the patents.
December 14, 2017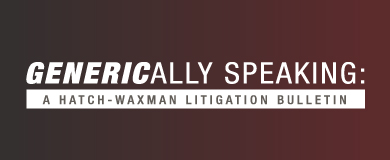 Case Name: Novartis Pharms. Corp. v. West-Ward Pharms. Int'l Ltd., 15-cv-474-RGA, 2017 U.S. Dist. Lexis 205600 (D. Del. Dec. 14, 2017) (Andrews, J.)
Drug Product and Patent(s)-in-Suit: Afinitor® (everolimus); U.S. Patent No. 5,665,772 ("the '772 patent")
Nature of the Case and Issue(s) Presented: West-Ward filed an ANDA seeking to manufacture and market a generic version of Afinitor. In turn, Novartis sued West-Ward for infringing a number of patents related to the drug. The parties stipulated to the infringement of all but one patent. The issues of infringement and validity concerning the '772 patent were tried to the bench. West-Ward argued that the claims of the '772 patent were obvious in light of the prior art and the knowledge of rapamycin, a known drug from which everolimus derives. The court disagreed, concluding that one of ordinary skill would not be motivated to combine the prior art to use everolimus as formulated in the claims of the '772 patent, nor would a skilled person have a reasonable expectation that an everolimus formulation would succeed in effectively treating tumors.
Why Novartis Prevailed: The court began with a survey of the cited prior art. The court also noted a high failure rate of oncology drugs at phase I, II, and III clinical trials at the time of invention. Because of this high failure, and a limited knowledge of the effect of everolimus on tumors, the court concluded that defendants had not demonstrated that a person of ordinary skill would be motivated to select an everolimus formulation as claimed in the '772 patent. For the same reason, the skilled person would also have not expected an everolimus formulation to succeed. Accordingly, defendants did not meet their burden of proof to establish obviousness.
GENERICally Speaking Winter 2017
Any information that you send us in an e-mail message should not be confidential or otherwise privileged information. Sending us an e-mail message will not make you a client of Robins Kaplan LLP. We do not accept representation until we have had an opportunity to evaluate your matter, including but not limited to an ethical evaluation of whether we are in a conflict position to represent you. Accordingly, the information you provide to us in an e-mail should not be information for which you would have an expectation of confidentiality.

If you are interested in having us represent you, you should call us so we can determine whether the matter is one for which we are willing or able to accept professional responsibility. We will not make this determination by e-mail communication. The telephone numbers and addresses for our offices are listed on this page. We reserve the right to decline any representation. We may be required to decline representation if it would create a conflict of interest with our other clients.

By accepting these terms, you are confirming that you have read and understood this important notice.