Eli Lilly & Co. v. Dr. Reddy's Labs., Ltd.
Eli Lilly's narrowing amendment to overcome the Examiner's rejection during prosecution could not serve as a basis for defendant's motion for summary-judgment of non-infringement.
December 14, 2017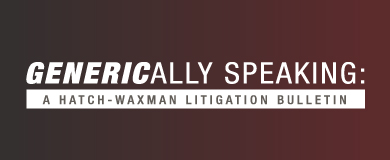 Case Name:Eli Lilly & Co. v. Dr. Reddy's Labs., Ltd., Civ. No. 1:16-cv-00308-TWP-MPB, 2017 U.S. Dist. LEXIS 205578 (S.D. Ind. Dec. 14, 2017) (Pratt, J.)
Drug Product and Patent(s)-in-Suit: Alimta® (pemetrexed for injection); U.S. Patent No. 7,772,209 ("the '209 patent")
Nature of the Case and Issue(s) Presented: The '209 patent described a method of administering a chemotherapy drug, pemetrexed disodium, with a pretreatment regimen of vitamin B 12 and folic acid. During prosecution, the USPTO originally rejected claim 2 of the '209 patent as being anticipated by Arsenyan, which concerned the administration of the compound methotrexate. In response, Lilly narrowed the scope of its claims from a broad category of antifolates to specifically pemetrexed disodium.
Dr. Reddy's Labs., Ltd. ("DRL") set out to avoid infringing the '209 patent by designing a different product. It ran experiments to investigate different salts, and chose tromethamine. One issue was whether pemetrexed ditromethamine was excluded from the claims during patent prosecution by Lilly's specification and the aforementioned narrowing amendment. Tromethamine was an inorganic, metallic salt, whereas sodium was an organic, nonmetallic salt. The liquid solution of both chemical compounds resulted in pemetrexed treatment, but the powdered solid form of the two products differed as a result of the different salt compounds used. The patient received the liquid solution intravenously. The products were sold in solid form. In addition, DRL's proposed label on the administration of the pemetrexed ditromethamine differed from Lilly's. DRL's label stated that pemetrexed ditromethamine should be reconstituted and diluted with 5% dextrose in water ("dextrose"), whereas Lilly's label stated that the pemetrexed disodium should be reconstituted and diluted in saline solution. DRL's label also stated that the pretreatment regimen be followed and mitigated the severe toxicities that pemetrexed can otherwise cause. Id. at 42.
DRL moved for summary judgment of non-infringement. The court denied DRL's motion.
Why Eli Lilly Prevailed: Embedded in DRL's motion was an issue of claim construction. It was undisputed that claim 12 of the '209 patent was a method claim, but the parties disputed the meaning of "administration of pemetrexed disodium." Lilly argued that it referred to the act of giving the patient the liquid solution of pemetrexed disodium after it had been diluted and reconstituted because no salt form was given to patients. DRL argued that this construction would improperly require "changing each instance of 'pemetrexed disodium' in the claims to a 'solution comprising pemetrexed ions and sodium ions." The court found that the parties' dispute over the word "administration" was not completely resolved by intrinsic evidence alone. While the '209 patent did reveal that it was a method invention, the claims did not address how Alimta was actually given to the patient. Both products' labels required the powdered form of the drugs to be diluted and reconstituted, using different liquid solvents. Relying on the parties' expert opinions, the court declined further claim construction based on Lilly's assertion that the term "embraces the administration in liquid form of pemetrexed ions in combination with two sodium ions. Rather, the Court construed claim 12's "administration of pemetrexed disodium" language to refer to a liquid administration of pemetrexed disodium.
The court first addressed DRL's allegations that it did not literally infringe. Lilly argued that DRL literally infringed because of its product's use in combination with certain patients that require another chemotherapy drug called cisplatin. In those instances, DRL's label instructed the pemetrexed product to be infused thirty minutes before cisplatin. Lilly contended that the cisplatin use and pemetrexed infusion would overlap because they were administered thirty minutes apart and that when this happened DRL's product would mix with the saline solution due to the prehydration requirement. The resulting solution would contain pemetrexed and sodium ions, or pemetrexed disodium. DRL responded that for Lilly's theory to work, healthcare providers would have to completely ignore DRL's label stating that its product was to be mixed with a dextrose solution only. In the context of summary judgment, the court had to credit Lilly's theory that cisplatin's requirement and established practice of saline prehydration would overlap with the pemetrexed infusion and the two would mix. Thus, there are disputed issues of material fact as to whether every limitation of the asserted claim was literally met by the allegedly infringing product.
Next, DRL argued that Lilly's doctrine of equivalents infringement claims were foreclosed by prosecution history estoppel, the disclosure dedication rule, and doctrine of vitiation. Lilly argued that the different salt forms of pemetrexed used bore no more than a tangential relationship to the rationale for its narrowing amendment. In particular, Arsenyan was about the administration of methotrexate, an antifolate but distinguishable from pemetrexed. Because pemetrexed, the active drug substance, actually treated the cancer patient, and pemetrexed disodium and pemetrexed ditromethamine were very similar, this exception necessarily presented a battle-of-the-experts issue. Thus, the court found that Lilly met its burden of showing that it did not surrender the equivalent in question because the choice of pemetrexed salt was tangential to the reasons for the amendment and summary judgment was precluded on this issue.
DRL argued that Lilly's equivalents claim was also barred by the disclosure dedication rule. It is undisputed that the '209 patent's specification did not expressly disclose pemetrexed ditromethamine. But the disclosure dedication rule had limitations. Generic references in a written specification did not necessarily dedicate all members of a particular genus to the public. Additionally, before unclaimed subject matter was deemed to have been dedicated to the public, that unclaimed subject matter must have been identified by the patentee as an alternative to a claim limitation.
Finally, DRL argued that the doctrine of vitiation forecloses Lilly's resort to the doctrine of equivalents because the amended (and limiting) term pemetrexed disodium would be read out of the claim and restored with the rejected term "antifolates." Lilly responded that its theory on the scope of equivalents did not encompass all antifolates; rather, Lilly posed the function-way-result test to prove that the two products were equivalent in the context of the claimed treatment claims because they both involved pemetrexed treatment that resulted in a chemotherapy effect. But the different salt form that was used between the two products went directly to the heart of Lilly's doctrine-of-equivalents claim and the limitation was thus not entirely vitiated by the substitution.
GENERICally Speaking Winter 2017
Any information that you send us in an e-mail message should not be confidential or otherwise privileged information. Sending us an e-mail message will not make you a client of Robins Kaplan LLP. We do not accept representation until we have had an opportunity to evaluate your matter, including but not limited to an ethical evaluation of whether we are in a conflict position to represent you. Accordingly, the information you provide to us in an e-mail should not be information for which you would have an expectation of confidentiality.

If you are interested in having us represent you, you should call us so we can determine whether the matter is one for which we are willing or able to accept professional responsibility. We will not make this determination by e-mail communication. The telephone numbers and addresses for our offices are listed on this page. We reserve the right to decline any representation. We may be required to decline representation if it would create a conflict of interest with our other clients.

By accepting these terms, you are confirming that you have read and understood this important notice.