Eli Lilly and Co. v. Perrigo Co.
Upholding the district court's trial determinations because there was no evidence that the district court failed to consider secondary considerations of nonobviousness and the district court was under no obligation to consider theories not raised at trial.
November 22, 2017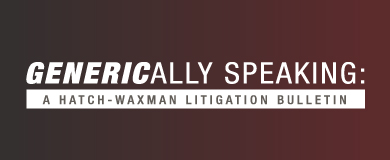 Case Name: Eli Lilly and Co. v. Perrigo Co., No. 2016-2555, -2614, 2017 U.S. App. LEXIS 23624 (Fed. Cir. Nov. 22, 2017) (Circuit judges Chen, Plager, and Hughes presiding; Opinion by Chen, J.) (Appeal from S.D. Ind., Barker, J. and Magnus-Stinson, J.)
Drug Product and Patent(s)-in-Suit: Axiron® (testosterone); U.S. Patents Nos. 8,435,944 ("the '944 patent") and 8,807,861 ("the '861 patent")
Nature of the Case and Issue(s) Presented: Amneal, the defendant in this appeal, sought to market a generic version of Axiron, Eli Lilly's underarm testosterone applicator. Eli Lilly sued Amneal for infringing the '944 and '861 patents and, after a bench trial, the district court concluded that the '944 patent was invalid as obvious while the '861 patent was not invalid and infringed. Both parties appealed and the Federal Circuit affirmed.
Why Eli Lilly Prevailed: On appeal, Amneal argued that: (i) these claims are anticipated or obvious over some combination of Gueret '187 and Gueret '986; (ii) the district court improperly disregarded other theories of invalidity advanced by other defendants and joined by Amneal; and (iii) Amneal's applicator does not infringe because it does not deform "in a blade-like manner."
As to the Gueret references, the Federal Circuit declined to consider that argument because it was not raised below. As to the other theories of invalidity advanced by other defendants and joined by Amneal, those centered on the DiPietro reference. According to the Federal Circuit, DiPietro was raised only to show the application of testosterone to the axilla, not for any particular design of an applicator, and that DiPietro itself did not disclose any particular applicator. It was thus not reversible error for the court to decline to consider theories depending in part on the DiPietro reference. Finally, as to Amneal's argument that its applicator did not infringe because it did not deform in a "blade-like manner," that phrase appeared nowhere in the claims and appeared only in the context of a specific embodiment in the specification. Thus, the Federal Circuit found that the district court was right in requiring the applicator wall to be "resiliently deformable," and not requiring a specific mode of resilient deformation.
GENERICally Speaking Winter 2017
Any information that you send us in an e-mail message should not be confidential or otherwise privileged information. Sending us an e-mail message will not make you a client of Robins Kaplan LLP. We do not accept representation until we have had an opportunity to evaluate your matter, including but not limited to an ethical evaluation of whether we are in a conflict position to represent you. Accordingly, the information you provide to us in an e-mail should not be information for which you would have an expectation of confidentiality.

If you are interested in having us represent you, you should call us so we can determine whether the matter is one for which we are willing or able to accept professional responsibility. We will not make this determination by e-mail communication. The telephone numbers and addresses for our offices are listed on this page. We reserve the right to decline any representation. We may be required to decline representation if it would create a conflict of interest with our other clients.

By accepting these terms, you are confirming that you have read and understood this important notice.