Brigham & Women's Hospital, Inc. v. Perrigo Co.
Jury verdict of non-obviousness upheld; willful-infringement verdict overturned.
November 17, 2017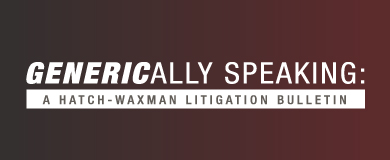 Case Name:Brigham & Women's Hospital, Inc. v. Perrigo Co., Civ. No. 13-11640-RWZ, 2017 U.S. Dist. LEXIS 190604 (D. Mass. Nov. 17, 2017) (Zobel, S.J.)
Drug Product and Patent(s)-in-Suit: Pepcid Complete® (amotidine-antacid combination tablet); U.S. Patent No. 5,229,137 ("the '137 patent")
Nature of the Case and Issue(s) Presented: The court held an eight-day jury trial that concluded on Dec. 14, 2016, with a jury verdict in favor of plaintiffs. The jury found: (i) direct, induced, contributory, and willful infringement by Perrigo of all asserted claims of '137 patent; (ii) an effective priority date of March 1990; and (iii) all asserted claims valid. The jury awarded Brigham $10,210,071 in damages and rejected Perrigo's laches defense, finding that Brigham knew or should have known of its infringement claim against Perrigo as of August 11, 2008. On Jan. 24, 2017, Perrigo filed several motions for judgment as a matter of law or a new trial under Fed. R. Civ. P. 50(d) and 59(d). Brigham opposed these motions on the ground that they had not been timely filed, and further argued that Perrigo failed to timely appeal. On Apr. 24, 2017, the court denied Perrigo's post-trial motions. The Federal Circuit, however, ruled that the district court's Dec. 2016 judgment was not final because "the issue of enhanced damages had not been resolved," and therefore denied Brigham's motion to dismiss the appeals. Subsequently, the court entered a final judgment in accordance with the Dec. 2016 jury verdict. The Federal Circuit deactivated the appeals and instructed the court to consider the pending post-judgment motions.
Perrigo sought judgment as a matter of law on standing, infringement, invalidity, and damages, or in the alternative, moved for a new trial on these issues. Perrigo's Renewed Motion for Judgment as a Matter of Law of No Direct, No Indirect, and No Willful Infringement and Motion for a New Trial was allowed. Perrigo's Renewed Motions for (i) Judgment of Invalidity as a Matter of Law or New Trial and Motion for Judgment of Invalidity over the Prior Art; and (ii) Judgment as a Matter of Law on Lack of Standing were denied. Brigham's Motion to Alter Judgment to Award Prejudgment Interest and Perrigo's Renewed Motion for Judgment as a Matter of Law on Damages, and Motion for Remittitur or New Trial were denied as moot.
Why Perrigo Prevailed: In 1996, Brigham and Johnson & Johnson Merck Consumer Pharmaceuticals ("JJMCP") entered into an exclusive license agreement that gave JJMCP the first right, but not obligation, "to prosecute ... any infringement of the ['137 patent] that involves products or methods in which FAMOTIDINE is combined or used in combination simultaneously or substantially simultaneously with an ANTACID." The parties agreed to notify each other promptly of each such infringement of which [Brigham] or JJMCP was or became aware.
Regarding the issue of standing, Perrigo contended that the launch of its generic product in 2008 constituted a separate potentially infringing action apart from the filing of its ANDA in 2005 that triggered the notice requirement under the license agreement. It argued that because Brigham failed to notify JJMCP about Perrigo's launch of its generic product prior to filing suit in 2013, and thereby failed to trigger the 120-day notice period to seek the requisite authority from JJMCP, Brigham lacked prudential standing to bring suit against Perrigo. Brigham responded that it had standing to sue because: (i) it owned title to the '137 patent at all times; (ii) the license agreement authorized JJMCP to bring suit only during the effective period of its license; and (iii) JJMCP's waiver of its right to pursue Perrigo in 2005 "was for any infringement arising of out Perrigo's activities broadly relating to the '137 patent occurring prior to patent expiration." The crux of standing case law had always been the issue of whether a plaintiff had all substantial rights in the patent-at-issue; here, Brigham retained substantial rights in the '137 patent under the license agreement. Therefore, prudence did not warrant a determination that Brigham lacked standing to sue in this case.
Turning to the issue of infringement, the court found that Brigham failed to present sufficient evidence to prove direct infringement. Brigham's expert conceded that there was no direct evidence that showed a person who took Perrigo's product met the limitations of claim 1, namely, the immediate-and-sustained-relief limitation. Instead, Brigham relied on indirect evidence, including bioequivalence data from Perrigo's ANDA and studies from the NDA for Pepcid Complete that Brigham contended was incorporated into Perrigo's label. However, the court found that the NDA in Study 098 did not prove that participants were provided immediate relief "from pain, discomfort and/or symptoms associated with episodic heartburn" as required by claim 1 of the '137 patent. Because Brigham could not prove that its product, Pepcid Complete, read on all the claim limitations of the '137 patent, it could not, as a matter of law, establish that Perrigo's generic product infringed.
The court further held that Perrigo was not entitled to judgment as a matter of law on invalidity because it had failed to show by clear and convincing evidence that the "Davis" prior-art reference anticipated the '137 patent. Davis disclosed the "[c]o-administration of a histamine H2-receptor antagonist and antacid for the treatment of gastric disorders." Perrigo, however, did not point to any evidence from its affirmative case to support its burden of showing that Davis disclosed the limitation of "immediate and sustained relief" as defined in patent-in-suit.
With regard to obviousness, the parties agreed that a person of ordinary skill in the art at the time of the filing of the application that led to the '137 patent "would include someone with a graduate degree in pharmacy, pharmaceutics, biopharmaceutics or a doctorate in medicine or osteopathic medicine, and at least two years academic, industry, or clinical experience in such fields." Similar to the shortcoming of Davis, none of the other prior-art references disclosed the key limitation found in claim 1, namely, the "immediate and sustained relief" limitation. Accordingly, the jury's verdict of non-obviousness for claim 1 and thereby all dependent claims 4, 5, 6, 7, and 12 was supported by substantial evidence.
GENERICally Speaking Winter 2017
Any information that you send us in an e-mail message should not be confidential or otherwise privileged information. Sending us an e-mail message will not make you a client of Robins Kaplan LLP. We do not accept representation until we have had an opportunity to evaluate your matter, including but not limited to an ethical evaluation of whether we are in a conflict position to represent you. Accordingly, the information you provide to us in an e-mail should not be information for which you would have an expectation of confidentiality.

If you are interested in having us represent you, you should call us so we can determine whether the matter is one for which we are willing or able to accept professional responsibility. We will not make this determination by e-mail communication. The telephone numbers and addresses for our offices are listed on this page. We reserve the right to decline any representation. We may be required to decline representation if it would create a conflict of interest with our other clients.

By accepting these terms, you are confirming that you have read and understood this important notice.