ANDA Litigation Settlements
Winter 2017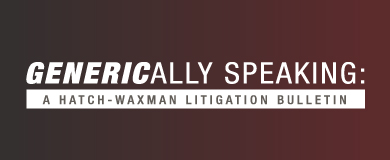 Case Name

Drug

Patent No(s).

Publicly Available Terms

Amgen v. Hetero USA Inc., 16-0928 (D. Del.)
Sensipar® (cinacalcet HCl tablets)
9,375,405
N/A
AstraZeneca AB v. MSN Labs. Private Ltd., 15-3383 (D.N.J.)
Daliresp® (roflumilast tablets)
8,536,206
8,604,064
8,618,142

N/A
Allergan, Inc. v. Innopharma, Inc., 15-1504 (E.D. Tex.)
Restasis® (cyclosporine ophthalmic emulsion)
8,629,111
8,633,162
8,642,556
8,648,048
8,685,930
9,248,191

InnoPharma will be allowed to market its generic version of Restasis in February 2024 or possibly earlier. InnoPharma may also be allowed to launch an authorized generic version of the drug with Allergan as the supplier in August 2024.
Janssen Pharmaceutica, N.V. v. Mylan Pharms., Inc. 15-0760 (D. Del.)
Complera® (emtricitabine, rilpivirine, and tenofovir)
8,841,310
7,125,879
8,101,629
8,080,551
7,399,856
7,563,922
8,101,752
8,618,291

Mylan may enter the market with its generic equivalent at some undisclosed date under a license agreement entered into by the parties.
GENERICally Speaking Winter 2017
Any information that you send us in an e-mail message should not be confidential or otherwise privileged information. Sending us an e-mail message will not make you a client of Robins Kaplan LLP. We do not accept representation until we have had an opportunity to evaluate your matter, including but not limited to an ethical evaluation of whether we are in a conflict position to represent you. Accordingly, the information you provide to us in an e-mail should not be information for which you would have an expectation of confidentiality.

If you are interested in having us represent you, you should call us so we can determine whether the matter is one for which we are willing or able to accept professional responsibility. We will not make this determination by e-mail communication. The telephone numbers and addresses for our offices are listed on this page. We reserve the right to decline any representation. We may be required to decline representation if it would create a conflict of interest with our other clients.

By accepting these terms, you are confirming that you have read and understood this important notice.