Amgen Inc. v. Alkem Labs. Ltd.
Defendant's motion for judgment on the pleadings and for sanctions were premature and denied because there existed material disputes of fact between the parties concerning the prosecution history of the '405 patent.
December 19, 2017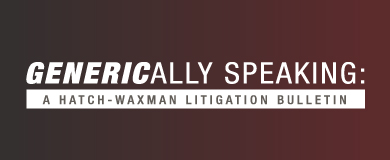 Case Name: Amgen Inc. v. Alkem Labs. Ltd., Civ. No. 17-cv-815-GMS, -817-GMS, 2017 U.S. Dist. LEXIS 208124 (D. Del. Dec. 19, 2017) (Sleet, J.)
Drug Product and Patent(s)-in-Suit: Sensipar® (cinacalcet HCl); U.S. Patent No. 9,375,405 ("the '405 patent)
Nature of the Case and Issue(s) Presented: Defendant Macleods filed an ANDA with the FDA seeking approval to manufacture, use and/or sell a generic version of Amgen's Sensipar prior to the expiration of the '405 patent. The '405 patent claims a binder composition that requires one of povidone, hydroxypropyl methylcellulose, hydroxypropyl cellulose, sodium carboxymethylcellulose, or a mixture thereof as a binder present in a pharmaceutical composition. Macleods alleges that its ANDA products do not contain any of the listed excipients and that Amgen could only allege infringement under the doctrine of equivalents ("DOE"). Macleods further alleges that Amgen's DOE claim is barred by prosecution history estoppel. Macleods therefore filed a motion for judgment on the pleadings. Macleods also moved for sanctions under Fed. R. Civ. P. 11, arguing that Amgen failed to conduct any inquiry into the details of the accused products and, as a result, had no legal or factual basis for its suit. The court disagreed.
Why Amgen Prevailed: Amgen argued that Macleods's motion should be denied for two reasons: (i) Macleods' motion should be converted into a motion for summary judgment because it requires resolving factual issues and, if converted, it should be denied because there are material facts in dispute; and (ii) if the court did consider Macleods' motion for judgment on the pleadings, the court should find that prosecution history estoppel did not apply. The court agreed with Amgen that there existed material disputes of fact between the parties concerning the prosecution history of the '405 patent. Moreover, the case was still in the early stages of litigation. Therefore, the court denied Macleods' motion for judgment on the pleadings.
The court also denied Macleods' Rule 11 motion. Rule 11(b) required an attorney to conduct a reasonable inquiry into the law and facts before filing a pleading in a court and to certify that the claims contained therein were not frivolous, legally unreasonable, without factual foundation, or asserted for an improper purpose. According to Macleods, there was no possibility of infringement of the '405 patent, either literally or under the DOE—the same argument advanced in its motion on the pleadings. The court found that Macleods' motion was "as premature as its pleadings motion, and not well taken."
GENERICally Speaking Winter 2017
Any information that you send us in an e-mail message should not be confidential or otherwise privileged information. Sending us an e-mail message will not make you a client of Robins Kaplan LLP. We do not accept representation until we have had an opportunity to evaluate your matter, including but not limited to an ethical evaluation of whether we are in a conflict position to represent you. Accordingly, the information you provide to us in an e-mail should not be information for which you would have an expectation of confidentiality.

If you are interested in having us represent you, you should call us so we can determine whether the matter is one for which we are willing or able to accept professional responsibility. We will not make this determination by e-mail communication. The telephone numbers and addresses for our offices are listed on this page. We reserve the right to decline any representation. We may be required to decline representation if it would create a conflict of interest with our other clients.

By accepting these terms, you are confirming that you have read and understood this important notice.