Allergan Sales, LLC v. Teva Pharms. USA, Inc.
Upholding recommendation for summary judgment because water was not a "gelling agent" in the context of the patent-in-suit.
October 24, 2017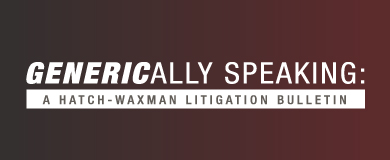 Case Name: Allergan Sales, LLC v. Teva Pharms. USA, Inc., Civ. No. 2:15-cv-1471-JRG-RSP (Lead), 2017 U.S. Dist. LEXIS 176262 (E.D. Tex. Oct. 24, 2017) (Gilstrap, J.)
Drug Product and Patent(s)-in-Suit: Delzicol® (mesalamine); U.S. Patent No. 6,649,180 ("the '180 patent")
Nature of the Case and Issue(s) Presented: The parties submitted claim construction briefing seeking construction of the term "gelling agent." The magistrate judge construed "gelling agent" as having its plain and ordinary meaning, "a substance that gels the film composition," then concluded that water could not act as a gelling agent. Based on this construction, the magistrate judge recommended granting Teva's motion for summary judgment for non-infringement. Allergen objected, but the Article III judge overruled those objections and adopted the magistrate's conclusions.
Why Teva Prevailed: Teva submitted persuasive expert evidence that water could not function as a gelling agent. Instead, water simply served a passive, not active, role in gelling. Further, there was inventor testimony that water was not a gelling agent. In contrast, Allergen was unable to produce any evidence that water gels the composition of the products at issue in the lawsuit. Accordingly, even with the disputed facts all construed in Allergen's favor, no reasonable person would find that water serves as a gelling agent. For this reason, the court adopted the magistrate's recommendation and granted Teva's motion for summary judgment.
GENERICally Speaking Winter 2017
Any information that you send us in an e-mail message should not be confidential or otherwise privileged information. Sending us an e-mail message will not make you a client of Robins Kaplan LLP. We do not accept representation until we have had an opportunity to evaluate your matter, including but not limited to an ethical evaluation of whether we are in a conflict position to represent you. Accordingly, the information you provide to us in an e-mail should not be information for which you would have an expectation of confidentiality.

If you are interested in having us represent you, you should call us so we can determine whether the matter is one for which we are willing or able to accept professional responsibility. We will not make this determination by e-mail communication. The telephone numbers and addresses for our offices are listed on this page. We reserve the right to decline any representation. We may be required to decline representation if it would create a conflict of interest with our other clients.

By accepting these terms, you are confirming that you have read and understood this important notice.