Purdue Pharma L.P. v. Varam, Inc.
January 07, 2013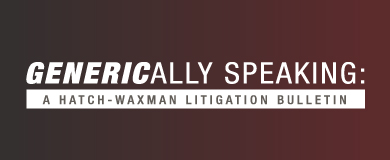 Case Name: Purdue Pharma L.P. v. Varam, Inc., Case No. 04-MD-1603 (SHS), 10 Civ. 6038 (SHS), 2012 U.S. Dist. LEXIS 151139 (S.D.N.Y. Oct. 19, 2012) (Stein, J.)
Drug Product and Patent(s)-in-Suit:OxyContin® (oxycodone HCl controlled-release tablets); N/A
Nature of the Case and Issue(s) Presented: The court addressed defendants' three motions: (1) motion to dismiss for lack of subject matter jurisdiction and failure to state a claim; (2) motion to dismiss for lack of personal jurisdiction; and (3) motion to transfer to the Eastern District of Pennsylvania or stay pending resolution of the identical action in the Eastern District of Pennsylvania. This summary addresses the facts and issues related solely to the first motion: defendant KVK's Rule 12(b)(1) and 12(b)(6) motion to dismiss for lack of subject matter jurisdiction and for failure to state a claim for which relief can be granted. KVK researches, develops, manufactures, distributes, and sells generic pharmaceuticals. KVK performed all of the work necessary to submit the ANDA except for Varam's review, approval, and signature. Varam was created solely to own the extended release oxycodone ANDA at issue in this suit. KVK agreed to assign its draft ANDA to Varam's sole shareholder, who in turn agreed to pay KVK $1 million upon approval of the ANDA. KVK agreed to perform all work necessary to complete the ANDA process. As filed, the ANDA identified Varam as the applicant in some places and KVK as the applicant in others. For example, the summary form and FDA Form 356h lists Varam as the applicant, and KVK as the "authorized U.S. agent."
KVK moved for dismissal contending that subject matter jurisdiction was lacking and no valid claim could be stated because only Varam—not KVK—actually "submit[ed]" the ANDA within the meaning of 35 U.S.C. § 271(e)(2). Because the parties relied on materials outside the pleadings, KVK's motion to dismiss was considered as a motion for summary judgment and denied.
Why Purdue Pharma prevailed: The court found that as an initial matter Section 271(e)(2) is not a jurisdictional statute in the strict sense and that federal courts generally have jurisdiction over patent infringement matters pursuant to 28 U.S.C. § 1338(a). Relying on Federal Circuit precedent, the court stated, "'nothing more' than an allegation of Section 271(e)(2) infringement by submitting an ANDA 'was required to establish the district court's subject matter jurisdiction pursuant to § 1338(a).'"
Next, the court found that KVK crossed the safe-harbor threshold when it went from dealing in would-be infringing products solely for the purposes of regulatory filings into "unprotected conduct if they submit an ANDA with a paragraph IV certification." "KVK's staff has taken every relevant action save for the final review, signing and mailing of the ANDA; KVK has researched and developed the product, produced the samples, prepared the ANDA on Varam's behalf, and subsequently communicated about the ANDA with the FDA as Varam's official agent."
KVK contended that only one party, namely the applicant, can "submit" the ANDA to the FDA and thus incur Section 271(e)(2) liability. The court noted that neither the Federal Circuit nor the Supreme Court has construed the term "submit" in this context. Relying on case law plaintiffs cited, the Court held that if a party is "actively involved" in preparing the ANDA, that party "submitted" the ANDA, regardless of whether it was a named applicant. Under that interpretation of the law, KVK has been "more than actively involved in the submission" of the ANDA and may be liable, along with Varam, for patent infringement.
GENERICally Speaking Winter 2012
Any information that you send us in an e-mail message should not be confidential or otherwise privileged information. Sending us an e-mail message will not make you a client of Robins Kaplan LLP. We do not accept representation until we have had an opportunity to evaluate your matter, including but not limited to an ethical evaluation of whether we are in a conflict position to represent you. Accordingly, the information you provide to us in an e-mail should not be information for which you would have an expectation of confidentiality.

If you are interested in having us represent you, you should call us so we can determine whether the matter is one for which we are willing or able to accept professional responsibility. We will not make this determination by e-mail communication. The telephone numbers and addresses for our offices are listed on this page. We reserve the right to decline any representation. We may be required to decline representation if it would create a conflict of interest with our other clients.

By accepting these terms, you are confirming that you have read and understood this important notice.