Andrew Noel
Partner
Experience
In October 2002, while Andy was waiting for his bar results, he helped Bob Bennett try a civil rights case in Milwaukee. They represented the mother of a man who had committed suicide in prison. Bob and Andy won a jury verdict for her of over $2 million. And Andy was hooked. He loves his clients.
Andy and the civil rights team have achieved unprecedented success in cases against cities and counties for constitutional violations. These include representing Frank Baker and Desiree Collins against the City of St. Paul after they suffered injuries in police K9 attacks. Andy also takes on jails and correctional medicine companies on behalf of families who lose loved ones to suicide.
Excessive force cases against police and correctional officers have been a large part of Andy's practice for almost twenty years. In 2019, the team obtained the highest result in the nation for a police shooting death following the murder of Justine Ruszczyk by Minneapolis Police Officer Mohamed Noor.
When he is not suing state actors, Andy is suing those who hurt or kill people through careless illegal conduct. These cases include a six-year-old girl who lost her life in a kiddie pool when she sat on an uncovered drain, the wife and children of a young father who was killed and other people who were hurt when the I-35W Bridge collapsed, motor vehicle crash victims and the mother of a seven-year-old boy who drowned in an unguarded apartment swimming pool, and whose older son nearly drowned at the same time.
Together, Andy, Bob and their team have won through trial or settlement some of the largest awards in Minnesota history.
$20 million; Ruszczyk v. Noor, et al. U.S. District Court, District of Minnesota (2019): On July 15, 2017, Justine Maia Ruszczyk was murdered by Mohamed Noor, a Minneapolis Police officer. Justine had called 911 to report a possible sexual assault in the alleyway behind her home in the Fulton neighborhood of Minneapolis. Justine was murdered in the same alleyway. She was barefoot and wearing pink pajamas. She had not committed any crime. She had not displayed any aggression. She was unarmed. She posed no threat to Noor or his partner, Matthew Harrity, or anyone else on the scene. (Prior to joining Robins Kaplan LLP)
$2.99+ million; Castile v. Village of St. Anthony (2017): On July 6, 2016, Philando Castile was shot and killed by Jeronimo Yanez, a St. Anthony police officer, after being pulled over. Castile was shot numerous time after informing Yanez he had a permit to carry. The aftermath of the shooting was live-streamed via Facebook. (Prior to joining Robins Kaplan LLP)
$1.8 million; Huber v. Sobiech, et al. U.S. District Court, District of Minnesota (2019): This was a jail suicide federal civil rights action on behalf of the next of kin of Brett Huber, Jr. who hanged himself at the Todd County Jail after manifesting symptoms of serious mental health issues. (Prior to joining Robins Kaplan LLP)
$3.5 million; Gustafson v. Pederson Hennepin County District Court (2018): In October of 2017, Pederson negligently operated a semi-tractor and trailer combination on Highway 10 in Big Lake, Minnesota. Pederson, while making a left turn at 162nd Lane, stopped the semi-tractor and trailer and blocked westbound traffic on Highway 10, leading to a collision that severely injured James Gustafson. The tractor was owned by Pevito Transportation and was leased, along with the driver Pederson, to Cheesebrough Trucking, Inc. (Prior to joining Robins Kaplan LLP)
$2 million; Baker v. City of St. Paul, et al. U. S. District Court, District of Minnesota (2017): On June 25, 2016, Frank Baker was viciously attacked by St. Paul Police Officer Ficcadenti's police K9 and kicked three times in the ribs by officer Palkowitsch, while he was trying to comply with the officers' orders.
(Prior to joining Robins Kaplan LLP)
$8+ million; Taylor v. Minneapolis Golf Club Hennepin County District Court, Minnesota (2008): Robert Bennett and Andrew Noel represented the parents of Abigail Taylor in a wrongful death lawsuit arising out of severe injuries Abigail sustained while in the kiddie pool at the Minneapolis Golf Club on June 29, 2007. (Prior to joining Robins Kaplan LLP)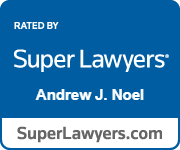 Listed in "500 Leading Plaintiff Consumer Lawyers" List, Lawdragon (2023)
Named a "Minnesota Super Lawyer," by Super Lawyers (2016-2022)
Named a "Minnesota Rising Star," by Super Lawyers (2005-2015)
Named Attorney of the Year by Minnesota Lawyer (2014)
Bar Admissions
Minnesota
Wisconsin
U.S. District Court, District of Minnesota
U.S. District Court, District of North Dakota
Education
Mitchell Hamline University School of Law, J.D., magna cum laude
University of Wisconsin, Madison, B.A.
"Hennepin County K-9 bit, infected Champlin police officer during pursuit, lawsuit says," Star Tribune (March 15, 2023)
"Ankeny to pay $550,000 over 2019 police shooting of unarmed burglary suspect, lawyers say," Des Moines Register (September 23, 2021)
"Calling police shootings accidental doesn't equal an escape from liability, court records show," KSTP News (April 16, 2021)
"KARE 11 Investigates: A prior gun and Taser police shooting mistake in Minnesota," KARE11 News (April 12, 2021)
"Former Isanti chief, officer named in federal lawsuit after witness tampering, lying in court," KSTP News (May 5, 2020)
"St. Paul police union: Fired officers painted in 'false and unfair light,'" Pioneer Press (June 14, 2019)
"St. Paul to pay $520,000 to bystander attacked by police dog," Star Tribune (September 28, 2018)
Messaging Your Case for the Jury and the Media
Robins Kaplan LLP 2022 Trial Advocacy Seminar, Minneapolis, Minnesota (December 15, 2022)
Health Care in Prison
Panelist, University of St. Thomas Law Journal Spring Symposium (April 22, 2022)
Police Misconduct Litigation: Overcoming Lies and Unchecked Police Power to Get Justice
Moderator, Minnesota Association for Justice 38th Annual Meeting and Virtual Convention (August 13, 2020)
RESOURCES
Links to full publications and news releases.
Any information that you send us in an e-mail message should not be confidential or otherwise privileged information. Sending us an e-mail message will not make you a client of Robins Kaplan LLP. We do not accept representation until we have had an opportunity to evaluate your matter, including but not limited to an ethical evaluation of whether we are in a conflict position to represent you. Accordingly, the information you provide to us in an e-mail should not be information for which you would have an expectation of confidentiality.

If you are interested in having us represent you, you should call us so we can determine whether the matter is one for which we are willing or able to accept professional responsibility. We will not make this determination by e-mail communication. The telephone numbers and addresses for our offices are listed on this page. We reserve the right to decline any representation. We may be required to decline representation if it would create a conflict of interest with our other clients.

By accepting these terms, you are confirming that you have read and understood this important notice.