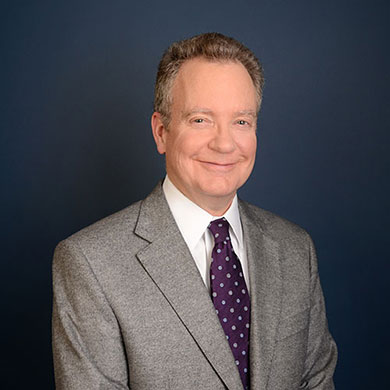 James P. Menton, Jr.
Partner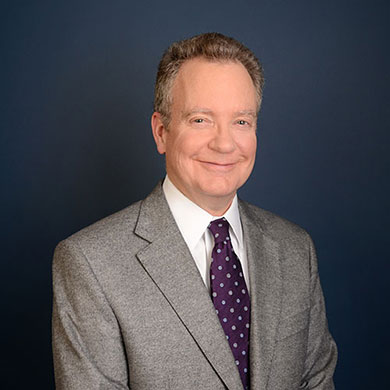 Experience
A litigation attorney primarily focused on business litigation, bankruptcy and creditor's rights, James Menton draws upon his extensive professional network to provide clients with strategic resources and solutions in their cases. His experience includes matters involving:
Commercial and contract disputes
Director and officer liability
Bankruptcy-related litigation
Creditor and shareholder rights
Fiduciary litigation
Fraud and fraudulent transfers
Intellectual property rights
Lender liability
Real estate
His experience includes representing clients in, or involved with, the entertainment, food & beverage, financial, insurance, manufacturing, real estate, and retail industries.
Today's challenging economic environment places increased scrutiny on corporate directors and officers, and litigation associated with alleged misconduct has risen significantly. Mr. Menton has played an active role, as early and decisive counsel, in transforming a client's ability to address and manage this reenergized level of scrutiny of corporate governance practices.
Experienced in both prosecuting and defending litigation, Mr. Menton advises and assists clients on matters concerning director and officer liability and fraud-related claims. His services and background include:
Director and Officer Liability Matters – Advising on such issues as fiduciary duties, the business judgment rule, and accessing director and officer liability insurance in bankruptcy.
Litigation Counsel – Acting on civil claims for breach of fiduciary duty, fraud, fraudulent transfers and other claims on behalf of the prosecuting or defending party.
Investigation and Reports – Providing full inquiry and analysis, as requested, concerning director and officer liability, financial transactions and potential claims.
Mr. Menton also has experience in estate planning issues and representing clients, including high net worth individuals and families, closely-held companies, foundations, trustees and fiduciaries, in pre-litigation advice and assessment and in litigation involving matters that include valuation disputes, claims for breach of fiduciary duty, and trust-related commercial disputes.
Other Experience:
Assistant Business Editor, Federal Communications Law Journal (1990-1991)
United States Supreme Court, Aide to The Honorable Harry A. Blackmun (1987-1988)
United States Peace Corps, Volunteer, Burkina Faso, West Africa (1984-1986)
Included among Mr. Menton's matters are counseling and representing:
A trustee of a family trust in a matter involving $160 million of secured debt against a franchisor of quick service restaurant brands. Favorable settlement achieved by the strategic use of litigation to implement a sale of the business and restructuring of the capital structure of the company.
A trustee of a family trust in litigation over $45 million of debt owed by borrower that owned rights at a major private airport, resulting in additional collateral from related companies and guaranties, entry of stipulated judgment and receipt by the trust of proceeds from the sale of airport assets.
An investment company and foundation as creditors and defendants in a lawsuit filed by Chapter 11 debtor to re-characterize clients' claims as equity. Litigation settled for no re-characterization of their claims and dismissal of the lawsuit.
A liquidating trust in obtaining a substantial judgment after trial against former officers and directors of Chapter 11 debtors in a lawsuit based on fraudulent transfer law.
A bankruptcy trustee in obtaining a substantial settlement of lawsuits against former directors and officers of a Chapter 7 debtor and an insurer on director and officer liability policy.
A former director of Chapter 11 debtors in director and officer-related litigation. Litigation settled for no payment by former director and dismissal of lawsuit with prejudice.
A liquidating trustee in objections to $200 million in claims against foreign entities based on international trade documents.
Insurance companies in prevailing on summary judgment in litigation over deficiency claims against borrower and guarantor following foreclosure on real property.
Insurance companies in obtaining an injunction against transfer of assets in a case involving alleged fraudulent scheme of an individual to shield assets from creditors.
A lender in defending against fraud and other claims involving a real estate development project and obtaining settlement of a lawsuit for a minimal amount.
A lender in obtaining an $8 million attachment against a corporation based on fraudulent transfer law.
Shareholders and related entities in obtaining settlement of disputes in arbitration proceedings with former shareholder.
Awarded a Pro Bono Star Award by Human Rights First (2019)
Named in The Best Lawyers in America (2019-2020)
Named a "Southern California Super Lawyer," Super Lawyers (2014-2016)
Recognized as "Outstanding Newsletter Editor," Bankruptcy and Insolvency Litigation Committee, ABA Section of Litigation (2010-2011)
Recognized as "Outstanding Subcommittee Chair," Bankruptcy and Insolvency Litigation Committee, ABA Section of Litigation (2010-2011)
Bar Admissions
California
U.S. District Court, Northern District of California
Education
University of California Los Angeles School of Law, J.D. (1991)
Northwestern University, B.A. in Political Science (1984)
Professional Associations
California State Bar Business Law Section: Advisor, Executive Committee (2013-2015); Chair (2012-2013); Member (2008-2013); Business Law News, Editor-In-Chief (2007-2009), Member (2004-2009)
California State Bar Law Practice Management & Technology Section: Chair (2007-2008), Member (2006-2008)
Turnaround Management Association, Southern California Chapter: Member, Board of Directors (2012-present)
American Bar Association Litigation Section: Bankruptcy and Insolvency Committee, Executive Editor, Newsletter (2010-2011); Commercial and Business Litigation Committee, Co-Chair, Bankruptcy Litigation Subcommittee (2004-2010)
American Bar Association General Practice & Small Firm Division: GP Solo Magazine, Editor (2008-2010)
American Bankruptcy Institute
Association of Business Trial Lawyers
Beverly Hills Bar Association
Financial Lawyers Conference
In Wealth Transfer Strategies We Trust
54th Annual Hawaii Tax Institute, Honolulu, Hawaii (November 8, 2017)
Trusts in the Context of Bankruptcy
Estate Planning Council of San Gabriel Valley, Pasadena, California (February 27, 2017)
Trust Fund Debtors The Intersection Between Bankruptcy and Trusts
Beverly Hills Bar Association, Beverly Hills, California (November 2, 2016)
How to Make Your Estate Plan Survive Bankruptcy
USC Gould School of Law 2016 Tax Institute, Los Angeles, California (January 27, 2016)
RESOURCES
Links to full publications and news releases.
Any information that you send us in an e-mail message should not be confidential or otherwise privileged information. Sending us an e-mail message will not make you a client of Robins Kaplan LLP. We do not accept representation until we have had an opportunity to evaluate your matter, including but not limited to an ethical evaluation of whether we are in a conflict position to represent you. Accordingly, the information you provide to us in an e-mail should not be information for which you would have an expectation of confidentiality.

If you are interested in having us represent you, you should call us so we can determine whether the matter is one for which we are willing or able to accept professional responsibility. We will not make this determination by e-mail communication. The telephone numbers and addresses for our offices are listed on this page. We reserve the right to decline any representation. We may be required to decline representation if it would create a conflict of interest with our other clients.

By accepting these terms, you are confirming that you have read and understood this important notice.