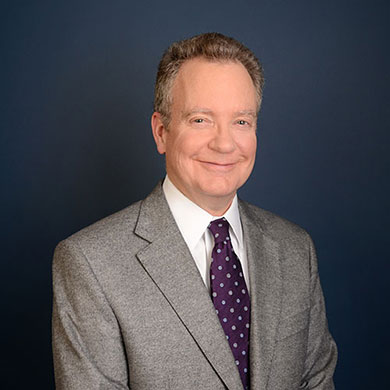 James P. Menton, Jr.
Partner
Co-Chair, Corporate Restructuring and Bankruptcy Group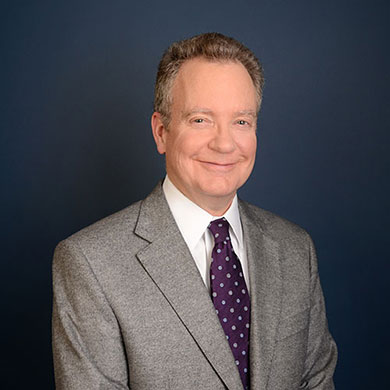 Experience
Mr. Menton's practice focuses on all types of fiduciary disputes, creditor's rights and remedies, and corporate restructuring and bankruptcy matters. A skilled advisor and litigator, Mr. Menton draws upon his extensive professional network to provide clients with strategic resources and solutions in their cases.
Corporate Bankruptcy, Commercial Litigation and Asset Protection and Recovery
Mr. Menton has decades of experience in areas that include insolvency-related matters, including complex corporate bankruptcies, distressed-debt litigation and complex collection matters. His experience with respect to distressed corporate situations, secured transactions, and the corporate bankruptcy process forms an integral part of our clients' strategic planning. He has resolved high-stakes matters through litigation and settlement, including matters where multi-millions are at stake.
With his experience, he is well situated to advise debtors, committees, secured creditors, unsecured creditors, fiduciaries, trustees, liquidating trustees, receivers, distressed debt traders, asset acquirers and other parties. He is dedicated to employing strategies to protect client rights and interests and maximize recoveries. His experience includes matters involving:
Corporate bankruptcy-related litigation
Asset recovery, asset protection, asset purchase agreements and sales
Corporate insolvencies
Creditor's rights and remedies
Shareholder rights
Private equity and investment funds
Commercial and contract disputes
Director and officer liability
Fiduciary litigation
Lender liability issues
Confirmation of plans of reorganization
Preference and fraudulent conveyance claims
Clawback litigation
Recharacterization and equitable subordination claims
Aiding and abetting misconduct
Bankruptcy sales
Enforcement of judgments, orders, and arbitral awards
Director & Officer Liability, Breach of Fiduciary Duty, and Investigations
Today's challenging environment places increased scrutiny on corporate directors and officers, and litigation associated with alleged misconduct continues to pose potential risks and exposure, including in the areas of SPAC-related litigation, COVID-related suits, cybersecurity-related lawsuits, and board diversity cases. Experienced in both prosecuting and defending litigation, Mr. Menton advises and assists clients on matters concerning director and officer liability and claims. His services and background include:
D&O Liability Matters:
Advising on fiduciary duties
Advising on D&O liability insurance coverage
Accessing D&O liability insurance coverage in bankruptcy
Litigation Counsel:
Acting on civil claims for breach of fiduciary duty, fraud, fraudulent transfers and other claims on behalf of the prosecuting or defending party
Investigation and Reports:
Providing full inquiry and analysis, as requested, concerning director and officer liability, financial transactions and potential claims.
Wealth Disputes and Trusts Advice and Litigation
Mr. Menton also has experience in estate planning issues and representing clients, including high net worth individuals and families, closely-held companies, foundations, trustees, fiduciaries and others, in pre-litigation advice and assessment and in litigation involving matters that include valuation disputes, claims for breach of fiduciary duty, fraudulent transfer claims, and trust-related commercial disputes. With his experience, he can evaluate the client's investment and loan documentation and, if issues exist, recommend ways to address them, including non-litigation resolution and litigation strategies.
Pro Bono and Community Service – Serving Those In Need
A former Peace Corp Volunteer in Africa, Mr. Menton is passionate about, and committed to, assisting others in need to change their lives for the better. He most recently obtained asylum for three Cameroonians, one of whom later testified before Congress concerning Immigration and Custom Enforcement detention practices.
Jim represents clients in the following industries:
Domestic Banking
Energy and Oil and Gas
Entertainment and Media
Franchising
Healthcare
Insurance
Manufacturing
Pharmaceuticals
Real Estate – Commercial, Residential
Retail and Service Industries
Technology
Included among Mr. Menton's matters are counseling and representing:
Private trust with over $160 million owed in restructuring and multi-state litigation that resulted in the successful sale of international franchisor of multiple quick service restaurant brands.

Private trust with over $50 million owed by fixed base operator at one of the busiest commercial airports in the country. Through a restructuring process and related litigation, achieved ongoing recoveries for the client.
Liquidating trust in obtaining a substantial judgment after trial against former officers and directors of Chapter 11 debtors in a lawsuit based on fraudulent transfer law.

Liquidating trust in a matter involving alleged breach of fiduciary duty and corporate waste by former officers and directors of a Chapter 11 debtor. Substantial settlement achieved without filing suit.

Bankruptcy trustee in obtaining a substantial settlement of lawsuits against former directors and officers of a Chapter 7 debtor and an insurer on director and officer liability policy.

Former director of Chapter 11 debtors in director and officer-related litigation. Litigation settled for no payment by former director and dismissal of lawsuit with prejudice.

Former trustee of non-profit organization as defendant in lawsuit filed by bankruptcy trustee for breach of fiduciary duty and corporate waste. After initial motion to dismiss granted with leave to amend and second motion to dismiss filed, litigation settled for no money paid by former trustee and dismissal of lawsuit with prejudice.

Investment company and foundation as creditors and defendants in a lawsuit filed by Chapter 11 debtor to re-characterize clients' claims as equity. Litigation settled for no re-characterization of their claims and dismissal of the lawsuit.
Foundation and its officers as defendants in lawsuit filed by bankruptcy trustee for breach of charitable pledge. Dismissal of lawsuit following successful motion to dismiss.

Bankruptcy trustee for estate of debtor that operated as "fraudulent hedge fund" in lawsuits for fraudulent transfers against family members of debtor's principal. Favorable settlements achieved, including entry of stipulated judgment and permanent injunction, collateral from family member and spouse, and receipt of cash payments by trustee.

Ex-spouse as defendant in fraudulent transfer lawsuit filed by bankruptcy trustee involving martial settlement agreement incorporated in dissolution judgment. Litigation settled on favorable terms.

Liquidating trustee in objections to $200 million in claims against foreign entities based on international trade documents.

Insurance companies in prevailing on summary judgment in litigation over deficiency claims against borrower and guarantor following foreclosure on real property.
Insurance companies in obtaining an injunction against transfer of assets in a case involving alleged fraudulent scheme of an individual to shield assets from creditors.

Lender in defending against fraud and other claims involving a real estate development project and obtaining settlement of a lawsuit for a minimal amount.

Lender in obtaining an $8 million attachment against a corporation based on fraudulent transfer law.

Shareholders and related entities in obtaining settlement of disputes in arbitration proceedings with former shareholder.
Former owners of audio and video equipment rental company in bankruptcy cases of successor entity and its affiliates in connection with confirmed plan of reorganization and resolution of alleged fraudulent transfer liability over a $1 billion sale of the company.

Celebrity chef Chloe Coscarelli in bankruptcy case in which Delaware bankruptcy court rejected the investors of the "by Chloe" company, like Bain Capital and Kitchen Fund, attempt to purchase the "by Chloe" trademark—the company's "crown jewel asset"—in a Chapter 11 proceeding without Chloe's consent.

North Dakota tribe in bankruptcy case in which Nevada bankruptcy court approved its acquisition of Las Vegas vacant land for $12 million pursuant to section 363 of the Bankruptcy Code.

North Dakota tribal entities concerning bankruptcy cases of Houston oil and gas company and its subsidiaries in connection with protecting tribal rights, oil and gas interests, and claims.

National commercial tenant concerning bankruptcy case of major mall owner of more than 100 locations across the country with respect to rights and interests under unexpired leases, confirmation proceedings. and confirmed plan of reorganization.

American cable network in connection with affirmative claims in bankruptcy of media buyer and defense of trustee's claw-back litigation for alleged preferential transfers; matters resolved on favorable terms.

One of several former officers and directors against indemnity claims for alleged breach of their fiduciary duties of loyalty and good faith resulting in obtaining an order from the bankruptcy court abstaining and dismissing the third-party complaints for indemnity and as to the remaining claims, a settlement pursuant to which the client made no payment, received a general release, and the district court action filed against the client and others after the indemnity claims were dismissed in the bankruptcy court was dismissed with prejudice.

Trustee in the settlement of a $130 million fraudulent transfer adversary proceeding against motion picture production and distribution company for allegedly forcing unfair distribution agreements on captive home video distribution company.

Liquidating trust in investigation and prosecution of claims against former officers and directors of media company and its affiliates following confirmation of Chapter 11 plan of reorganization.

Web-hosting company in lawsuit filed in bankruptcy court against the company's former CEO for non-dischargeability of a debt under sections 523(a)(2) and 523(a)(6) of the Bankruptcy Code; successful representation of the company in favorable settlement with the trustee appointed in the former CEO's Chapter 7 case; subsequent dismissal of lawsuit without prejudice in connection with settlement of related state court litigation.

Assignee for the benefit of creditors of company engaged in premium seafood and convenience meal businesses as litigation counsel in asserting and recovering preferential transfers.

Judgment creditor of $367 million Delaware judgment in California enforcement proceedings, including post-judgment discovery, complaint against judgment debtor's family members in which judgment creditor asserted fraudulent transfer and others claims, and recording of lis pendens; action settled on favorable terms.

Creditor in confirming arbitration award and entry of judgment and post-judgment enforcement proceedings.

Interested parties in connection with obtaining discovery for use in a foreign proceeding from those located in the United States under 28 U.S.C. § 1782.
Awarded the Wiley M. Manuel Pro Bono Certificate by the California Lawyers Association for providing at least 50 hours of pro bono legal services (2023)
Listed in The Best Lawyers in America (2019-2024 editions)
Named a "Southern California Super Lawyer," Super Lawyers (2014-2016, 2021-2023)
Awarded Pro Bono Award by Robins Kaplan LLP (2019)
Awarded a Pro Bono Star Award by Human Rights First (2019)
Recognized as "Outstanding Newsletter Editor," Bankruptcy and Insolvency Litigation Committee, ABA Section of Litigation (2010-2011)
Recognized as "Outstanding Subcommittee Chair," Bankruptcy and Insolvency Litigation Committee, ABA Section of Litigation (2010-2011)
Bar Admissions
California
District of Columbia
U.S. District Court, Central District of California
U.S. District Court, Eastern District of California
U.S. District Court, Northern District of California
U.S. District Court, Southern District of California
Education
University of California Los Angeles School of Law, J.D. (1991)
Northwestern University, B.A. in Political Science (1984)
Professional Associations
Law360 Bankruptcy Editorial Advisory Board (2023)
California State Bar Business Law Section: Advisor, Executive Committee (2013-2015); Chair (2012-2013); Member (2008-2013); Business Law News, Editor-In-Chief (2007-2009), Member (2004-2009)
California State Bar Law Practice Management & Technology Section: Chair (2007-2008), Member (2006-2008)
Turnaround Management Association, Southern California Chapter: Member, Board of Directors (2012-2017)
American Bar Association Litigation Section: Bankruptcy and Insolvency Committee, Executive Editor, Newsletter (2010-2011); Commercial and Business Litigation Committee, Co-Chair, Bankruptcy Litigation Subcommittee (2004-2010)
American Bar Association General Practice & Small Firm Division: GP Solo Magazine, Editor (2008-2010)
Beverly Hills Bar Association
Financial Lawyers Conference
Los Angeles Bankruptcy Forum
California Receivers Forum
Representations of Wealth Planning and Conflict in Film and Literature: What Can We Learn from Such Depictions?
Robins Kaplan LLP Wealth Planning, Administration, and Disputes Annual CLE, Webinar (October 7, 2020)
Adelanto: Conditions and Challenges at the "House of Tears"
LA Human Rights Initiative (October 22, 2019)
In Wealth Transfer Strategies We Trust
54th Annual Hawaii Tax Institute, Honolulu, Hawaii (November 8, 2017)
Trusts in the Context of Bankruptcy
Estate Planning Council of San Gabriel Valley, Pasadena, California (February 27, 2017)
Trust Fund Debtors The Intersection Between Bankruptcy and Trusts
Beverly Hills Bar Association, Beverly Hills, California (November 2, 2016)
How to Make Your Estate Plan Survive Bankruptcy
USC Gould School of Law 2016 Tax Institute, Los Angeles, California (January 27, 2016)
So What If They're In Bankruptcy, The Debtor Has Insurance And We're Covered (Maybe): The Treatment Of Liability And D&O Insurance Policies In Bankruptcy
Financial Lawyers Conference, Los Angeles, California (February 2007)

RESOURCES
Links to full publications and news releases.
Any information that you send us in an e-mail message should not be confidential or otherwise privileged information. Sending us an e-mail message will not make you a client of Robins Kaplan LLP. We do not accept representation until we have had an opportunity to evaluate your matter, including but not limited to an ethical evaluation of whether we are in a conflict position to represent you. Accordingly, the information you provide to us in an e-mail should not be information for which you would have an expectation of confidentiality.

If you are interested in having us represent you, you should call us so we can determine whether the matter is one for which we are willing or able to accept professional responsibility. We will not make this determination by e-mail communication. The telephone numbers and addresses for our offices are listed on this page. We reserve the right to decline any representation. We may be required to decline representation if it would create a conflict of interest with our other clients.

By accepting these terms, you are confirming that you have read and understood this important notice.