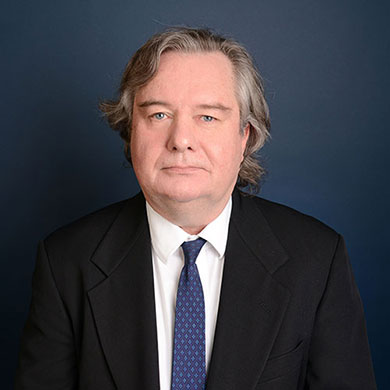 Miles A. Finn, Ph.D.
Counsel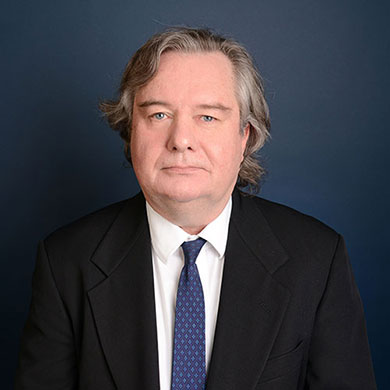 Experience
Practices in the Patent Office Trial Group. Has participated in over 15 IPRs and CBMs, representing both Petitioners and Patent Owners.
Has extensive litigation and licensing experience in electrical engineering matters, including mobile telephony, RF connectors, and semiconductor chip design and fabrication.
Brings 15 years of practical engineering experience and 12 years of patent litigation support to his position as an attorney in the Firm's patent litigation department. After earning a Bachelor's degree in physics (Franklin and Marshal College, magna cum laude) and a Ph.D. degree in physics (University of Minnesota) he worked as a scientist and an engineer in the medical device and software fields.
Has invented a line of surgical "seeing instruments," resulting in 5 patents and two license agreements. Was awarded three National Institutes of Health research grants, totaling $575,000.
In 2003, passed the U.S. Patent and Trademark Office patent bar exam, and joined Robins Kaplan LLP as a Science Advisor.
Patents
4,948,257 Laser Optical measuring device and method for stabilizing fringe pattern spacing
5,512,034 Surgical instrument including viewing optics and a ball probe
5,667,472 Surgical instrument and method for use with a viewing system
5,667,473 Surgical instrument and method for use with a viewing system
5,667,478 Surgical instrument with stick-on-fiber-optic viewing system and method of using
5,735,792 Surgical instrument including viewing optics and an atraumatic probe
Science Advisor with Robins Kaplan LLP for five years providing patent litigation support before becoming an associate.
15 years of experience in medical and high-technology industries, with broad experience in many functional areas, including intellectual property, engineering, regulatory, sales and marketing. Medical fields with experience include neurosurgery, pain management, orthopedics, vascular, and urology.
PCT International. Inc. v. Amphenol Corp., IPR 2013-00229 (filed April 2, 2013) (cancelling all challenged claims of U.S. Patent No. 7,544,094 ("Connector assembly with gripping sleeve"), a patent purportedly covering our client's F-connectors.
Purdue Pharmaceutical Products L.P. v. Novel Laboratories, Inc: Represented Novel Laboratories, Inc., a pharmaceutical company seeking to market a generic version of Intermezzo®. Intermezzo® is a sublingual formulation of zolpidem indicated for middle-of-the-night insomnia. Following a 10-day bench trial, the judge found in favor of our client, ruling the asserted claims of all three patents invalid for obviousness. The Federal Circuit confirmed the invalidity findings in a summary affirmance.
Prior- art searcher for In re Certain Flash Memory Controllers, Drives, Memory Cards and Media Players and Products Containing Same where the ITC determined that claim 8 of U.S. Patent Number 7,137,011 was invalid for obviousness. (As a Science Advisor at Robins Kaplan LLP)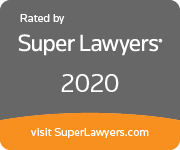 Named a "New York Rising Star," Super Lawyers (2016-2023)
Phi Beta Kappa
Bar Admissions
New York
Minnesota
U.S. Court of Appeals, Federal Circuit
U.S. District Court, Southern District of New York
U.S. Patent and Trademark Office
Maximize the Success of Patent Licensing and Enforcement
The Future of IP and Technology Law Forum, Boston, Massachusetts (May 9, 2017)
Neuroscope '95 (Moderator)
A lecture series on Neurondoscopy, AANS Annual Meeting, Minneapolis, Minnesota (November 2, 1995)
RESOURCES
Links to full publications and news releases.
Any information that you send us in an e-mail message should not be confidential or otherwise privileged information. Sending us an e-mail message will not make you a client of Robins Kaplan LLP. We do not accept representation until we have had an opportunity to evaluate your matter, including but not limited to an ethical evaluation of whether we are in a conflict position to represent you. Accordingly, the information you provide to us in an e-mail should not be information for which you would have an expectation of confidentiality.

If you are interested in having us represent you, you should call us so we can determine whether the matter is one for which we are willing or able to accept professional responsibility. We will not make this determination by e-mail communication. The telephone numbers and addresses for our offices are listed on this page. We reserve the right to decline any representation. We may be required to decline representation if it would create a conflict of interest with our other clients.

By accepting these terms, you are confirming that you have read and understood this important notice.